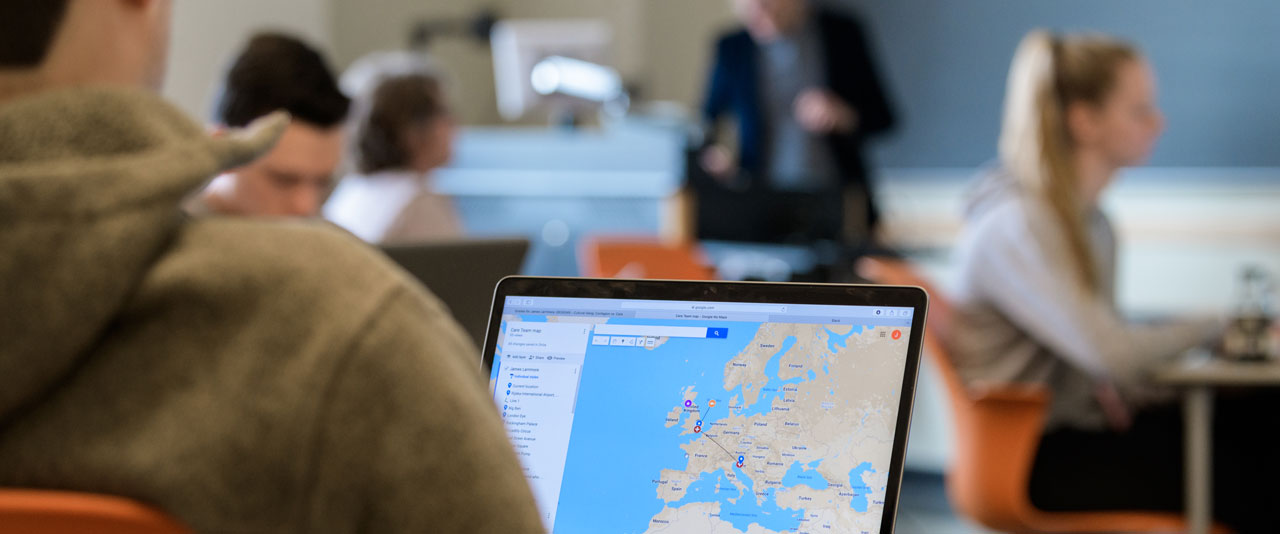 Career Resources
Connect with employers in government, education and industry

Around the globe, thousands of earth, ocean, and environmental scientists, researchers and policy specialists are busy at work studying a multitude of crucial issues—from climate change and environmental public policy to the development of new sustainable practices and cutting-edge exploration technologies. Whether you're interested in joining their ranks or simply looking for an exciting internship opportunity, we can help you take the next step.
Undergraduate Internships
in Marine Policy

Interns in UD's Gerard J. Mangone Center for Marine Policy work on a range of research and policy analysis activities with graduate students, faculty and agencies.
For more information, contact George Parsons, associate director of the School of Marine Science and Policy.
Marine Sciences Summer Program

This Research Experiences for Undergraduates (REU) program offers interns a research-intensive atmosphere in topics like oceanography, marine biology, marine geology, or marine biogeochemistry.
Alumni Spotlight

Blue Hen Aquarist

Jonathan Dinman enrolled at UD in 2011 as a marine science major. He was in the program's first graduating class of students in 2015 and now works with ocean creatures and environments every day as an aquarist at Shedd Aquarium in Chicago. Dinman said his time at UD helped shape his future as an aquarist as it provided opportunities to learn research and laboratory skills, participate in a study abroad to New Zealand, and hear from professionals in the marine science field, which exposed him to careers outside of academia.
The Department of Urban and Environmental Policy and Planning (UEP) at Tufts University is seeking a full-time lecturer in GIS and Advanced Geospatial Modeling to start September 1st, 2021. The successful candidate will possess a strong competency in geospatial research methods, including GIS, spatial statistics, and advanced geospatial modeling. Required courses will include both Introductory GIS and Advanced GIS. Depending on the candidate's area of expertise, additional courses may include interactive web mapping, geospatial programming with python, remote sensing, field data collection, cartographic and data visualization techniques, and unmanned aircraft systems (drones), among others.
This tenure-track position at California State University, Long Beach, has responsiblities to teach courses at both lower and upper division in our geography and environmental science and policy programs, and at the graduate level in both our Masters of Arts and Master of Science in Geographic Information Science degree programs. Teaching assignments may also include classes in remote sensing, digital image processing, multi-variate and spatial statistics general education courses in natural science or other specialty courses in the candidate's area of expertise. Required mode of instruction may include in-person, hybrid, online, and/or any combination thereof. Position also requires engaging undergraduate and graduate students in scholarly activities and will be encouraged to develop an extramurally funded research program. Successful applicant will produce scholarly publications and collaborate in curriculum development, as well as advise students, serve on department, college, and university committees, and engage in professional activities. (Deadline: May 1, 2021)
This position will support the GIS TREC's long standing geodetic coordination project with Idaho Transportation Department (ITD) and the National Geodetic Survey (NGS) to make strides toward achieving the goal of modernizing and maintaining the National Spatial Reference System (NSRS) and needs of the National Spatial Data Infrastructure (NSDI) throughout Idaho. In addition, this position will advance the geospatial education and research capabilities at Idaho State University for both undergraduate and graduate students and provide education outreach to the geospatial professional community.
Multiple Opportunities for Students at Various Levels
Conservation International is currently recruiting for several internships and full-time positions, including: Director – Sustainable Land Science; Associate Research Scientist – Marine Protected Areas and Climate Change; Intern – Geospatial Trainer; Intern – Conservation and Sustainable Development; Intern – Climate Adaptation Science; Intern – Conservation Atlas; Intern – Evidence of Effectiveness Review; Intern – Indigenous and Community Lands and Climate; Intern – Wildlife Insights Business Development
Find Job Boards and Other Resources for Your Field on Your Department's Careers Page
Join the CEOE LinkedIn group to connect with alumni, grow your network, discover job postings, and keep up-to-date with college news and announcements.

How to apply for a job in government

Both USAJOBS and Go Government have resource pages available to guide applicants as they consider, apply, and secure federal employment.
National Oceanic and Atmospheric Administration (NOAA) Careers
Federal Institutions Career Pages


Resources for Students and Recent Graduates
The below sites serve as primary sources for searching federally-sponsored opportunities for undergaduate and graduate students in science, technology, engineering, or mathematics (STEM) areas.
Graduate and Advanced Degree Fellowships
Volunteer Activities

Federal agencies and departments offer unpaid training opportunities to students in high school and college. These opportunities can provide work experience related to your academic program, while allowing you to explore career options, as well as develop your personal and professional skills. Click here to learn more
Other volunteer opportunities are available at the USDA Forest Service and through Citizen Science projects
National and International Service Programs

Americorps, a national service program, offers a variety of service opportunities, from the classroom to the outdoors, and everything in between.

21st Century Conservation Service Corps is a national effort to put thousands of America's young people and veterans to work protecting, restoring, and enhancing America's great outdoors. For a complete list of partners providing opportunities in this endeavor, visit 21csc.org.
Jesuit Volunteer Corps (JVC) engages brave young leaders in life-changing service, living and working with those in need to build a more just and hopeful world. It takes on the world's most difficult challenges, permanently transforming themselves and the communities they serve. Volunteers give an intense year or two at the front lines of social justice, and we give them a sense of purpose to guide every year that follows. Similar to other volunteer service programs, usually housing, food allowance, and a small stipend is provided.