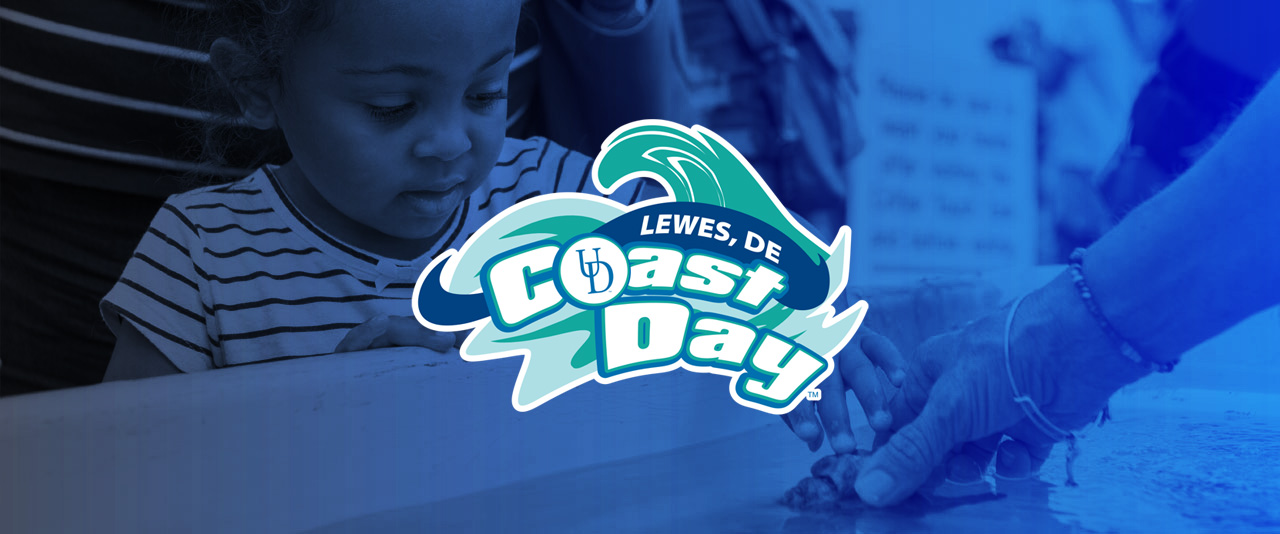 Join us on October 1st from 11AM to 3PM for Coast Day 2023 at UD's Hugh R. Sharp Campus!

Beach enthusiasts, seafood lovers, and anyone curious about the wonders of the sea can visit the Hugh R. Sharp Campus in Lewes, Delaware on Coast Day to learn about the state's rich marine resources.
Coast Day will highlight how UD scientists, staff, and students are improving understanding of ocean environments and serving coastal communities. Coast Day attendees can interact with researchers, tour ships, try hands-on activities, and attend presentations on a range of topics.
Note: Pets are prohibited at Coast Day. Licensed service animals are permitted.
Need a ride?

The University of Delaware is providing bus transportation to Coast Day on Sunday, October 1st to Lewes. Buses will leave at 9:30AM from the Robinson Hall parking lot on Newark campus, and depart from Lewes campus for the return trip at 3:30PM. Sign-ups are first come, first serve.
WELCOME CEREMONY

11:15 a.m. | Cannon Lab, Porch


Fabrice Veron, Dean, College of Earth, Ocean and Environment
 
DISCOVERY LECTURE:
Understanding and Preparing for Changes in Climate Variability in the Mid-Atlantic

11:30 a.m. | Cannon Lab, Room 203

Dana Veron, Co-director, Gerard J. Mangone Climate Change Science and Policy Hub
 
OCEAN PHOTO CONTEST, WINNERS ANNOUNCED

11:30 a.m. | DNREC Tent

Delaware Department of Natural Resources and Environmental Control (DNREC)
 
FILM SCREENING:
Salted Earth

12:00 p.m. | Cannon Lab, Room 202

Presented by Delaware Environmental Institute (DENIN)

DISCOVERY LECTURE: Project Recover and Our Underwater Search for MIAs
12:30 p.m. | Cannon Lab, Room 203

Mark Moline, Maxwell P. and Mildred H. Harrington Professor, School of Marine Science and Policy
SPECIAL PERFORMANCE: The SpongeBob Musical
1:00 p.m. | Cannon Lab, Porch

Presented by the Harrington Theatre Arts Company

DISCOVERY LECTURE: Marine Mammals and Sea Turtles of the Delaware Coast
1:30 p.m. | Cannon Lab, Room 203

Suzanne Thurman, Executive Director, Marine Education, Research and Rehabilitation (MERR) Institute

FILM SCREENING: Salted Earth
2:00 p.m. | Cannon Lab, Room 202

Presented by Delaware Environmental Institute (DENIN)
ALL-DAY EVENTS:


TOUCH TANKS AND SHIP TOURS
Marine Operations Building (MOB)  

SPECIAL EXHIBIT: WEATHERING THE STORM
Cannon Lab, Room 104



Coast Day takes place at the University of Delaware's Hugh R. Sharp Campus in Lewes, DE. Coast Day admission and parking are free.  Click the map below for a larger image of Coast Day activities with full 2023 schedule, or download a PDF version.

American Littoral Society
Bioenergy Innovation Center
Black Girls Dive Foundation
Citizens Climate Lobby, Lower Delaware
Collective Event Group
Delaware Center for the Inland Bays
Delaware Department of Natural Resources and Environmental Control
Delaware Emergency Management Agency
Delaware Master Gardeners - Sussex County
Delaware Mobile Surf-Fishermen
Delaware Solid Waste Authority
Envirotech
Friends of Prime Hook National Wildlife Refuge
Harrington Theatre Arts CompanyHorseshoe Crab Recovery Coalition
Inland Bays Foundation
Kalmar Nyckel Foundation
Laughing Crab Catering the Snowball Experience
Lewes Beekeeping Club
Lewes Junction Railroad & Bridge Association (LJR&BA)
Lower Sussex County NAACP Youth Council #2719
MERR Institute
Open Space Alliance
Osher Lifelong Learning Institute at the University of Delaware
Partnership for the Delaware Estuary
Plastic Free Delaware
POWER, People for Offshore Wind Energy Resources
Renewal by Andersen
Saltwater Fly Anglers of Delaware
Sierra Club Delaware Chapter
The Center for Experimental and Applied Economics
USCG Auxiliary Lewes Flotilla
University of Delaware Institute for Public Administration
University of Delaware Office of Undergraduate Admissions
University of Delaware Water Resources Center
US Wind

Ocean drilling and climate change
Chandranath Basak, UD Department of Earth Sciences (ES)
Fun with microbes
Jennifer Biddle, UD School of Marine Science & Policy (SMSP)
UD Scuba Program
Michael Birns, Diving Safety Officer and Scuba Instructor
UD Center for Environmental Monitoring and Analysis (CEMA)
Kevin Brinson, CEMA
How oysters filter water
Alyssa Campbell, Delaware Sea Grant (DESG)
Shark tank
Aaron Carlisle, SMSP
Model Horseshoe Crab Survey
David Christopher, DESG
Film screening: Salted Earth
Sam Clem, Delaware Environmental Institute (DENIN)
Blue Crabs: From Pot to Plate
Jonathan Cohen, SMSP
UD Center for Experimental and Applied Economics (CEAE)
Aisha Emory, Lab Coordinator, CEAE
Planetary Boundary Layer Schemes
Muna Hafsah, GSS
Shellfish Aquaculture and Aquaponics
Ed Hale, SMSP, DESG
Minerals, Materials, and Society
Thomas Hale, UD Department of Geography & Spatial Sciences (GSS)
Coastal Resilience Design Studio
Zach Hammaker, CRDS
Ed Lewandowski, DESG
Derelict Crab Pots
Brittany Haywood, DESG
Migratory Bird Stopover
Christopher Heckscher, Environmental Science & Ecology, Delaware State University
Deep ocean circulation
Aruggoda Kapuge, ES
Biogeochemistry Research in the Mucky Marsh
Andrew Wozniak, SMSP
Christopher Kelly, SMSP
Lewes Grad Student Association
Erin Leathrum, SMSP
Sustainable Coastal Communities Initiative
Ed Lewandowski, DESG
PFAS research and public awareness
Mi-Ling Li, SMSP
Icy Ocean in Changing Climate
Yung Li, SMSP
Flooding in Bowers Beach
Joy McCusker, UD Plant and Soil Sciences  
Community Resilience and Adaptation to Sea Level Rise
Christina McGranaghan, UD Department of Applied Economics and Statistics
Keep Your Head Above Water
Tom McKenna, Delaware Geological Survey
Project Recover
Mark Moline, SMSP
Inclusive Climate Change Adaptation in Delaware
Lindsay Naylor, GSS
Forecasting storm driven coastal flooding
Emmanuel Olamiriki, GSS
Interactive games on water topics
Emily Rodden, DESG
Build Your Personal Resilience
Danielle Swallow, DESG
Robotic Discovery Laboratories
Art Trembanis, SMSP
UD Citizen Monitoring Program
Edward Whereat, DESG
UD Office of Undergradute Admissions
Amber Thompson, UD Admissions Counselor

5th grade students in Delaware are invited to participate in the Coast Day 2023 essay contest

Our Coast Day essay contest follows the Coast Day theme, Weathering the Storm. In this year's essay contest, students are being asked to describe a type of extreme weather event that happens in Delaware such as tornados, flooding, hurricanes, and nor'easters, how the weather event can affect their neighborhood and community, and what they and their family can do prepare for the weather event.
SPONSORS

Our sponsors make Coast Day possible! We are grateful to the many generous organizations who help support our outreach. If you're interested in becoming a sponsor or partner of Coast Day, see this form for more information and to register. 


Lieutenant
Ensign
Friend