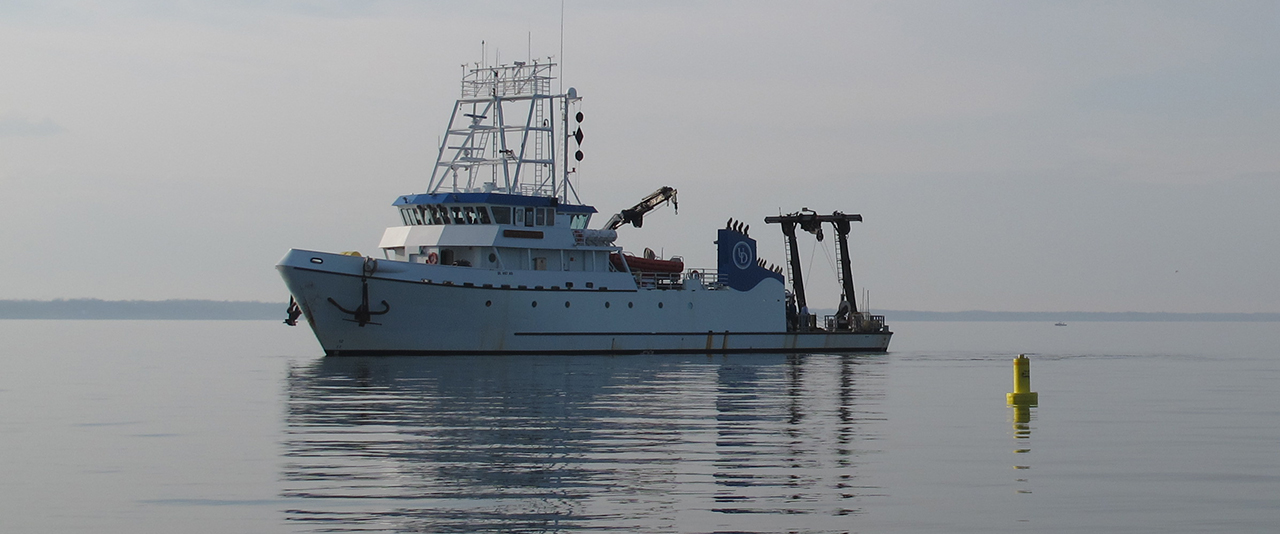 Marine Operations
UD's College of Earth, Ocean and Environment owns and operates a fleet of research vessels that serve not only university faculty, students and scientists, but also researchers from universities, government agencies and private industry across the country. Contact Director of Marine Operations Jon Swallow for detailed information about the fleet's capabilities, availability and use.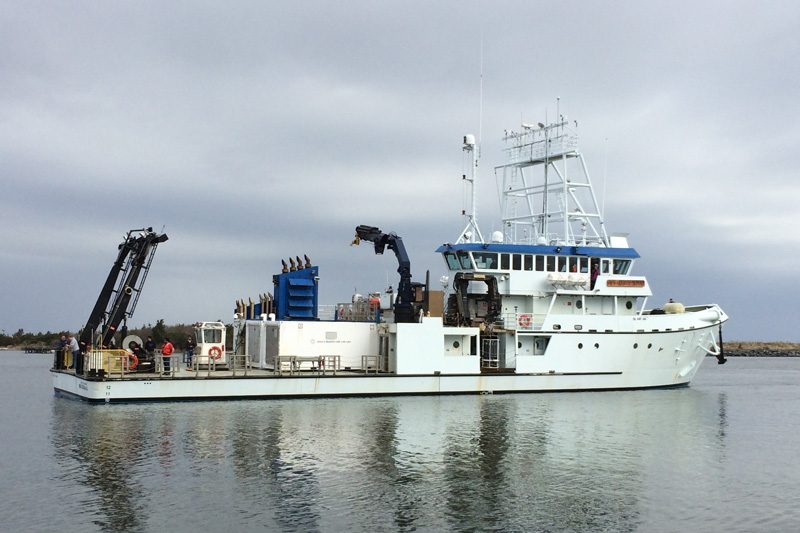 R/V Hugh R. Sharp
The R/V Hugh R. Sharp is a multi-purpose research vessel that operates as a member of the University-National Oceanographic Laboratory System (UNOLS) and U.S. Academic Research Fleet (ARF). The Sharp serves marine scientists as a state-of-the-art platform for exploring and sampling the coastal ocean.
The Sharp supports a wide range of marine disciplines including chemical, geological, physical, and biological sciences, as well as acoustics, fisheries, and marine mammal research. The vessel is a regional asset, serving researchers from federal science agencies and institutions throughout the Mid-Atlantic.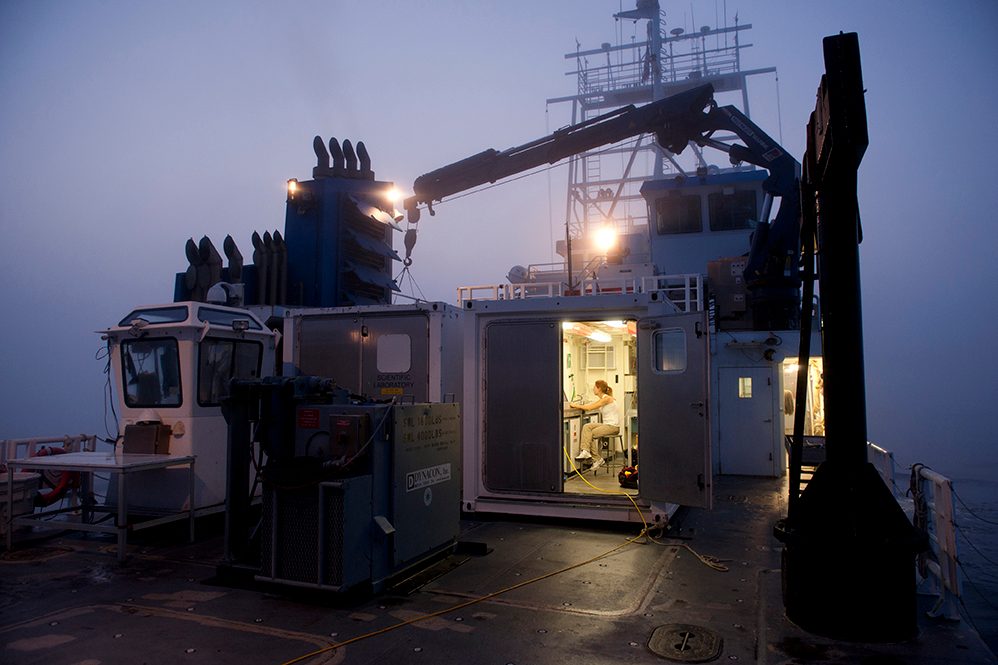 NSF-UNOLS East Coast Van Pool

The Van Pool provides specialized portable laboratories for deployment on Academic Research Fleet Vessels.  Funding for operating these shared use facilities is provided by the National Science Foundation and daily usage charges.  More information on the types of laboratory vans available and for scheduling can be found on the web page below.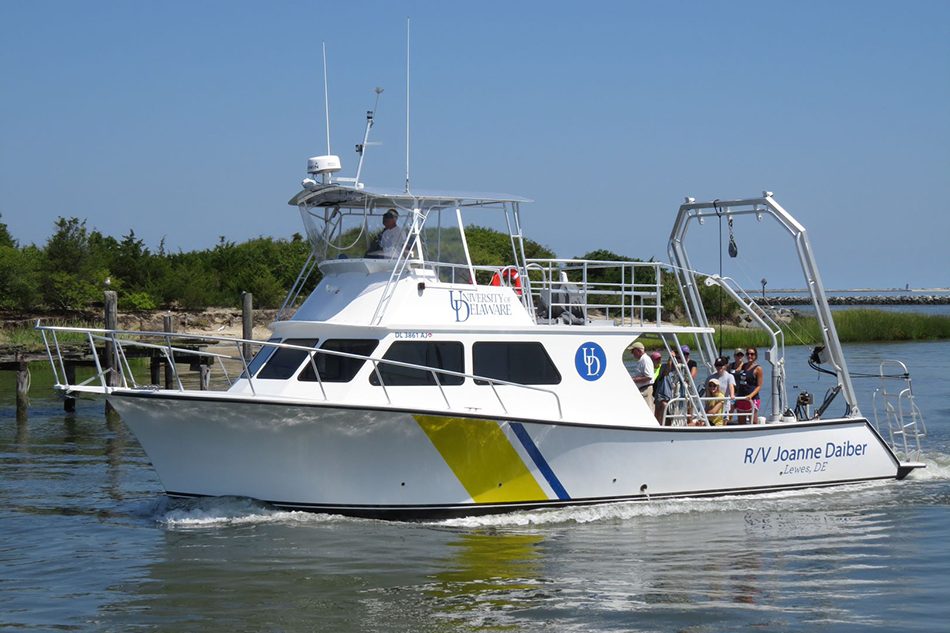 R/V Joanne Daiber
The R/V Joanne Daiber provides an outstanding experiential classroom for students engaged in coastal research as well as state-of-the-art capabilities for faculty research in the Delaware Bay and nearshore. It is a 46-foot research vessel designed to function in a range of habitats from the bay estuaries to the shelf break.
Delivered in June 2014, the R/V Joanne Daiber significantly enhances the University's capacity to support scientific research, particularly with unmanned vehicles and other state of the art sensor technology.  The vessel also provides an outstanding work platform and experiential classroom for students engaged in coastal research.

The R/V Joanne Daiber is named in honor of the late Joanne Daiber, for the devotion she had for the University of Delaware Marine Program, and the professional sacrifices she made along the way. The vessel is used for coastal research as well as undergraduate and graduate instruction

Hull
Manufacturer: Newton Boats
Model: Research 46
Length: 46'
Beam: 16
Draft: 4'
Propulsion: Twin Cummins Diesel  QSB 355 HP
Fuel Capacity: 400 gallons
Performance
Cruising speed: 18 knots
Fuel Consumption at Cruising Speed: 1 gallon/mile
Cruising Range: 350 miles with reserve
Maximum Load Capacity: 18 students plus 2 crew

Electronics
Garmin electronics package. 3 Multifunction Displays, 2 on fly bridge and one in main cabin. Depth Sounder, Radar, 2 VHF radios, AIS, Stereo, EPIRB
Mechanical
2,000 pound A frame with winch, 800 pound side davit with winch, 15 KW Kohler generator, air conditioned and heated main cabin, scientific counter space including flow through salt water sink, head with holding tank, fresh water and salt water deck wash downs.  Meets USCG safety regulations.

Joanne Elizabeth Currier Daiber was born in Winchester, Massachusetts, in 1927. She received her bachelor of science degree in biology from Bates College in 1949 and completed a master's degree in biology from Vassar College in 1951. That same year, she was hired by the University of Delaware as its first female marine biologist for the newly formed marine studies program. During her time on the faculty, Daiber performed research on the zooplankton species in the Delaware Bay and assisted the other researchers with their projects.
In 1953, she married fellow faculty member Franklin Daiber, who later went on to become the director of the marine laboratories and chairman of the University President's Marine Science Coordinating Committee. Due to the policies of the time, married couples were not allowed to work together professionally and Joanne Daiber left the program. However, she continued to support the research occurring in the labs. As the program expanded into a graduate program and eventually its own separate college, she also assisted with graduate housing and editing her husband's books.

In the 1970s, Joanne Daiber founded the Delaware Nature Society's guide program. She helped develop educational programs for children from K-12 and their teachers at the Ashland Nature Center. In addition to all of this, she was a member of the Societte Littoral Hortense Horrand and was the acting president of piscatorial adventurers within that organization. She continued helping with her husband's research as well, until his retirement in 1987.

In 2000, the memoir "Salty Memoirs: Adventures in Marine Science", written by Franklin and Joanne Daiber, was published by the University of Delaware. That same year, the Joanne Currier Daiber Scholarship was created with the purpose of supporting female graduate students in marine sciences at the College of Marine Sciences at the University of Delaware.

While Joanne Daiber passed away on February 16, 2007, her memory continues at UD with the research vessel named in her honor.

Small Boat Fleet
In addition to the R/V Joanne Daiber, the CEOE fleet includes three small outboard-driven boats. These are docked at the college's harbor at the Hugh R. Sharp Campus in Lewes and are used for research trips into Delaware Bay and nearby coastal waters.  More information about the electronic, mechanical, hull, and performance specifications for each vessel are below:
Hull Performance:
Manufacturer: Boston Whaler
Length:16' 7", Skiff
Beam: 6' 2"
Draft: 20" engine full down
Propulsion: 50 HP Honda 4-stroke outboard, tiller steered, electric start, and power tilt
Performance:
Cruising speed: 15 knots
Fuel consumption at cruising speed: 1.5 gph
Cruising range: Dependent on loading/fuel
Maximum load capacity: 1400 lbs.
Trailerable: Yes (2" ball)
Electronics: VHF compass and digital depth sounder

Hull:
Baysport 1850, center console
Manufacturer: Allen Boat Builders
Length: 18' 6"
Beam: 8' 0"
Draft: 20" engine full down
Propulsion: 115 HP Suzuki 4-stroke outboard
Fuel Capacity: 50 gal

Performance:
Cruising Speed: 20 knots
Fuel Consumption at Cruising Speed: 5.0 gph.
Cruising Range: Dependent on loading/fuel
Maximum Load Capacity: 1400 lbs. / 6 persons
Trailerable: Yes (2" ball), single axel trailer
Electronics: Garmin GPSMAP 441, Humminbird Solix10 MFD with depth sounder, VHF
Hull:
Parker 23 SE, center console
Manufacturer: Parker
Length: 23' 0"
Beam: 8' 6"
Draft: 24" engine full down
Propulsion: 200 HP Yamaha 4-stroke outboard
Fuel Capacity: 110 gal

Performance:
Cruising Speed: 25 knots
Fuel Consumption at Cruising Speed: 3.0 gph.
Cruising Range: Dependent on loading/fuel
Maximum Load Capacity: 2500 lbs. / 10 persons
Trailerable:  Yes (2" ball), double axel trailer with brakes
Electronics and misc:  Simrad Cruise MFD with depth sounder, VHF, Class A AIS, washdown, live well