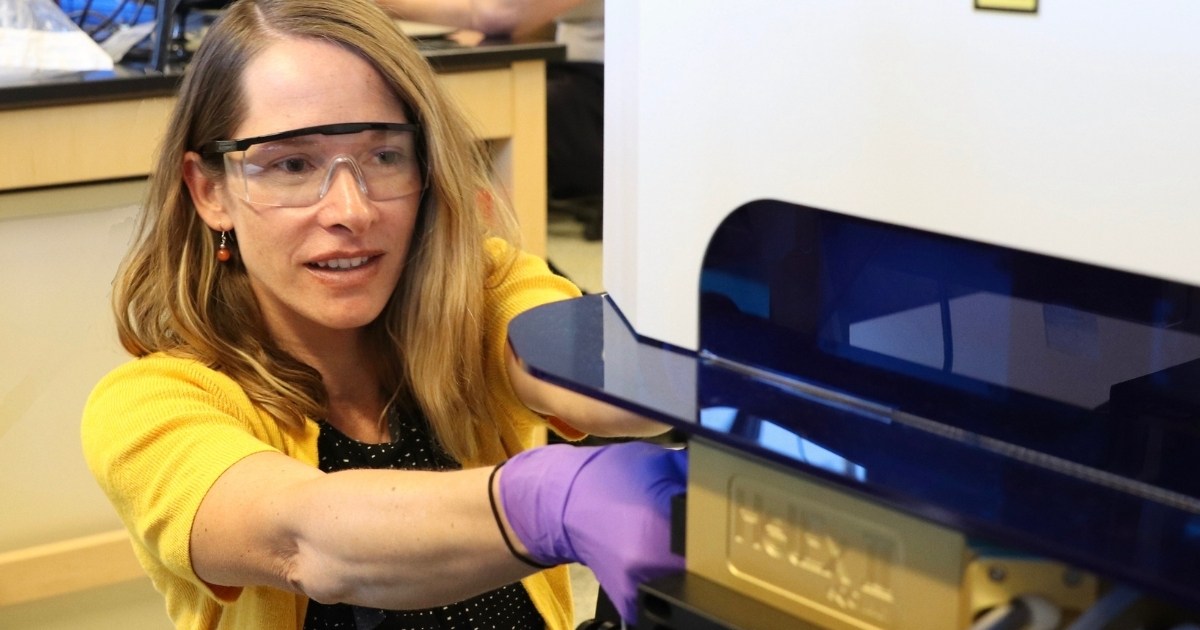 Earth stewardship award winner
October 03, 2022 Written by Dante LaPenta | Photo by Monica Moriak
University of Delaware faculty member Angelia Seyfferth was selected as the American Geophysical Union's 2022 Charles S. Falkenberg Award recipient. This award recognizes an early to mid-career scientist who has contributed to the quality of life, economic opportunities and stewardship of the planet through the use of earth science information and to the public awareness of the importance of understanding our planet.
"I was extremely surprised. It's such a prestigious honor," conceded Seyfferth, a UD associate professor of biogeochemistry and plant-soil interactions.
Worldwide, the American Geophysical Union (AGU) supports 130,000 enthusiasts to experts in earth and space sciences. As a union-wide honor, the Falkenberg Award's sizeable candidate pool can come from any of the organization's many sections.
"You have also embodied AGU's shared vision of a thriving, sustainable and equitable future for all powered by discovery, innovation and action," said AGU president Susan Lozier about Seyfferth. "And you did this with integrity, respect, diversity and collaboration while creating deep engagement in education and outreach."
Because of the close connection to food consumption, Seyfferth's research is especially meaningful to the world's swelling population. Seyfferth is particularly focused on finding ways to lower the level of metals in the food that we eat, including arsenic and cadmium levels in major global crops like rice. She is adamant that scientific solutions be realistic for farmers.
"If scientists develop a great solution, but it's not practical, people aren't going to implement it," explained Seyfferth. "Our research team tries to find solutions that are not burdensome for farmers—like adding a soil amendment to their rice that not only decreases the concentration of metals, but also actually boosts their crop yield. We must also make sure that solutions don't exacerbate greenhouse gas emissions."
To visualize the rhizosphere environment, the narrow region of soil generated by root growth and activity, Seyfferth is also working on developing new methods to visualize and preserve the rhizosphere and couple it to synchrotron radiation X-ray absorption spectroscopy and imaging. This imaging method allows researchers to better understand the dynamics between how plants are growing and where they are taking up metals and nutrients.
"Using new methods in creative ways, we can probe the mechanisms and processes that influence how metals get into plants," explained Seyfferth.
Benjamin Runkle, a research collaborator, and Brandi Reese, a University of California-Riverside graduate school contemporary, nominated the UD Department of Plant and Soil Sciences faculty member for the Falkenberg Award. The pair felt Seyfferth was such a natural fit given the award's criteria.
Both praised Seyfferth's ability to work closely with land managers and farmers to find easy-to-implement solutions. A perfect example is a current project to develop low-cost sensors, which farmers can use to monitor when their rice fields are at most risk for arsenic accumulation.
The nominators also touted her science communications ability. Seyfferth possesses the aptitude to explain major challenges in lay terms, helping others understand the importance of finding and implementing solutions.
"Dr. Seyfferth's research brings geochemical insight to societally critical problems," said Runkle. "I have watched Dr. Seyfferth explain challenging geo-chemical concepts to rice farmers in accessible and enthusiastic language."
Both Runkle and Reese also pointed to her commitment to mentoring other scientists.
"Angelia genuinely cares about public health, cares about her fellow citizens and is an inspiring role model to her mentees," added Reese, a senior marine scientist at Dauphin Island Sea Lab and associate professor of marine sciences at the University of South Alabama. "I have been impressed with Angelia's selfless devotion to and advocating for students and early career researchers, particularly those from underrepresented groups and first-generation students."
AGU will formally recognize this year's award recipients during its fall meeting in December in Chicago.
About the Falkenberg Award
Charles S. Falkenberg was a computer scientist whose research focused on enabling practical applications of earth science through data visualization and information technology. Falkenberg was also committed to increasing public awareness of both the research methods and findings regarding the Earth's environment. After he and his family died in the tragic events of September 11, 2001, Falkenberg was posthumously recognized as the first recipient of this award in 2002.