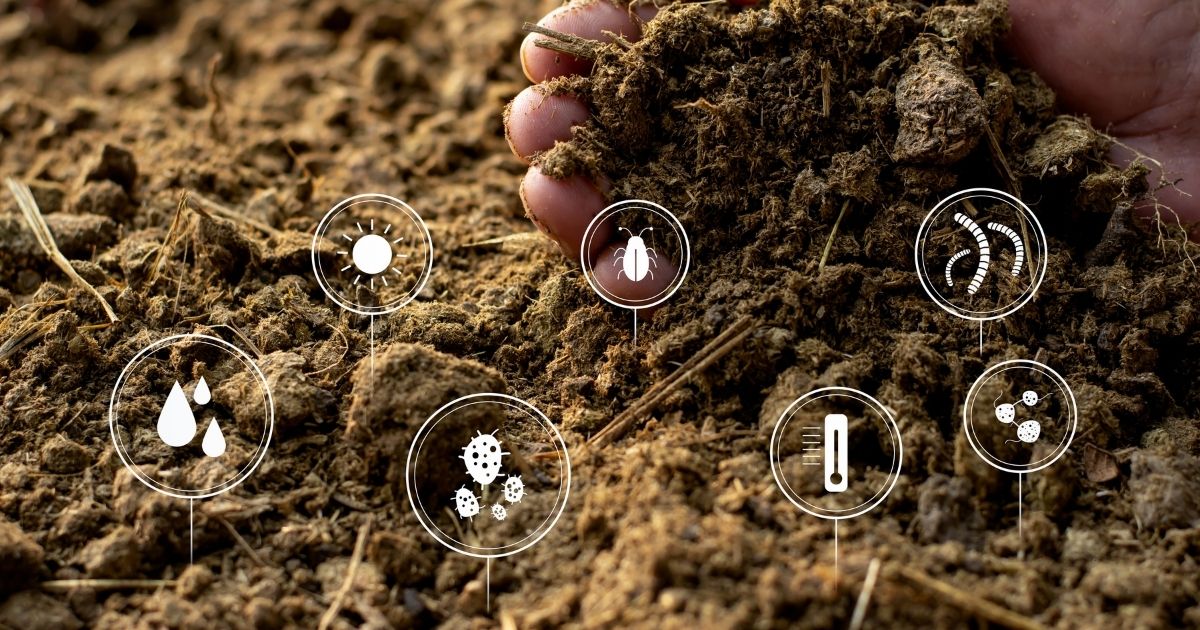 Your Questions Answered: Nutrient Management Continuing Education Credits
May 18, 2022 Written by Hilary Gibson, Program Coordinator — Nutrient Management
You have been certified by the Delaware Nutrient Management Program. Now, what? You need to earn continuing education credits to maintain your certification!
Nutrient managers in Delaware get a solid foundational training in soil science, soil fertility, manure management, and other related topics during the initial certification sessions that are offered by the University of Delaware Nutrient Management Extension Program. However, it would be impossible for our educators to cover everything there is to know about these topics in a few short sessions.
Continuing Education is a great way to:
Take a deeper dive into nutrient management topics that were introduced in the certification sessions and are of interest to you.

Tailor your education to subject areas that are most relevant to your operation.

Stay up-to-date on the newest scientific research.

Maintain your Delaware Nutrient Management certification.
Remember, individuals who hold a Delaware Nutrient Management Certification are required to earn continuing education credits in order to remain in compliance with the Delaware Nutrient Management Law.
What is a continuing education credit?
A continuing education credit, sometimes referred to as Continued Education Unit or CEU, is a measure of time dedicated to nutrient, soil, and/or water management programming. In Delaware, one nutrient management continuing education credit corresponds to one hour of instruction. Delaware CEUs are awarded in 0.25 credit increments, allowing you to get credit for educational activities that are shorter than 50 minutes in duration. For example, a 15 minute activity is awarded 0.25 credit, and a 30 minute activity is worth 0.5 credit.
How many credits do I need?
Nutrient Generators, Private Nutrient Handlers, and Commercial Nutrient Handlers all need to earn six continuing education credits during every three year certification cycle. Nutrient Management Certifications for individuals in these three certification categories renew on May 1 of their cycle year.
Nutrient Consultants need to earn five continuing education credits annually. Nutrient Consultant certifications renew annually on December 31.
It is very important that credits are earned in a timely manner, within each certification cycle.
How can I find out how many credits I have?
Certified individuals can check their credit balance on demand by visiting the Delaware Department of Agriculture – Nutrient Management Program website. Alternatively, certified individuals can contact the UD Nutrient Management team at (302) 730-4000 or nutrient-management@udel.edu for assistance with determining their current credit balance.
How can I find out about opportunities to earn continuing education credits?
The University of Delaware Nutrient Management Extension Team maintains a list of programs that are offered by UD Cooperative Extension or other regional partners and are pre-approved for Delaware Nutrient Management CEUs. There are several ways to learn about upcoming events, including:
By Mail: Contact the Nutrient Management Team at 302-730-4000 or nutrient-management@udel.edu to be added to our mailing list. We send notifications in the mail several times each year.

Online: Visit the UD Nutrient Management website to view the continuing education calendar.
We also offer many online self-paced modules as an option to earn your CEUs from the comfort of your own home!
What if I attend a program or conference that isn't pre-approved for Delaware Continuing Education Credits?
There are so MANY valuable programs across the state, region, and country that we could not possibly pre-approve them all for credit! If you attend a program that was not pre-approved by the Delaware Nutrient Management Extension Team, use this online form to submit A timed agenda with speaker and topic information and proof of attendance for the program you attended. Proof of attendance can include a registration confirmation, photos of name badges, a note from the program organizer, or any other item that validates your attendance at the event. The UD Nutrient Management Program will assess the program's content and assign the appropriate number of CEUs to your account. When approving programs, we are looking for educational instruction on topics related to nutrient, soil, or water management. Panel and roundtable discussions are not eligible for CEUs.
Once I earn my CEUs, what do I need to do to renew my certification for the next cycle?
Nothing! Your certification will renew in good standing with the Delaware Department of Agriculture (DDA). They will mail you a certification card with your updated expiration date. For Commercial Nutrient Handlers and Nutrient Consultants, DDA will invoice you at the time of certification renewal for the fee associated with your license. Make sure to let DDA know of any address changes you may have as soon as you can, so they are able to get your new card to you without issue.
What if I earn MORE than the required amount of CEUs during any certification cycle?
We love to see nutrient managers go above and beyond! However, credits do NOT roll over to the next credit cycle. It is possible to accrue more credits than you need during a certification cycle, but all accounts are restored to zero (0) credits when their certification renews. Even though you can not roll credits to the next certification cycle, earning extra credits means that you are staying informed of the best, most current information related to nutrient management.
I'm hosting an event that I think should qualify for CEUs. What should I do?
Submit information about your upcoming event using this form. You will need to provide a timed agenda with speakers and topics for credit evaluation. Please submit programs at lest two weeks before they will occur..
Do you still have questions about your Delaware Nutrient Management Continuing Education Credits?
Have no fear!The Delaware Nutrient Management Extension team is happy to help you. Our business hours are Monday through Friday 8:30a.m. to 4:30 p.m.
Find us:
In-person: By appointment only at the UD Paradee Center (69 Transportation Circle, Dover, DE 19901).

By Phone: 302-730-4000

By Email: nutrient-management@udel.edu