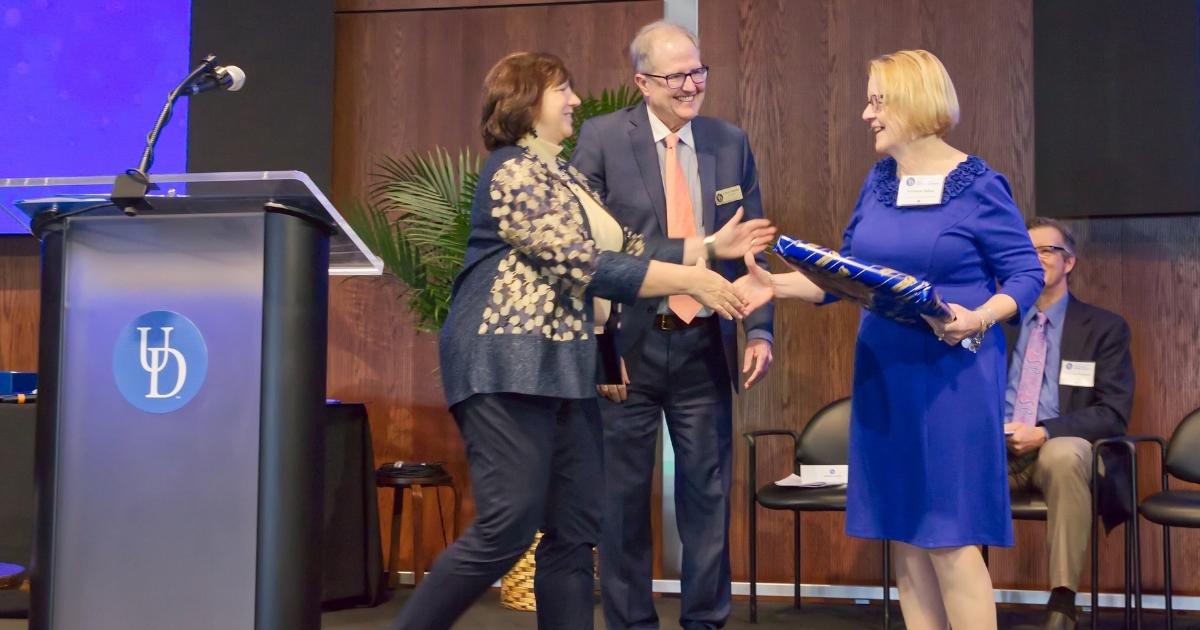 A career of service
June 06, 2022 Written by Katie Young | Photos by Monica Moriak and UD Extension Staff
2022 is turning into a banner year for Cooperative Extension's Kathleen Splane. The Health and Wellbeing Extension agent earned two major awards and surpassed 25 years of service with the University of Delaware.
Her work was most recently recognized at an April ceremony in Newark, where she received the Ratledge Family Award, given to those who exemplify excellence in public service to citizens in the state through paid and volunteer work.​ The Ratledge family, who can trace their roots in Delaware back to the 1700s, established the award to encourage and recognize significant public service contributions. The award is the University's highest honor for outreach and engagement.
Further highlighting her incredible career, Splane earned the 2022 College of Agriculture and Natural Resources' Excellence in Extension Award, presented to individuals striving to achieve the benchmarks reflective of excellence in Extension educational programming. These benchmarks include a demonstration of the high impact of programs, visionary leadership and anticipation of emerging issues for clientele and the system, commitment to diversity and integration of programs in partnership with university colleagues and community clientele.
"Kathleen is an exceptional educator," explained Michelle Rodgers, director of UD Cooperative Extension. "She shows visionary leadership and high impact programs that exemplify these awards."
A winding road
Splane describes her road to Extension as "kind of convoluted" with roots that reach back to childhood. As a ten-year-old, Splane tagged along with a friend to a 4-H meeting and fell in love with it. A self-described "city 4-H'er," she credits 4-H for building the foundations of many of the skills she has used in her career and in life with public speaking and leadership topping the list. 
"Now that I look back on it, I can tell how it shaped my life," said Splane.
Years later, Kathleen graduated college with a degree in nutrition and consumer science. She took a job in retail, working her way up the ladder until the birth of her first of two children. Then after nearly a decade working as a server, she wanted a change. 
"It was a 'well what do I want to be when I grow up?' sort of thing," laughed Splane. 
[Kathleen's] career is marked by accomplishments and positive impacts on those around her.
[Kathleen's] career is marked by accomplishments and positive impacts on those around her.
While working as a 4-H volunteer, she came across a call for volunteer Master Food Educators. She completed the training in 1994 and worked as a volunteer until taking a part-time position as a food safety educator with Extension. Then her friend and colleague Sue Snider urged her to go back to school.
"I wouldn't be in the position I am in if it wasn't for Sue coming into my life," emphasized Splane. "She definitely believed in me. I'm forever grateful that she pushed me to go back to school and be successful in this."
At 50-years-old, Kathleen completed her master's degree in health promotion at the University of Delaware while working both as a food safety educator and part-time in food safety restaurant inspections. Upon graduation, she took a job as a health and wellbeing agent with UD Extension.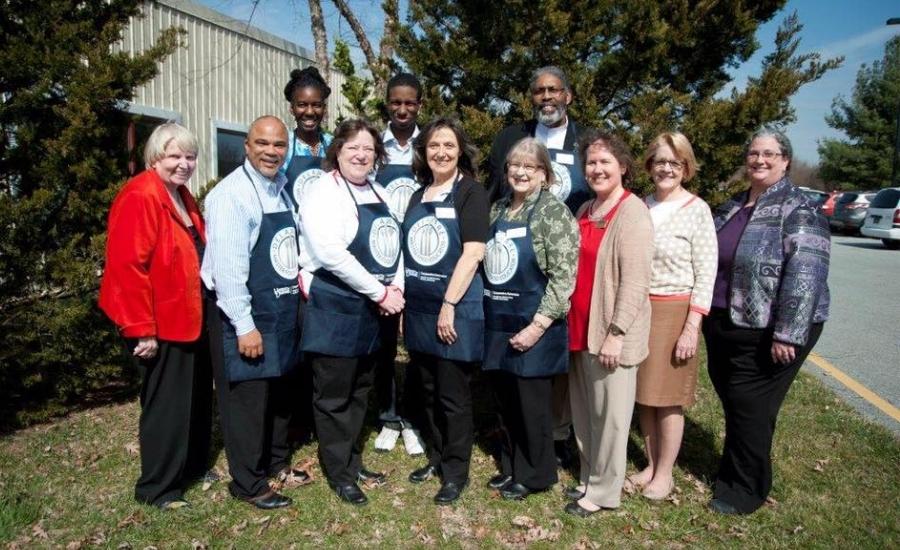 Inspiring others
Since then, her career is marked by accomplishments and positive impacts on those around her:
"Kathleen has made [work] a very rewarding and a wonderful experience for me, as well as for others involved," recounted Master Food Educator, Rosemarie LeNoir.
"I have worked with Kathleen for the past seven years and throughout that time she has mentored me in every aspect of my career. I do not think I would be where I am today professionally without her guidance," explains Kathleen's colleague: Nutrition Extension Specialist, Kimi Moore.
Today, Splane's statewide role focuses on food safety and she serves as a co-program leader for the Health and Wellbeing team. Learn more about her work.