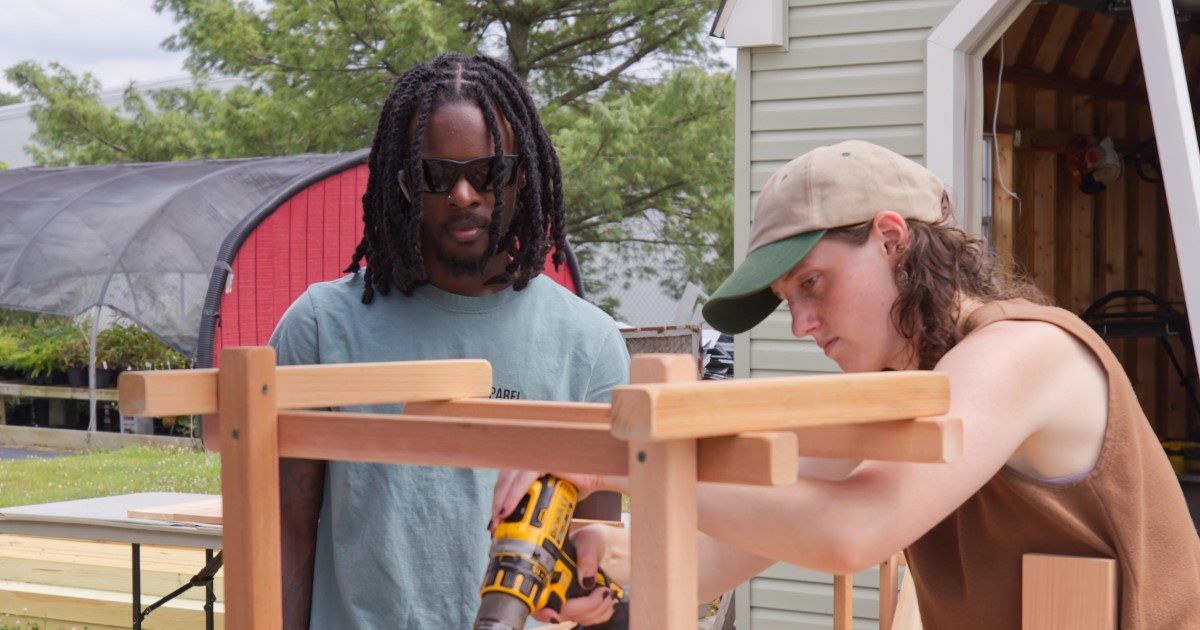 Landscape architecture hosts chair-making workshop to remember Louie Oronzio
August 05, 2022 Written by Kate Zincone | Photos by Monica Moriak
Professors and classmates gathered near the University of Delaware Botanic Gardens this summer for a chair-making workshop in remembrance of landscape architecture major Louie Oronzio, who died this past spring.
The workshop welcomed Dan Benarcik, a horticulturist at Chanticleer Gardens in Wayne, Pennsylvania and UD graduate, who specializes in chair-making, to lead the group of first-time carpenters through the process. The result was seven handmade Adirondack chairs, which students will place in the courtyard area between the College of Agriculture and Natural Resources' Townsend Hall and Worrilow Hall.
The workshop united UD students and staff who wanted to honor Oronzio.
With two decades leading workshops, Benarcik noted, "It's a group of people that don't necessarily work with each other that are working with each other to create these chairs."
Alongside Benarcik, Zach Hammaker, instructor of landscape architecture, attended the event in memory of Oronzio, who was a student in two of his classes this past spring.
"He was an extremely caring student; he would do anything for anyone," Hammaker reflected.
Hammaker is working on two specialty chairs that will be dedicated to Oronzio. The back of these memorial chairs will include drawings Oronzio created in his landscape architecture courses, laser cut in the UD MakerGym.
Several of Oronzio's friends also came to the workshop, remembering the times they shared in class.
"[Louie] was very genuine, he was always willing to help, and whenever I had a question he was there to answer it for me," remembered senior Damon Collins, a landscape architecture major working closely with Hammaker on the two memorial chairs.
Throughout the workshop, the lasting impact of Oronzio's dedication and creativity was evident within the tight-knit landscape architecture major.
"Being able to build these chairs and have something that lives on, and just a way not to forget about [Louie] is just really fulfilling," noted junior Abby Haney.