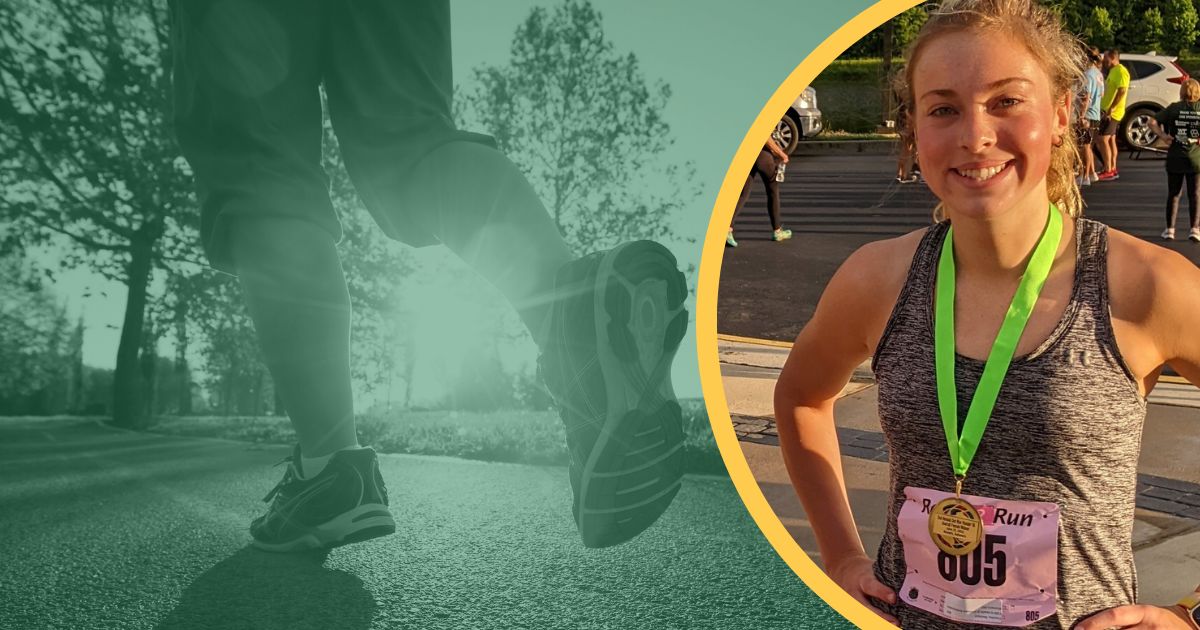 Five Ways Running Has Helped Me
August 31, 2022 Written by Madison Crossley, former Delaware Teen Health & Wellness Ambassador
I must admit that I haven't always loved running. When I was in sixth grade, I could barely run a mile and all throughout middle school, I did anything I could to avoid running. Now my views on running have greatly changed. I was able to get past the initial discomfort that comes with being a "new" runner and, as a result, I have been able to reap some of the amazing benefits that running has to offer.
1. Stress Relief
I first began seriously running at the beginning of high school. The transition from middle school to high school put a level of pressure on me that I couldn't seem to find any way to relieve. I was like a balloon continually being filled with air, and I felt that I could burst at any moment. The only thing that seemed to relieve all of that pressure was running. Little did I know at the time that running is lauded in the medical world as a wonderful way to reduce feelings of anxiety and depression, as the body releases a biochemical substance (post-run) into your body that provides a short-term feeling of calm.
2. Community
When I joined my school's Cross Country team in my junior year of high school, I was introduced to a whole community of people who shared my same love of running. We all had different reasons why we loved to run, but ultimately we were all able to bond over the fact that we enjoyed pushing other selves and we enjoyed the physical challenge that running provides. Since then, I have made numerous friendships and struck up wonderful conversations with people at the gym, park and 5ks as a result of running.
3. Time in Nature
While many forms of exercise require you to be inside or be in a noisy gym full of people, running is an activity that can be done anywhere. Of course, you can run on a treadmill if you want to, but fortunately, there are so many other wonderful places to run as well. One of my favorite things to do is go for a run in the park near my house because it gives me the opportunity to have some quiet, contemplative time in nature, where I just get to breathe in the fresh air and enjoy the pleasure that comes with simply existing as a part of nature.
4. It's Free!
Many sports require that you buy expensive equipment and for you to even consider being able to play on a school team, you have to have played on an expensive travel team for many years, a luxury many families cannot afford. One of the most wonderful things about running is its affordability! Sure, you can buy expensive shoes and accessories, but none of those things are necessary to reap the many benefits that come from running. All you really need is a pair of shoes that offer some support to your feet and you are all set!
5. It's Your Workout
The way in which running has helped me the most is the fact that it is always my workout. As the runner, you get to decide whether to run fast or slow; running is completely customizable and can be adjusted to suit the needs of any runner. Personally, running enabled me to challenge myself in a way, I never thought possible. I personally had a lot of experience challenging myself as an intellectual, but never in a physical way. Learning to challenge myself physically and overcome my own mental blockages, running allowed me to challenge myself in other aspects of my life and it gave me a greater sense of confidence in myself.
Not everyone loves running and that is completely fine, but I do urge anyone considering running to give it a try as there are so many more benefits it provides aside from just those that are physical. I was once having a conversation with my cross country coach and I expressed to him that I was sad that I wouldn't be able to run on the high school cross country team any longer and he reminded me that an amazing part of running is that it's a lifetime sport. It doesn't matter what age you are; there are always opportunities for people to get out and run.
--
Madison Crossley is a recent graduate of Caesar Rodney High School and former Delaware teen Health & Wellness Ambassador. Madison represented Teen Health & Wellness Ambassadors at many 5Ks throughout the state over the past year, including the Food Bank of Delaware 2nd Annual OutRun Hunger 5K (pictured above) where she placed first overall for all females!