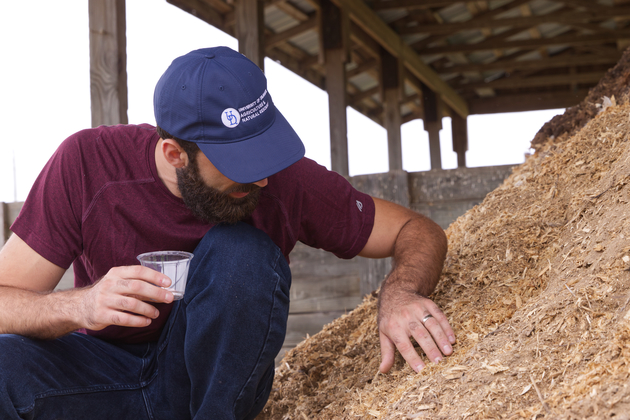 Agricultural entomologist
October 06, 2021 Written by Dante LaPenta | Photo by Monica Moriak
New faculty member Michael Crossley chose UD for land-grant impact
The University of Delaware Department of Entomology and Wildlife Ecology has a new faculty member — Michael Crossley. A self-described entomology generalist, Crossley's research fits under three themes — insect movements, adaptions and response to environmental change.
The first theme originates from a basic question. Where are insects when they aren't on our crops? Crossley uses molecular tools to find the answers, collecting data sets over time.
"It can be very difficult to observe an insect's movement," explained the assistant professor and agricultural entomologist. "You analyze insects' DNA looking for similarities and differences to infer the extent of movement. Or you look at the DNA in their gut to see what they are eating. That gives us clues on where the insect came from."
He uses his findings to help growers target pest management.
Crossley is also interested in how insects adapt. Many insects like the potato beetle are famous for evolving resistance to pesticides very rapidly.
"Pesticides form the backbone of management practices right now — maybe too prominent," said Crossley. "I look at these insects' genetic makeup to see what genes are being turned on when they're exposed to insecticides."
Crossley is also curious about location differences. Why are there places where these insects are a huge problem — consistently evolving resistance — versus other locations where you do not see that?
"If we can get our hands on the answer, we might learn something about how to delay resistance," he emphasized.
To round out his research interests, Crossley investigates how insects respond to environmental change. From the most intense cornfields to the most undisturbed locations, he studies how insect numbers change as well as insect diversity.
"In both land use and climate, we are seeing an increased pace of change," explained Crossley. "In a place like Delaware, you see a close interface between water, agriculture, and urban/suburban land. Factors can become important in those environments like artificial light at night and sea level rise. What are the consequences of these changes for insects?"
Crossley hopes to build from these themes while doing applied research relevant to farmers in Delaware. In the spring 2022, he plans to bring on two graduate students to work on darkling beetles in poultry and slugs in corn and soy. He is also keeping close tabs on the expanding prospects for insects as food, feed, and waste recyclers, and hopes to develop research that helps integrate the benefits of insect farming into the existing grain and specialty crop systems.
Discovering entomology
As he began his college career at the University of Wisconsin, Crossley discovered entomology at an undergraduate major fair. Searching for hands-on scientific experience, he earned an independent research position while he was only a freshman.
He parlayed that early experience into a summer position visiting Wisconsin vegetable fields, scouting experimental plots and counting insects. While visiting Amish farms in the western part of the state, he discovered entomology's important, practical value and was hooked. As he'd visit research plots, a family farmer would greet him with jars of insects or diseased plants, inquiring about what was attacking their crops.
"As a freshman in college, I had no clue what was in those jars," recalled Crossley. "So, I'd do the right thing. Take it to the local county Cooperative Extension agent, who would get in touch with an answer. There are people who really rely and depend on our knowledge. I realized that an entomology degree would mean something useful for farmers."
Becoming a Blue Hen
As he completed his postdoctoral research, Crossley's preferred landing spot was at a land-grant university, where his work would have the same direct impact that he experienced as a college student. He says of all the jobs on his radar, UD was the perfect fit as he could work across the food system rather than specialize.
"The title was agricultural entomologist. That's how I define myself," emphasized Crossley. "Another major reason is the collaborations that I'm walking into. Take the Carvel Research and Education Center. Whether it's entomology, agronomy or weed science, they have an amazing staff."
Crossley specifically points to the applied work of Cooperative Extension agents in transmitting research information to growers.
With corn, soy, specialty crops and poultry, Delaware's landscape was a major draw. He was also excited by the interdisciplinary relationships in the Department of Entomology and Wildlife Ecology.
"I foresee some really cool collaborations emerging with both the entomology and wildlife faculty members," said the researcher.
Crossley will begin teaching courses at the start of the spring semester. He leads off with Population Ecology (ENWC435/635), where he'll help students understand how populations grow and interact with each other – relevant to both pest management and wildlife conservation. In Fall 2022, Crossley begins Insects in Agricultural and Urban Environments (ENWC311), which emphasizes species that affect the life and commerce of people. Soon after, he'll add one additional undergraduate course, Insect Pest Management (ENWC411/611), and new, under-construction graduate course.