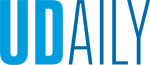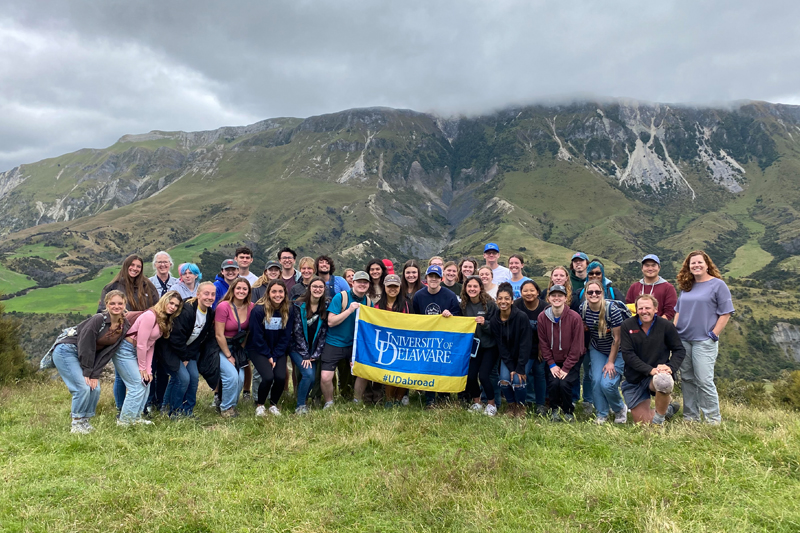 Sustainable agriculture abroad
Article by Dante LaPenta Photos courtesy of Francesca Holl and Dominic Carrea May 04, 2023
UD students experience sustainable agriculture first-hand through New Zealand study abroad course
You know you've had a life-changing experience when you can't stop talking about it. Ask any University of Delaware student about their 2023 study abroad program in New Zealand, and their eyes immediately light up; the words can't come out fast enough.
Starting in 1999 and every other year for the past 25 years, adventurous UD undergraduates spend their winters in the New Zealand summer for a master class in sustainable agriculture. While Britney Spears and Brandy jousted for position atop the 1999 Billboard music charts, these '90s Blue Hens studied agriculture and animal science in Te Waipounamu, the South Island of New Zealand renowned for its mountains, lakes, glaciers and agriculture. 
The program was so impactful that UD professors and students never stopped going back. With a new crew of Hens in the 2023 Winter Session, nearly 400 University of Delaware students have now made the trek to the Land of the Long White Cloud. 
The masterminds behind this enormously popular course are Lesa Griffiths, professor in the Department of Animal and Food Sciences, and Susan Garey, Cooperative Extension Kent County director, animal science agent and state 4-H youth development animal science program coordinator. The duo led 34 undergraduate students and two program assistants on a four-flight, 30-hour trip to the other side of the planet. UD's unique Winter Session lines up perfectly with beautiful New Zealand summers — an ideal time of year for Blue Hens to get up close and personal with the sustainable and resourceful farmers of the island nation. Students receive a first-hand education on sustainable food production, preservation of native habitats, soil and water resources on farms, and efficient, pasture-based food production.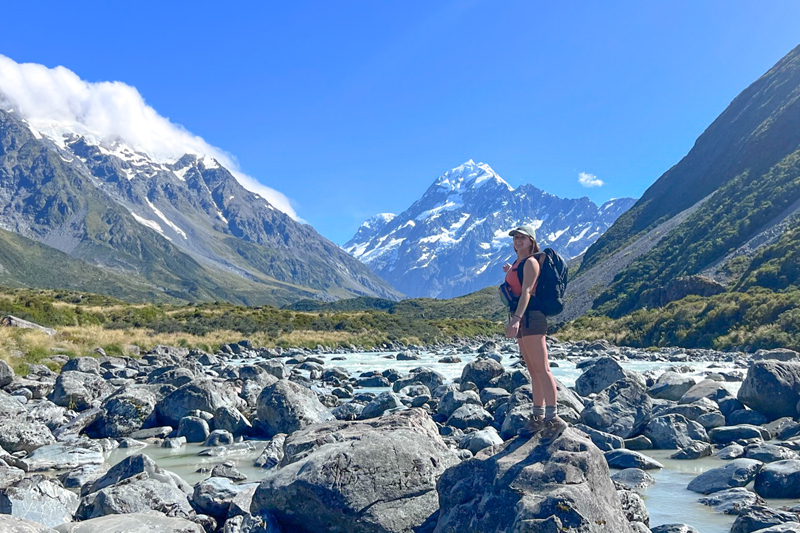 But the island nation was not always a leader in sustainable agriculture. In the 1980s, New Zealand's government suddenly discontinued agricultural subsidies and imposed stricter sustainability standards. The sweeping changes rewarded farmers who were innovative and business-savvy. The small country became very efficient, selling agricultural products to nearly every country in the world. This recent history and its effects were enthralling topics for sustainable food systems majors like Honors junior Evyn Appel.
"In my [previous] classes, the focus is American agriculture. It's easy to get caught up in your own issues," Appel said. "New Zealand was eye-opening. I expected them to have it all figured out. As we visited more and more farms, it became clear that they also have issues. There are common issues across the globe. In a way, that should make it easier for us to address them." 
The 25-year relationship between UD and New Zealand's agricultural community equals fantastic field trips. Griffiths notes the evolution of the course from a primarily animal agriculture focus to its current expansive swath of topics surrounding sustainable food production. 
"New Zealand has a very systems-based approach to agriculture," Griffiths said. "Now when we visit a farm, we're talking about animal agriculture, crop production, seed production, soil and water conservation, water quality, forestry, and native habitats for plants and animals. Our students came away with a much different picture of agriculture."
In 2019, Garey became a Nuffield International Farming Scholar, which promotes global learning and leadership in agriculture. Through that program, she's built relationships all over the world with quite the diverse collection of agricultural innovators. Fellow Nuffield Scholar Hamish Murray led this year's field trip to his family farm, Bluff Station, which boasts an astounding 34,000 acres bordered by two mountain ranges and the Clarence River. Murray guided the students throughout the farm's dirt roads. He regaled them with tales of his studies at Oxford; overcoming severe droughts, an earthquake, pandemic and mental health challenges; and his philosophy of employee empowerment.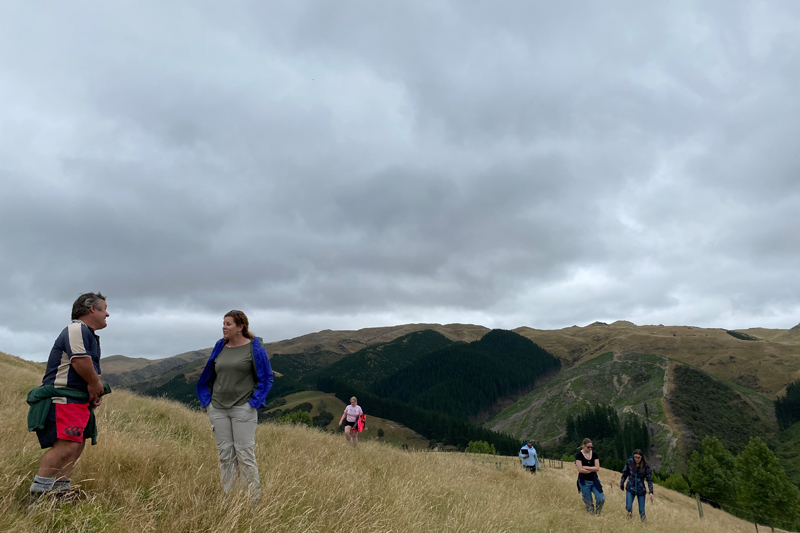 "You could tell that they really cared about the people that they worked with," said UD junior Dominic Carrea. "[Murray] truly wanted to give back. It made the experience so much more meaningful to me."
"The farmers are the real rock stars of this course," Garey said. "Our students walk away with so much more than agricultural knowledge. Life lessons are embedded in these student-farmer discussions."
In-between field trips and weekend excursions, UD students return to the same New Zealand home base — Lincoln University, a warm host to adventurous Blue Hens since the 1990s. At the airport, the Hens were always greeted by Lincoln staff member Errol Costello. Long retired, Costello still made the trip to greet the 2023 group.  
Lincoln's centralized location on the South Island is ideal. And the housing keeps costs down compared to study abroad courses that rely on hotels. The large, single rooms provide a private respite after a day of travel with a big group. 
"Instead of running the program fee up at restaurants, the Lincoln University staff cooks for the students in the dining hall," Griffiths said. "UD students have access to the student lounge and recreation center. They feel at home."
In the early years, the New Zealand course was filled with predominantly pre-veterinary medicine and animal science majors. While those majors remain well-represented, the 2023 edition featured a wider range, not just in the College of Agriculture and Natural Resources, but across the University. The list includes food science, plant science, sustainable food systems, environmental and resource economics, and wildlife ecology and conservation among others. 
Carrea, a wildlife ecology and conservation major, saw the course as an opportunity to connect with farmers, an audience with which conservation professionals consistently interact. 
"A big motivation for me was being able to understand farmers from their perspective, so I can better work with them in the future," said Carrea, who plans to pursue a career as a wildlife biologist.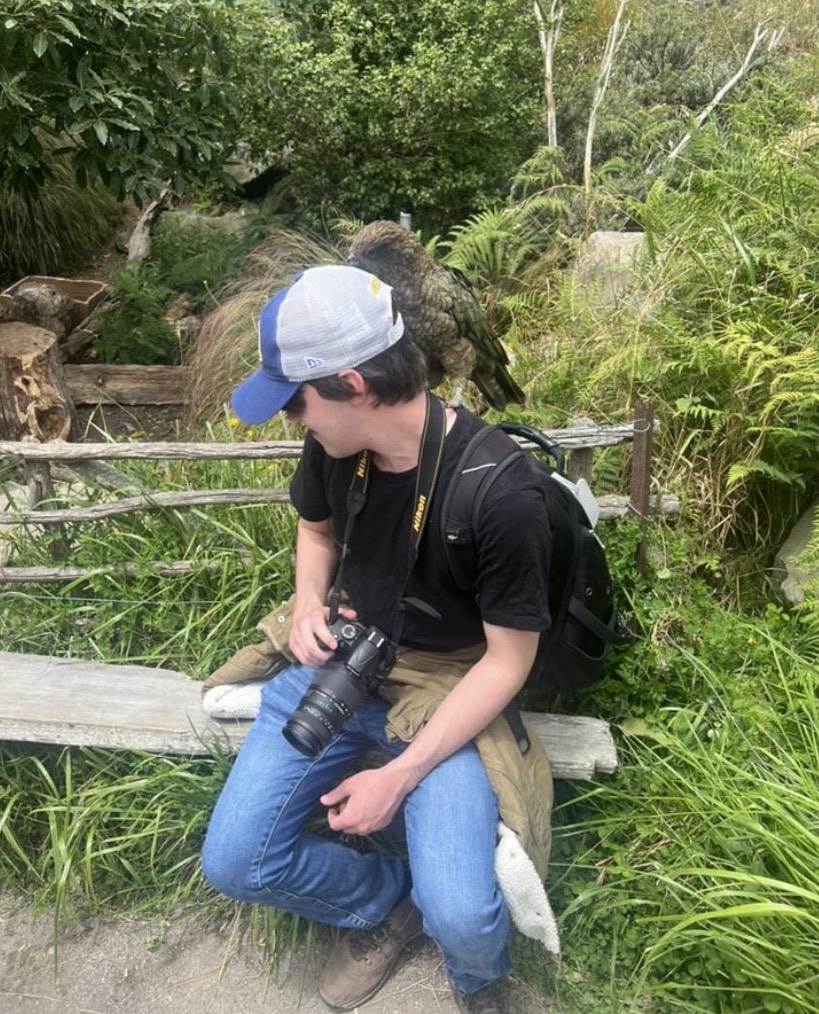 Outside of the course-focused field trips, the group made the most of its free time, trekking mountain trails and observing the diverse wildlife. Carrea's most memorable excursion was Arthur's Pass, a valley in the southern mountain range, a region chock full of rare wildlife.
One of the course assignments is writing a blog to chronicle the experience. Many students enjoyed the atypical writing assignment, noting how it allowed them to focus on the present.
"Writing the blog made me realize the experience really is a journey," said Francesca Holl, an Honors junior pre-veterinary medicine major. "Don't just focus on trying to get to the next place. Enjoy where you are and what you're doing."
As their final day in New Zealand drew near, the students hosted a farewell dinner at Lincoln University, inviting the farmers who hosted them throughout the course. When local farmer Scott McFadden entered the room, you would think a rock star arrived based on the students' very audible, excited reaction. McFadden's father, Bob, hosted the first generation of New Zealand Blue Hens starting in the late '90s. After his father passed away in 2006, McFadden contacted Griffiths to assure her that he wanted the educational visits to his hill-country sheep farm to continue. In addition to the operations of his farm, McFadden spoke frankly with the undergraduates about farmers' mental health challenges.
"Scott McFadden was such an inspiration to talk to as he gave us such meaningful life advice," Holl said. "One of my favorite quotes from him was, 'Why don't you make each day a good day, have a good laugh, because you have to keep yourself going?'"
Whether you're an avid traveler or are anxious to take such a big leap, these Blue Hens see tremendous value in study abroad courses.
"There is so much to experience that you wouldn't have access to without the connections of UD professors," Holl said. "Sure, you could go on a vacation, but you'd never have the same experience as you do with other college students."
The 2023 contingent included students ranging in age from 18 to 25 and were a diverse, unique group, Griffiths and Garey said. Many students had the unfortunate timing of spending their latter high school and early college years in pandemic mode. Virtual courses and limited extracurriculars meant fewer opportunities to connect with classmates. 
In addition to the waves of new knowledge, a journey halfway across the globe and into New Zealand's remote regions gave these Blue Hens the simple gift of time together. Now back in Newark during the throes of a spring semester, they feel a stronger bond to their UD cohort. Long rides on winding mountain roads provided ample time to connect. Professor Griffiths' rule to switch seatmates on each new expedition fostered the group's feeling of connectivity.
"I really connected with the other students both professionally and on a personal level," Carrea said.
Griffiths added, "After the course ended, we received a wonderful letter from a UD parent saying how much the experience changed her daughter's perspective on college because she found others like herself and experienced this amazing opportunity together." 
The power of study abroad is looking at the world from a different perspective than your own. Back in 1998, the late Neil Gow of Lincoln University created the vision and direction for this now study abroad-staple. Year after year, Gow taught every cohort of Blue Hens to see the world through New Zealanders' eyes.
"He'd say, 'We are a little island on the bottom of the world," recalled Griffiths. "While you're here, we need you to lay on the ground and look up.'"
The next sustainable agriculture program to New Zealand departs January 2025. UD offers more than 100 programs in about 40 countries. More than 30 percent of UD undergraduates study abroad at least once. Learn more about study abroad at the University of Delaware.