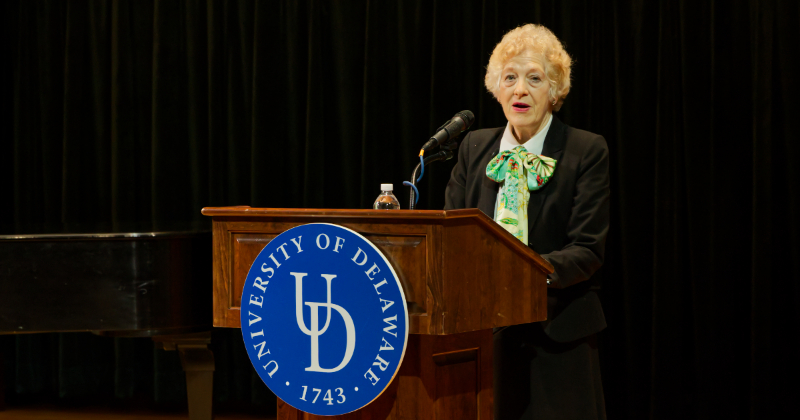 Sparks Distinguished Lectureship
April 20, 2022 Written by Lauren Bradford | Photo by Monica Moriak
M.B. Kirkham leads discussion on soil-plant-water relations
On April 14, the University of Delaware Department of Plant and Soil Sciences hosted the 2022 Donald L. Sparks Distinguished Lectureship in Soil and Environmental Sciences at Gore Recital Hall. With a lecture focused on the impact of microplastics on plants and the environment, featured speaker Mary Beth (M.B.) Kirkham of Kansas State University detailed her extensive research in soil-plant-water relations.
"Mary Beth Kirkham is an internationally recognized teacher and a dedicated mentor. She has written three textbooks and given lectures across the globe. She is major advisor to more than 30 graduate students and has served on more than 160 graduate student committees. She is a creative and productive scholar and has performed groundbreaking research at the interface of physics, plant physiology and plant biology. She's an international authority on soil-plant-water relations and the uptake of heavy metals by crops from contaminated soil," said University of Delaware's Yan Jin, Edward and Elizabeth Rosenberg Professor of Soil Physics and Environmental Toxicology, and 2021 recipient of UD's Francis Alison Faculty Award.
"In addition to writing three textbooks, Mary Beth is the editor of six more books and there are more in the works. And she has published more than 350 journal articles. This and other contributions have earned the respect of her peers and colleagues from all over the world and she has been awarded countless awards and recognitions — the list goes on for two and a half pages, single-spaced. Her long-term and varied services to the scientific community and to the profession are unparalleled."
View Dr. Kirkham's lecture entitled Microplastics as Contaminants in the Environment: Impact on Plant-Water Relations and Cadmium Uptake.