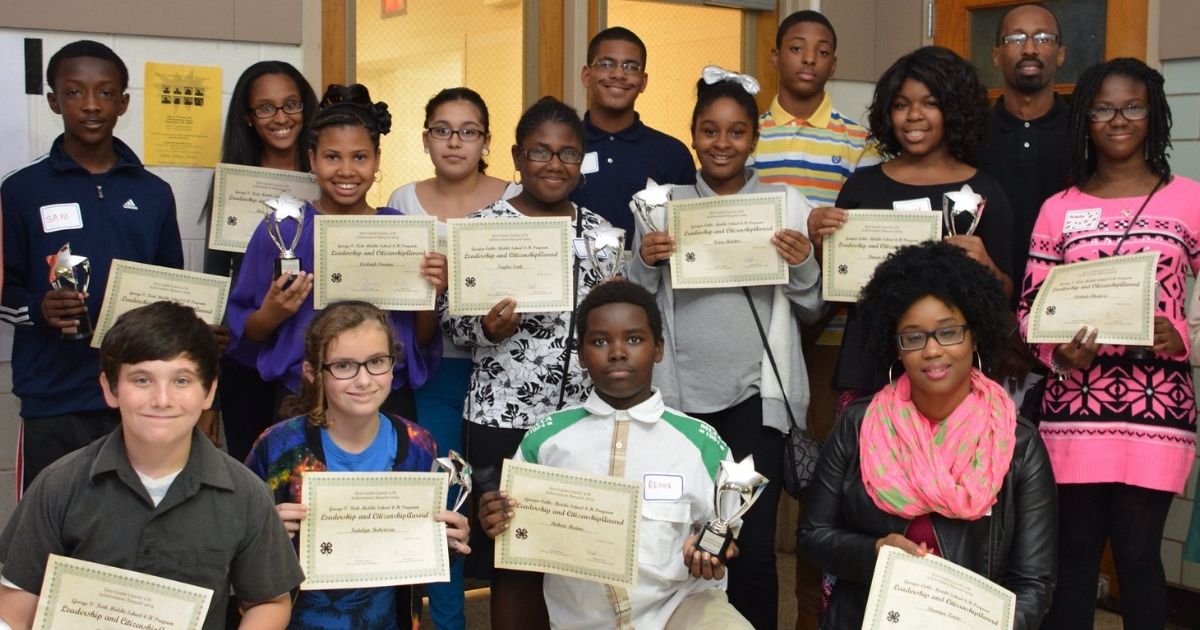 Building Future Leaders in 4-H Afterschool
September 20, 2021 Written by D'Aesha Fletcher, Frank Ferlenda and Ray Taylor, Delaware 4-H
4-H Youth Development has been building upon its core values, the 4 "H's"- Head, Heart, Hands and Health, since 1902. It provides hands-on experiential learning education opportunities for youth ages 5 - 19 years of age through programming focusing on the three National 4-H mission mandates: STEAM, Civic Engagement/Leadership and Healthy Living. 4-H has provided more than 25 years of quality programming to our 4-H Afterschool youth-partnerships through school districts and community organizations. These efforts extend the national mission of empowering youth to reach their full potential by bringing 4-H into the school setting and ultimately, into our communities. Major components of the program include academic assistance, asset building, engaging in healthy lifestyle choices, hands-on experiential learning enrichment activities, school connectedness and parent engagement.

Across Delaware, 4-H Afterschool programs have been shown to positively influence school attendance, academic performance, motivation, behavior and overall, encourage students to do well in school and beyond. These positive outcomes ultimately assist in increasing graduation rates. 4-H Afterschool also meets the needs of parents by providing a safe environment and qualified mentors and additionally meets the needs of school teachers by helping to strengthen and foster the love of lifelong learning.

Most recently, with the worldwide pandemic, we added virtual programming to stay connected to those students and families who are not yet comfortable with in-person activities. The 4-H program is well known for expanding knowledge in a variety of project areas while providing leadership and civic engagement opportunities for the youth involved as well as teaching life skills and critical thinking skills that can be so important for them to have to use in their future lives. 4-H afterschool participants are provided an opportunity to learn and grow while working directly with caring staff, enrichment resources and having opportunities to become leaders of the future.

The plethora of activities students participate in throughout the school year and into summer camp programs consists of STEAM, robotics, college/career readiness, drama, arts/crafts, theater, dance, physical activity, healthy living and nutrition. Additional activities include leadership, citizenship, intramurals, computer science, team building, public speaking, cooking and many others. We were also excited this year to add our newest STEM opportunity in partnership with the National Aeronautics and Space Administration (NASA). Students participate in STEM challenges that are based upon real mission data and experiences that occur during the exploration of the solar system.
 
With the abundance of activities, the learning outcomes for 4-H Afterschool programming go beyond just academic enrichment. Our goal for participants is not only educational, but we also hope they gain leadership skills, build self-esteem, learn goal-setting, learn to think critically, foster empathy, problem solve, prepare for careers, improve social skills, embrace teamwork, develop responsibility and much more!
 
Currently, Delaware's 4-H Afterschool programs serve nearly 500 youth in K-12 grade at eight programs in all three counties across the State of Delaware. Program collaborations are hosted at Harry O. Eisenburg Elementary, George V. Kirk Middle and Knollwood Community Center in New Castle County; at Lake Forest South Elementary, Milford Central Academy and Milford High School in Kent County; and at Phillip C. Showell Elementary and the Hickory Tree Community Center in Sussex County.
 
Funding for our programs is supported by the Nita M. Lowey 21st Century Community Learning Centers Program (21st CCLC), the State of Delaware Department of Services for Children, Youth and their Families Division of Prevention and Behavioral Health, New Castle County Government and the National 4-H Council National Mentoring Program through the Office of Juvenile Justice and Delinquency Prevention.