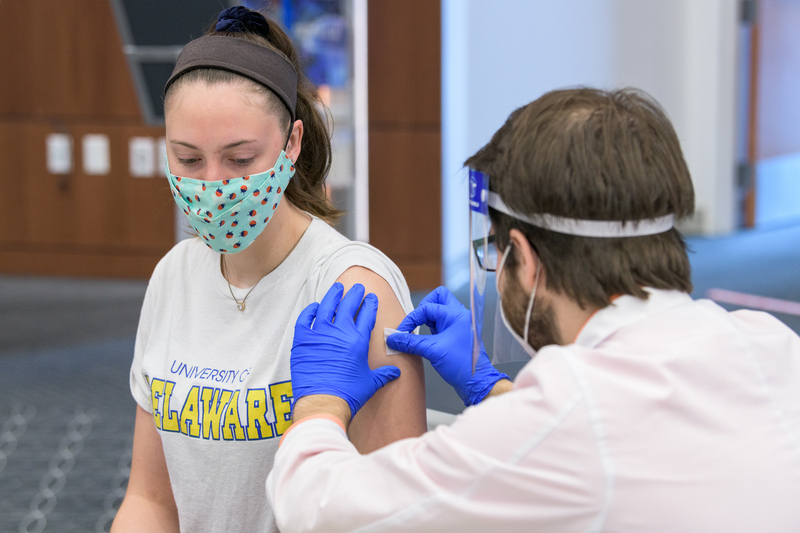 Extension educates on vaccine
May 13, 2021 Written by Katie Young | Photo by Evan Krape
USDA-NIFA, CDC and Cooperative Extension team up for COVID-19 vaccine education
The Centers for Disease Control and Prevention (CDC) recently provided $9.95 million in funding to the U.S. Department of Agriculture's National Institute of Food and Agriculture (NIFA) to support an innovative approach to community education and partnerships to advance adult immunization. This is the two agencies' first concentrated vaccine education effort in rural America.
NIFA will use this funding, provided in an interagency agreement, to support Land-grant Universities and the Cooperative Extension System in delivering immunization education to the communities they serve to improve vaccine confidence.
"During this pandemic, it is critical that Delawareans have non-biased, research based information to inform their decisions about vaccination," said University of Delaware Cooperative Extension Director Michelle Rodgers. "Cooperative Extension has spent more than 100 years sharing this type of information for citizens to make informed decisions and are trusted messengers working in our communities."
Extension will also work with local partners, including healthcare providers, to make COVID-19 and other adult vaccines more accessible for rural, medically under-served and other harder-to-reach communities.
"Cooperative Extension agents are recognized and trusted messengers in their communities and can help deliver fact-based information on the COVID-19 vaccine and other adult vaccines," said Jay Butler, CDC deputy director for infectious diseases. "We know vaccination rates overall are lagging in rural communities, and Extension agents can play an important role in building COVID-19 vaccine confidence and increasing vaccine access within the communities they serve."
"Cooperative Extension has a century of experience as change agents and educators in communities across America," said NIFA director Carrie Castille. "NIFA is proud to be the federal partner with such a trusted educational resource, but especially in this effort to deliver science-based vaccine education. This new partnership with CDC is a natural fit for the Extension System to do what they do best – provide balanced, reliable information so people can make informed decisions."
In Delaware, Cooperative Extension is helping to inform individuals, families and the farm community about questions and resources related to COVID-19 to ensure that everyone has the information they need to make informed decisions and support the health and wellbeing of all Delawareans.
Early examples of University of Delaware Extension's contributions to helping communities fight COVID-19 and providing vaccine education include:
Recorded videos on how to register for immunizations in Delaware;

Distributed research-based information as part of Weekly Crop Update and Delaware Ag Week;

Publishing Facebook and Twitter updates about vaccine availability and how to use/access the official State of Delaware website and resources;

Distributing opportunities for free face masks (provided by the U.S. Department of Health and Human Services) to statewide community coalitions;

Adding a COVID-19 question to the Route 9 corridor community health needs assessment to explore pandemic impacts on social determinants and mental health;

Moving educational programming online to allow us to continue sharing information on essential topics such as food safety, financial resource management, gardening, and growing food;

Participating in weekly statewide calls with approximately 75 partners to stay up-to-date on Delaware's vaccine distribution strategy;

Participating in weekly local calls with more than 30 partners to increase vaccine access and share resources in New Castle County;

Convening a team of stakeholders to discuss ongoing immunization needs in the state;

Participating in a national collaborative to align with other Extension services; and

Developing COVID-19 and vaccination educational materials for the community.