Fischer Greenhouse Complex
Contact Information
William Bartz, Greenhouse Manager
Phone: (302) 831-3574
E-mail: wcbartz@udel.edu
Rodney Dempsey, Horticultural Greenhouse Supervisor
Phone: (302) 831-1374
E-mail: dempsey@udel.edu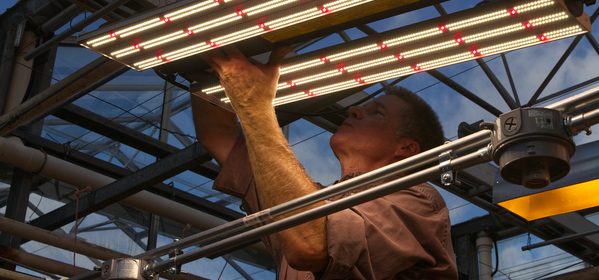 Complex and the Growth Chamber Facility
A state-of-the-art plant growth facility in the University of Delaware College of Agriculture and Natural Resources, the Fischer Greenhouse Complex is a professionally-managed suite of growth chambers and glass house facilities serving the research and education community.
The Fischer Greenhouse Complex provides the primary greenhouse space available to faculty, professionals, staff and students, and is dedicated to the acquisition and dissemination of knowledge through research, teaching and outreach activities, extension demonstrations, departmental functions, and sponsored student organizations.
The facility includes LED grow lights donated by VOLT Grow. These 20 VL-1 LED fixtures increase energy use efficiency to save on electricity compared with current high-pressure sodium lamps and provide UD faculty and students with advanced lighting capabilities for greenhouse plant research. 
Fischer Greenhouse Complex and Plant Growth Facilities
The 13,800 ft2 Fischer Greenhouse Complex and the Growth Chamber Facilities offers:
Glass Houses (17,000 ft2) with Headhouse (5,000 ft2)
Growth Chambers (2,300 ft2 ) and Growth Room (500 ft2)
Commercial Seed Dryer and Seed Storage Unit
Cold Storage for Plant Germplasm
Policies
Request Forms