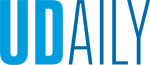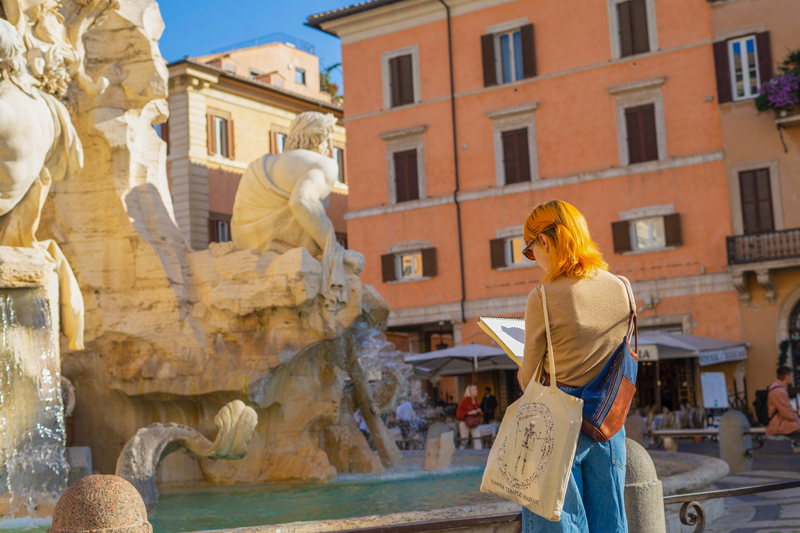 Study abroad storytelling contest
Article by Grace Kearns Photos courtesy of Stephanie Ferrell, Hanna Parikh, Kevin Johnson, Isabel Lecompte, Sally Bornhorst and Jason Wang November 14, 2023
UD recognizes photo contest winners, highlighting a century of study abroad experiences
When Professor Raymond Kirkbride proposed the first for-credit study abroad program in 1923, the University of Delaware was hailed nationally and internationally for its promotion of global engagement. For the past century, UD maintained its reputation as a leader in international higher education, through the fresh, innovative ways the University has internationalized the curriculum and student experience.
"As a university, we are extremely proud to be recognized as a leader in global education," said Matt Drexler, director of study abroad at UD. "Witnessing the growth of our students, as they develop global mindsets and intercultural empathy, is what drives us to continue expanding the global community at UD. We love hearing the stories, memories and challenges they share with us when they return home from their abroad experiences."

That said, a picture is worth a thousand words.
Every spring the Center for Global Programs and Services (CGPS) invites students who studied abroad that year to share the incredible views they captured and the unforgettable memories they made through the annual study abroad photo contest.
In celebration of the 100th anniversary of study abroad, CGPS expanded this year's contest to be one of storytelling, accepting submissions not only from the past year, but from the past century of global engagement. For the first time, UD alumni were invited to participate in the photo contest along with current students. To further capture the student experience of life abroad, an essay component was introduced in this year's competition, modeled after the annual International Student Essay Contest and open to current students, alumni and faculty. 

Winners were selected in each of three categories: Living, Learning and Loving the Location. To qualify for the "Living" category, photo submissions were required to reflect the people, creatures and traditions students embraced in their host location; this was meant to give viewers insight into students' personal experiences while abroad. Submissions to the "Learning" category focused on the academic experiences during their program; this could include discoveries made within the classroom or on faculty-led excursions, community service or research projects, or anything else that could give a sense of students' experiential learning abroad. Lastly, the most traditional category, "Loving the Location," accepted submissions that showcased the outstanding views, landscapes and cityscapes located in more than 100 countries on six continents.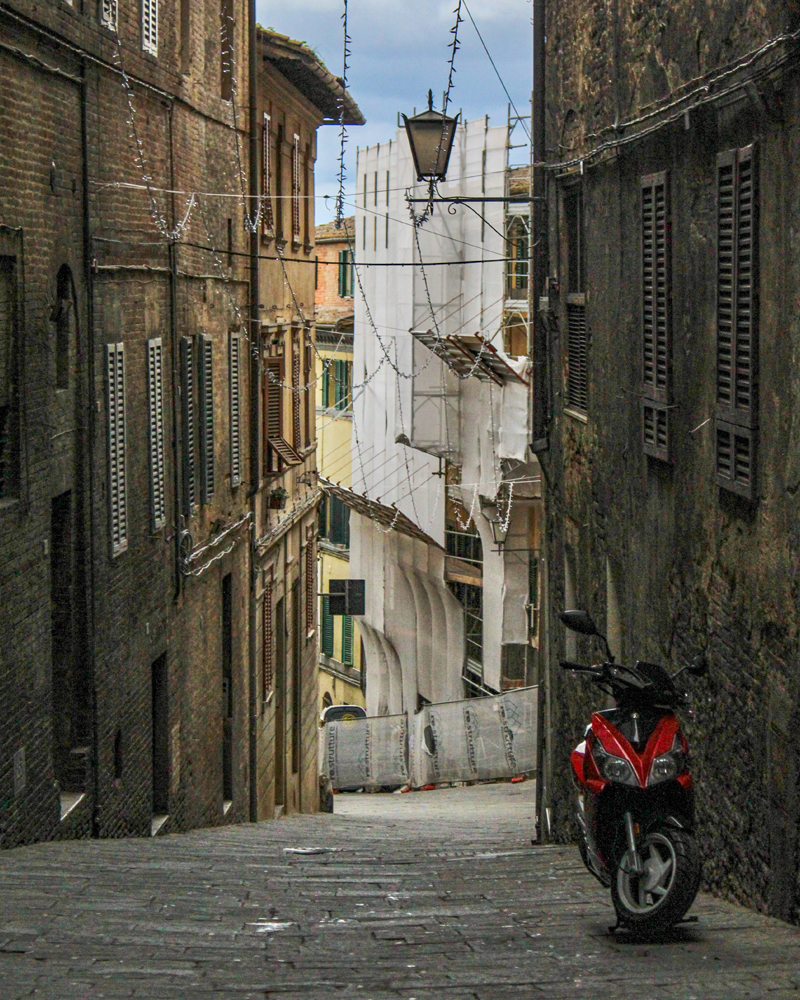 Hanna Parikh, a third-year student at UD, was awarded second-place in the Living category of last year's student contest. Parikh participated in the 2023 Winter Session Italian Language Learning and Culture program led by professors Roberta Morrione and Riccarda Saggese. After returning home from Siena, Italy, she submitted a meaningful photo of a red Vespa, which became a landmark in her daily life abroad, to the photo contest. 
"This is the street I walked down every day to get home," Parikh said. "Using the vespa that was always there, I could always tell that it was the right one."
In the alumni competition, Kevin Johnson, a former UD World Scholar and Summer Fellow, was the overall alumni winner for the Learning category. During his time abroad in Vladimir, Russia, Johnson visited a traditional Russian Orthodox cathedral in the historic village of Suzdal, which became the focal point of his submission. To capture this angle of the distinct Russian architecture, Johnson shared that he had to lie down on the floor of the cathedral, which inspired the title of the photo, "View from an Open Casket."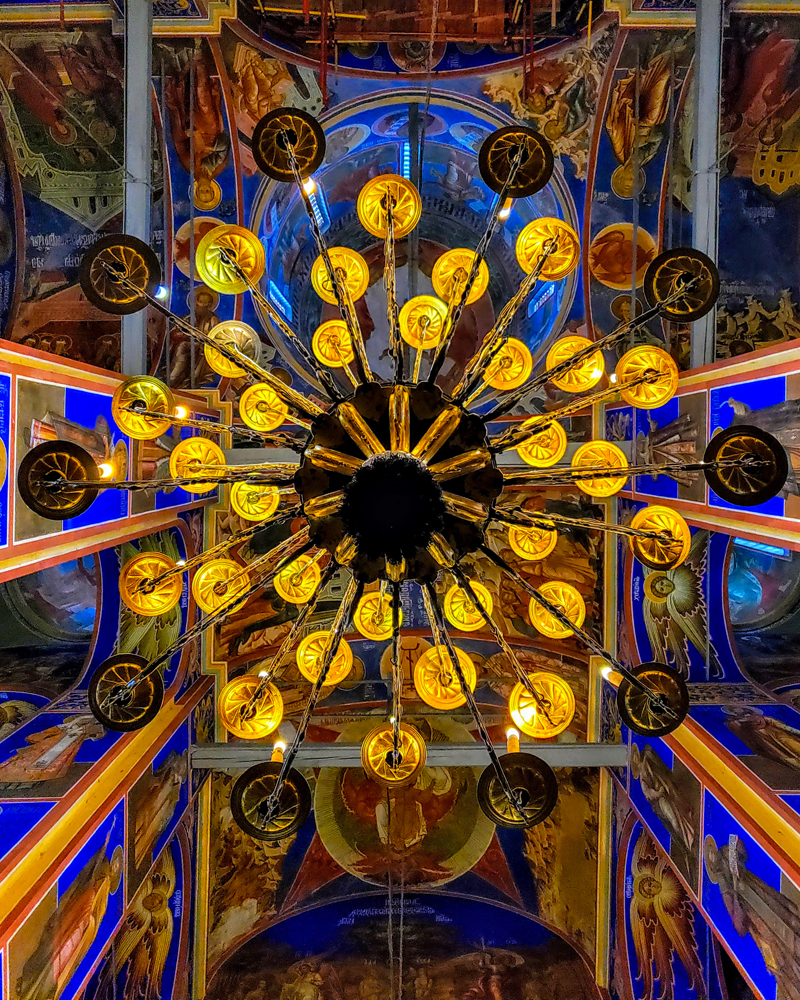 "It's a mesmerizing assault on the senses no matter where you look in a Russian Orthodox cathedral," Johnson said. "They became a staple of every excursion we went on during our time in Vladimir." Johnson also placed in the Loving and Living categories.
Even though World Scholar Ruby Zegowitz studied abroad in Madrid, Spain, in the fall of 2022, she was an overall student winner for "loving the location" of Chefchaouen, Morocco. This excursion gave her the opportunity to capture "Oranges in Morocco," highlighting the beauty of the city's painted blue walls and abundance of fresh, local citrus.
Leah Faulhaber's "Clips of Paradise" was recognized as the winner of the video contest. In less than 90 seconds, the fourth-year student cohesively captured her month in Barbados on the 2023 Winter Session Human Development and Family Sciences program, led by professor Norma Gaines-Hanks. 
Other contest winners included Lucy Davies, Anika Grace Devota, Savannah Wallet, Yasmine Awayes, Sally Bornhorst, Calista Hill, Isabel Lecompte, Patricia Maloney, Sophie Molloy, Eva Pumo and Kathryn Schneider, who explored locations including Peru, Prague, Spain, Barbados, Australia, Rome, New Zealand, Argentina and London.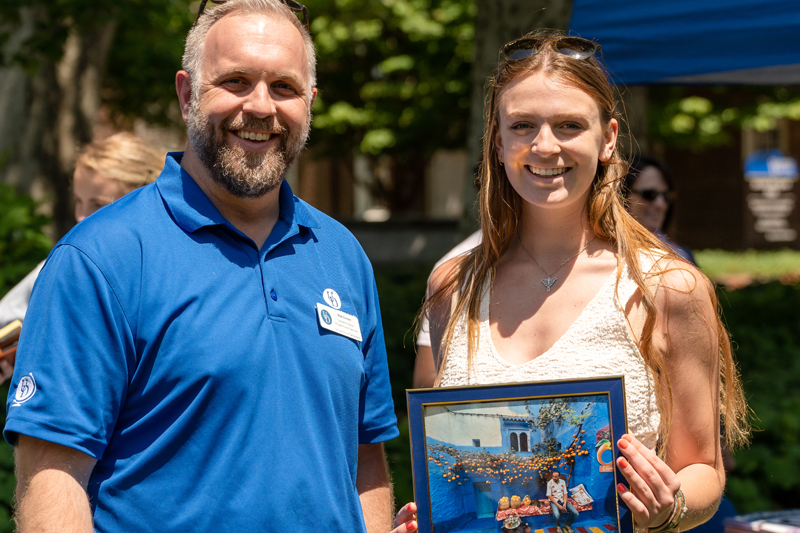 All winning photos and honorable mentions were displayed at the annual CGPS Global Festival in May for the entire UD global community to admire and reminisce on their experiences abroad. 
To view the winning video and all of the honorable photos in the 2023 Storytelling Contest, visit the UD in Photos webpage. All winning photos are now hanging in the hallway of Perkins Student Center.

Stay tuned as more information becomes available about the upcoming 2024 Storytelling Contest this Spring. 

Follow along as CGPS shares the study of study abroad and UD Global on X and Instagram. Engage using the hashtag #UDAbroad.
From Delaware to the World
2023 marks the 100-year anniversary of study abroad, pioneered at the University of Delaware in 1923 when UD language professor and World War I veteran Raymond Kirkbride took eight students to France for their junior year. Today, UD boasts more than 100 study abroad programs in 40-plus countries and has an international student population that hails from over 100 countries.
If you would like to be a part of study abroad's 100th anniversary celebration by supporting global learning for UD students, you can make a gift here. Please also visit the UD Abroad Blog for student perspectives on the study abroad experience.

About the Center for Global Programs and Studies
The Center for Global Programs and Services (CGPS) at the University of Delaware is home to the operations of UD Global, which includes Study Abroad, International Student and Scholar Services, World Scholars Program and Global Outreach and Partnerships. The Center provides leadership and collaborative innovation in support of all of the University's global initiatives and campus internationalization efforts, with its Global 360 Strategy serving as a roadmap for infusing international perspectives throughout the University's scholarship, research, and service missions. Focused on a student-centered approach, CGPS provides expert advising and a wealth of global engagement opportunities to the UD campus community, including the weekly International Coffee Hour in the fall and spring semesters.
Follow and engage with @UDGlobal on Instagram and X for the latest updates on everything global happening at UD.