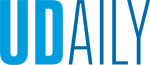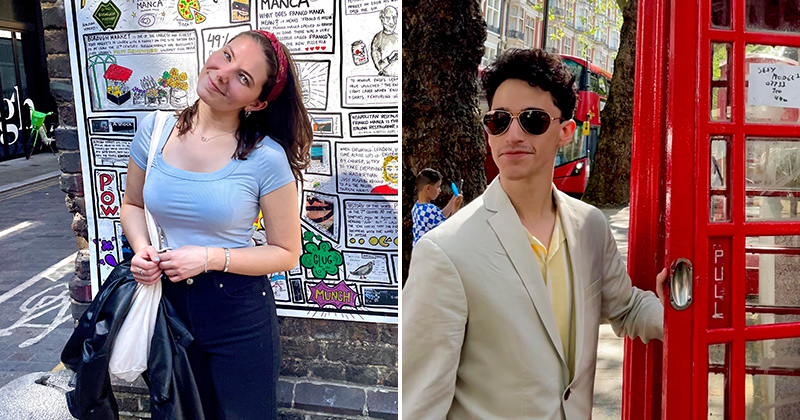 Gilman Scholarship winners
Article by Stephanie Ferrell and Grace Kearns Photo courtesy of Moira Gervay and Jake Cohen September 01, 2023
Two UD design students received the prestigious scholarships to study in London during the summer of 2023
After receiving this year's Benjamin A. Gilman Scholarship, students Moira Gervay and Jake Cohen traveled to London to participate in the 5-week Visual Communications study abroad program.
The Gilman Scholarship Program, funded by the U.S. Department of State's Bureau of Educational and Cultural Affairs, intends to make study abroad programs more accessible to students of limited financial means. Since 2001, this nation-wide scholarship program, which is only available to Pell Grant recipients, has supported over 38,000 students participating in study abroad programs in more than 160 different countries.
According to Marie Gleason, the senior study abroad coordinator who serves as the Gilman Scholarship student adviser at UD, 53 Blue Hens have received the award to date.
Receiving the Gilman Scholarship enabled Gervay, a visual communications major with a minor in advertising, to participate in her first study abroad experience. While in London, Gervay spent her time learning how she could apply her studies in visual communications to a larger global context.
"Studying abroad is really beneficial to your college experience," said Gervay. "It gives you a glimpse into other cultures and what your major could look like in another country. By going abroad, I got to step into a whole new world of design and what it has to offer me after college. I've always wanted to study abroad, and this specific program was definitely a main selling point for me coming to UD."
Cohen, on the other hand, previously studied abroad during his first year as part of the four-year UD World Scholars program. He shared that his semester in Spain as a new Blue Hen shaped his entire undergraduate experience.
"Going abroad kind of solidified what I wanted to do with my life," said Cohen. "I came into college very undecided about what I wanted to do because I had a lot of interests. In Madrid, I took a lot of Spanish classes, and then I also took a design class there as an elective and found it was a really big passion for me. When I came back the next semester, I declared my majors."
This time around, Cohen — an honors visual communications major and Spanish studies minor — was able to center his abroad experience around his professional goals. London, a global leader in advertising and graphic design, presented both Cohen and Gervay with plenty of exciting opportunities for aspiring young designers. Organized by faculty director Bill Deering, assistant professor of art and design, a highlight of the program for both students was getting to sit down with real-world professionals and talk about their career paths and how London's culture has shaped their goals.
As recipients of the Benjamin A. Gilman Scholarship, Cohen and Gervay were required to complete a service project that will spread awareness of study abroad and the Gilman Scholarship on their home campus. With the skills she acquired in London, Gervay is developing her own typeface and plans to use it to create promotional materials highlighting study abroad. As an added bonus, the typeface will be available to the general public to download. She also recently began as a design intern for the Center for Global Programs and Services - the office that runs UD's study abroad programs - and is creating all of the graphics that will promote next term's global programs.
"I'm a big believer that design should be really accessible and free for people," said Gervay. "By making design that is accessible to everyone, we create this huge sense of connection between different cultures and foster a sense of community among designers."
For Cohen's project, he is creating print and digital posters that highlight social issues in London, which he focused on researching while abroad. Both students presented their projects at the Summer Scholars Symposium in August.
"The Gilman Scholarship is immensely helpful with funding my abroad experience, being an out-of-state student," said Jake. "I am really grateful for this assistance."
UD encourages students of all backgrounds to apply for U.S. government scholarships for study abroad, including but not limited to the Gilman Scholarship Program. In addition, UD's Center for Global Programs and Services provides $1 million in financial support to study-abroad participants each year. By supporting these programs, UD affirms the value of a global education and internationalization on UD's campus.
"As an institution, we understand that the cost to study abroad can be a barrier to our students," said Matt Drexler, director of study abroad. "It is our mission to support all of our students in their quest to become engaged global leaders and to have a diverse undergraduate experience."
Applications for this year's Benjamin A. Gillman Scholarships for students planning to study abroad in winter 2024, spring 2024, summer 2024 or fall 2024 are due by Thursday, Oct. 5, 2023. For more information about the scholarship, eligibility, and how to apply, register for webinars on Tuesday, Sept. 12 and Tuesday, Sept. 19, both on Zoom at 6:30 p.m., or visit the Gilman Scholarship website at gilmanscholarship.org.
To learn more about financing your abroad experience, visit the CGPS website.
Study Abroad
Students who would like to learn more and explore study abroad options for 2024 Winter Session and beyond should attend the Study Abroad Fair, from 2 p.m. to 4 p.m. on Wednesday, Sept. 6, in Trabant University Center's multipurpose room (with free UDairy) The Center for Global Programs and Services provides more information about the application process, scholarships and financing. Please also visit the UD Abroad Blog for student perspectives on the study abroad experience.

From Delaware to the World
2023 marks the 100-year anniversary of study abroad, pioneered at the University of Delaware in 1923 when UD language professor and World War I veteran Raymond Kirkbride took eight students to France for their junior year. Today, UD boasts more than 100 study abroad programs in 40-plus countries and has an international student population that hails from over 100 countries.

About the Center for Global Programs and Studies
The Center for Global Programs and Services (CGPS) at the University of Delaware is home to the operations of UD Global, which includes Study Abroad, International Student and Scholar Services, World Scholars Program and Global Outreach and Partnerships. The Center provides leadership and collaborative innovation in support of all of the University's global initiatives and campus internationalization efforts, with its Global 360 Strategy serving as a roadmap for infusing international perspectives throughout the University's scholarship, research, and service missions. Focused on a student-centered approach, CGPS provides expert advising and a wealth of global engagement opportunities to the UD campus community, including the weekly International Coffee Hour in the fall and spring semesters.
Follow and engage with @UDGlobal on Instagram and Twitter for the latest updates on everything global happening at UD.