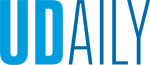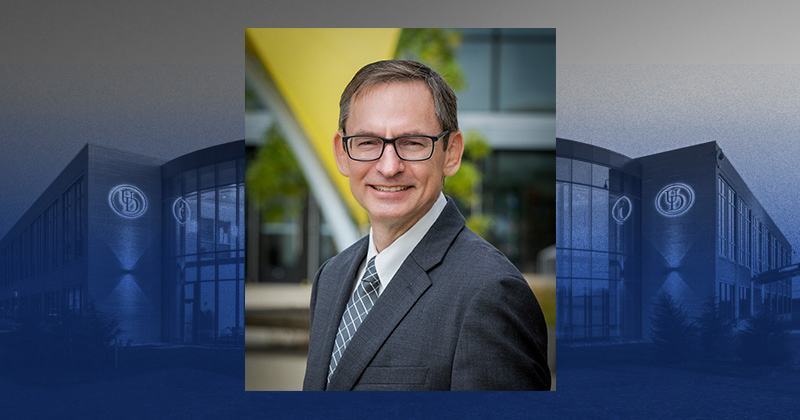 The future of medical education
Article by Kelly Bachman Photo by Kathy F. Atkinson | Photo illustration by Jeffrey C. Chase September 13, 2023
Dean Bill Farquhar discusses his vision for the College of Health Sciences
Q: You've been dean for 10 months, but you've been a part of the College of Health Sciences for more than 20 years — what do you see as the college's biggest strengths that you hope will continue to thrive under your leadership?
Farquhar: Without question, our people are our greatest strength, year after year. We have curious, engaged students, expert, compassionate faculty, and dedicated, hardworking staff who collectively bolster the college's positive reputation on campus, throughout Delaware, and across the country. Our people have created innovative learning experiences, engaged in meaningful health and life-enhancing research, and cultivated strong relationships with healthcare providers, laboratories, and other community partners to develop a pipeline of talent. Our people have also played a critical role in elevating several of our programs to national prominence, allowing us to recruit top talent for prospective students and faculty.
Q: With the strength of the people who make up the College of Health Sciences, what are the greatest opportunities you hope to collectively address in the next two to four years?
Farquhar: We know the work we do matters. Our clinical programs produce much-needed healthcare professionals in a variety of specialties and areas of focus; our research programs are cutting-edge, as demonstrated by the numerous externally funded grants we are successfully awarded; and our community clinics support both student training and research while also caring for our neighbors. But there are certainly opportunities to increase community engagement across Delaware and throughout the region. I'd like to see the work of UD's Partnership for Healthy Communities expand and allow our departments to connect with more community-based organizations and state agencies that share an interest in promoting health. I'd also like to see our UD Health clinics increase their capacity to serve more patients and provide the highest level of personalized care close to home. We are devoting a lot of energy towards building the infrastructure needed to support the clinics, and I'm certain our clinics will be even more successful in the future. Also, there are untapped, interdisciplinary funding opportunities associated with research translation and corporate engagement, and our college is well positioned to advance in this space, which fits with University-wide efforts to promote innovation and entrepreneurship among faculty and students.
Q: You mentioned research several times. Can you share your thoughts on the value of supporting ongoing research as an educational tool for students and an inspiration generator for faculty?
Farquhar: I'm incredibly proud of the thriving research operation within the college and am committed to supporting and expanding these efforts. It certainly takes a considerable amount of college and University infrastructure to support these efforts (e.g., grants administration team, biostats team, Center for Human Research Coordination, IRB, IACUC, etc.), but of course, it is well worth it. In fact, our research operation is one of the many reasons the College of Health Sciences and the University is so highly regarded nationwide. Beyond enhancing our national reputation, our research operation provides enriching experiences for our students, and we have many examples of students leveraging these experiences to move themselves ahead professionally. We also have tremendous faculty and staff engagement and enthusiasm around our research activities, as highlighted at our annual Research and Innovation Day. Together, it creates an incredibly collaborative space that invites intellectual curiosity, encourages problem-solving, and further strengthens our ability to truly impact health innovation of the future.
Q: The University is inextricably connected to the State of Delaware — fueling the local economy, supporting job development and placement, and educating residents. Though the College of Health Sciences is located in Newark, how important is having a presence in all three counties?
Farquhar: It's critically important. We know there is a shortage of healthcare professionals nationwide, and Delaware is not exempt from that challenge — particularly in parts of Sussex County. And there's more than just a need for visible front-line health professionals. For example, there is also a shortage of medical laboratory professionals. These individuals played a vital role during the COVID-19 pandemic and worked so hard every day behind the scenes in every hospital in the country. Moving forward, one of my goals is to work more closely with our clinical and corporate partners within the state to understand their needs, determine how we can support them, and provide programs that produce ready-to-work graduates. A strong presence throughout the state can also bolster current efforts to encourage local high school students and their families to strongly consider and, frankly, get excited about careers in health. We would love to see more Delawareans come to UD and return to their communities to serve their friends and neighbors.
Q: Students arrived back on campus a couple of weeks ago, and the fall semester is underway. What are you looking forward to most as the new school year begins?
Farquhar: There is such a different level of excitement and enthusiasm among faculty and staff when students are back on campus, and it's always great to meet new students and catch up with returning students. So, I'm certainly looking forward to that. We've also had several faculty and staff groups working on the college's strategic plan, and I'm excited to finalize the new plan in the fall. We are partnering with colleagues in the College of Arts and Sciences to help them relocate the Institute for Community Mental Health Clinic to the STAR Campus. The community needs these services, and I am pleased this clinic will soon accept patients and offer care at STAR. This clinic has much potential to partner with our Nurse Managed Primary Care Center and other programs we support, such as health coaching and exercise counseling services. I also look forward to working collaboratively with faculty and staff throughout the college on multiple issues and hosting our inaugural CHS Teaching Day, which will foster dialogue on innovations in teaching, learning, and mentorship. I'm also planning to host monthly Zoom "office hours," where anyone can join and discuss whatever is on their mind. I've made it a point to work in an open and transparent fashion, and this is another way to engage with our faculty and staff. I will also continue to meet monthly with my student advisory council — where we eat pizza and openly discuss our programs and ways to improve them. Our students are incredibly insightful — I learn something every time we meet. Lastly, we have a terrific external advisory council, made up of distinguished professionals in the field, and I'm looking forward to our fall in-person meeting.
Q: What are your thoughts on the future of medical education?
Farquhar: Our college is a leading provider of pre-medical education in the state. The Center for Health Profession Studies, based on STAR Campus, supports students on the pre-health profession journey and beyond. This center is supported by our college, the College of Arts and Sciences, the Office of the Provost, and the Honors College; it's a very multidisciplinary approach, as it should be. We have majors devoted to supporting pre-med students that include classes intended to excite and motivate students for a career in medicine, such as the Language of Medicine and our anatomy and physiology sequence. Our School of Nursing simulation facilities also serve as excellence spaces where students obtain focused training on how to deal with a variety of complex clinical issues. Even our study abroad opportunities showcase health and medicine on a global scale and provide immersive experiences for our students.
We know there is a real, pressing need for more healthcare providers, particularly in the primary care space. So, when I think about the future of medical education, I'm focused on how we can build upon the foundation of what we already have – hands-on, multi-disciplinary approaches to get students excited about careers in health and medicine.