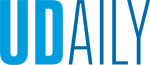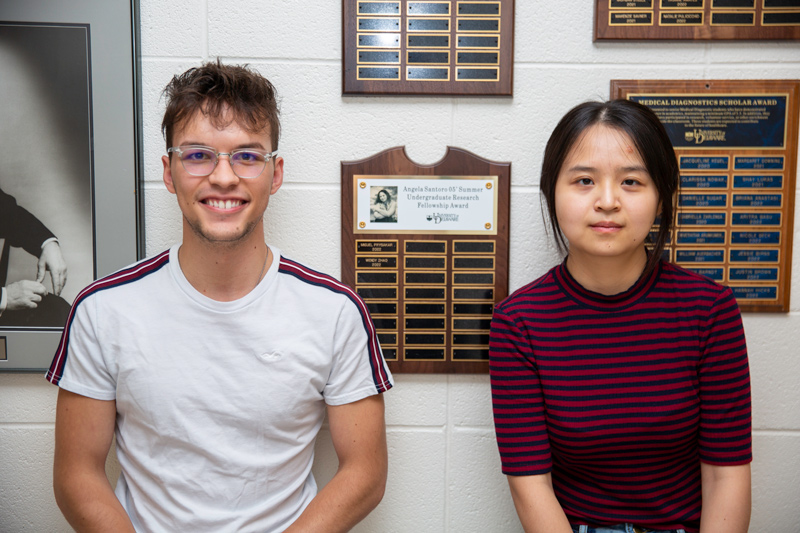 Experiential summer research
Article by Amy Cherry Photos by Ashley Barnas August 18, 2022
Medical and Molecular Sciences students receive Santoro Research Award, propelling their first undergraduate research experience
Every day in the lab is different for Miguel Prysakar.
"Usually, I've set something to grow overnight, and most times, I have results when I walk in the door," Prysakar said.
The rising junior at the University of Delaware is studying mechanisms of antibiotic resistance development in superbugs in Assistant Professor Vijay Parashar's lab. The medical diagnostics pre-physician assistant major was awarded the Angela Santoro '05 Research Award which afforded him the opportunity for experiential summer learning.
"I chose the University of Delaware because of its undergraduate research program and winning this grant to be placed into a research program has been the best part," said Prysakar, who is also a UD Honors College student.
The Angela Santoro '05 Research Award was established in memory of Angela Santoro (Class of 2005, College of Health Sciences). Santoro was a dedicated scientist who worked in ChristianaCare's lab before she died in 2021.
Funded through the generosity of Angela's parents, Shelly and Pete Santoro, and additional funding generated through I Heart UD Giving Day, the award allows for full-time summer research opportunities for two UD undergraduate students. This year's awardees are Prysakar and Wendy Zhao, a rising senior majoring in medical diagnostics.
"When coming to the decision to establish the Angela Santoro '05 Research Award, our hope was that the recipients would honor our daughter's memory with their diligence, passion and hard work," Shelly and Peter Santoro said in a joint statement. "These are qualities Angela possessed and exhibited during her years of study at UD and throughout her professional career. We see those same attributes in Miguel and Wendy. As they are the first to receive this award, Pete and I know there is much success in their futures and that of the students who will follow, largely due to the excellent education and preparation they receive at UD. Angela would be UD proud, as we are."
The funding has been a great source of pride for the Medical and Molecular Sciences Department (MMS).
"The advancements we see in the diagnosis and treatment of disease are the result of biomedical research," said Esther Biswas-Fiss, chair of the MMS Department. "It is critically important that our future healthcare professionals understand the role of research in securing the best possible outcomes for their patients. Santoro award recipients had an opportunity to gain insight and appreciation into the role that research plays in precision medicine. This is all part of the 'UD difference' and value added to pursuing their undergraduate studies here within the MMS Department. This award truly honors the memory of Angela Santoro, given her love of science and commitment to educating the next generation of laboratory professionals."
Santoro Award Recipient Wendy Zhao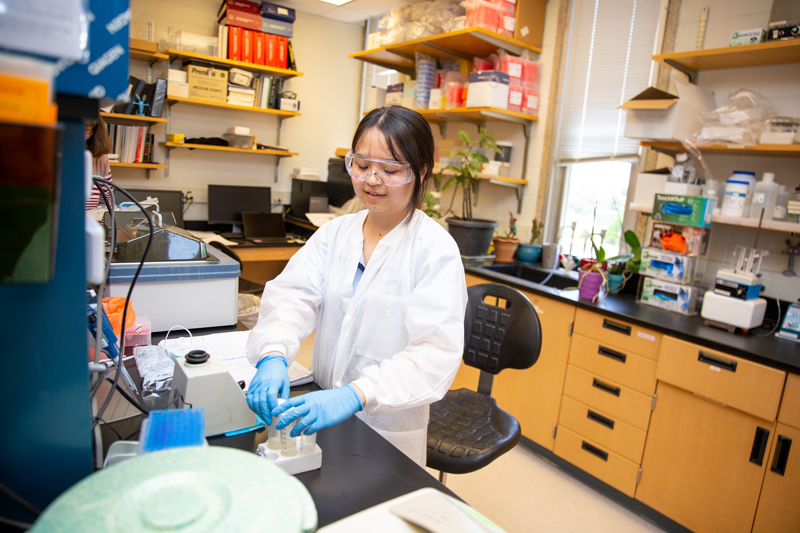 Wendy Zhao spent her summer working in Subhasis Biswas' lab studying the molecular mechanisms of human papillomavirus (HPV) as they seek to determine why some types of the virus cause cancer and others do not.
"I've learned so many laboratory techniques," Zhao said. "I just feel there's a big gap between something you learn in a textbook and what you do in the lab. So, I'm just really appreciative of the opportunity, and I've been able to feel the charm of science." 
Specifically, as part of her summer research, Zhao has successfully cloned and expressed a much-needed protein that will be used to measure enzymatic activities involved in HPV replication. Zhao has purified this important protein, known as firefly luciferase, and is now working with graduate students, Anshul Rana, Roxanne Evande and Senem Cevik, to develop an assay for HPV enzymes. The Biswas Lab plans to publish a synopsis of Zhao's work in the next few months.
Biswas, a professor of medical and molecular sciences, said the project is going exceptionally well.
"In the classroom, we teach a lot of very complicated material," Biswas said. "Some students capture it very easily, some students don't, but regardless of that ability, working in the lab will give them the skills they need when they go out into the workforce to execute the job well. This work would not have been possible without Wendy's summer research and support from the Santoro family." 
The application for this competitive research award required a written personal statement. 
"How can the HPV virus lead to the pathogenesis of oncogenesis?" Zhao wrote in her application statement. "How can the vaccine prevent it? And why is the vaccine not recommended for females whose age exceeds 26 years old? I am really wondering the answers to these questions and really interested in designing a new HPV vaccine. The secrets of microorganisms are like the deep and wide sea, and this summer research opportunity can be like the boat taking me to the sea of HPV to explore them."
Zhao said she hopes her experience conducting research over the summer will aid her in making important decisions about her future.
"During my three years at UD, I've been looking for the right opportunity to apply my academic knowledge towards actual research," Zhao said. "I hope conducting undergraduate research in the Biswas Lab can give me some ideas that will help determine my future career path. I want to grab every available opportunity that can change and shape me."
Research opportunities are a major attraction for undergraduate students and can often be a deciding factor in their higher education pursuit. 
"Often there are questions raised about undergraduate research opportunities during recruitment events and having this summer research award in honor of Angela Santoro helps attract a talented and diverse student population, like Wendy and Miguel, who embrace the goals of advancing healthcare practices through research," said Leslie Allshouse, vice chair of the MMS Department. 
Santoro Award Recipient Miguel Prysakar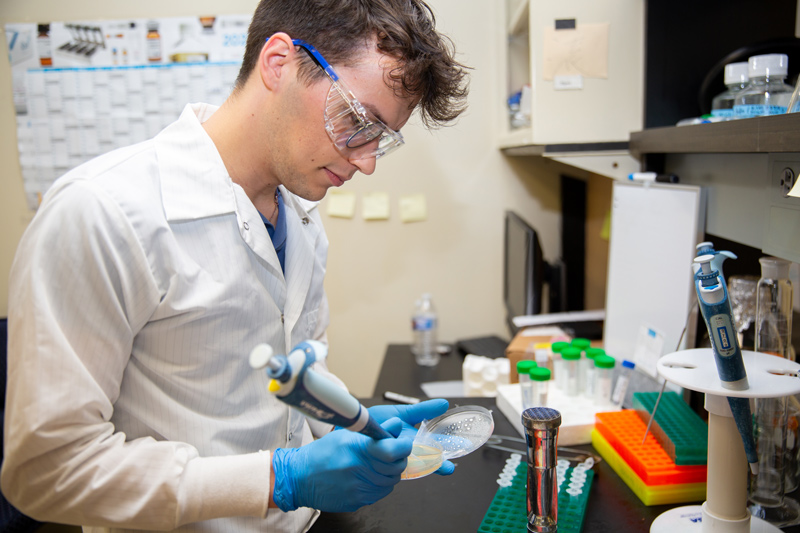 Prysakar chose to work in Parashar's lab, studying superbugs, because, as a part-time critical care patient care technician at Lancaster General Hospital in Pennsylvania, he learned how serious superbugs have become.
"Especially in long-term care, it's very common to see superbugs being spread around and knowing it's the result of something that we tried to fix, I can relate to that," Prysakar said.
Parashar, who has been studying superbugs for 16 years, described them as a serious and growing problem. 
"In the past, every infection was treated relatively easily with antibiotics; however, if you talk to someone who's been infected with a superbug, particularly a deadly one like staph, this is a story of consistent struggle," Parashar said. "Such occasions are so frequent now that most of the antibiotics have stopped working for many, many infections every day. So, we are now in an age where antibiotics have ceased to work. It's an alarming situation, and there are federal undertakings to tackle this issue." 
Prysakar, who is conducting genetic engineering and molecular cloning experiments, said his daily work encompasses just a small piece of this complex puzzle.
"The whole lab aims to facilitate an understanding of the mechanisms so that we can one day, hopefully, hijack and prevent superbugs from turning against us," Prsyakar said. 
Parashar said Prysakar has stood out in his lab as a problem solver.
"He picks up things in a moment, so he's unlike many other undergrads of his age and level. He's different; he's quick," Parashar said. "This is hardcore molecular biology, and even students who are much further along, sometimes struggle. Even though he has no formal training on molecular biology, he's nailing it."
By working in the lab, Prysakar has learned the importance of patience and teamwork.
"Using other people as sounding boards is an important skill," Prsyakar said. "No matter how much you think you might have a comprehensive understanding of your project because you've spent every hour of your day thinking about it, having someone else look at it — who hasn't been thinking about it every day — is vital. "Let your ego take a step down and have someone else look at it, and I think that can apply to so much else in life. That's one thing that's intrigued me about research — how much the philosophy of research can apply to real life." 
These skills will serve Prysakar well on his path to medical school.
"For medical school, you certainly must have skills of analysis and be able to observe something and make accurate inferences," Parashar said. "I think this training will help him think rationally about how to troubleshoot, which he's already good at, but he needs more training in terms of what to prioritize when he's trying to address a problem or a situation."
Initially, Prysakar wanted to do research as an undergrad, so he could have a thesis or paper published before he graduates, and while that's still a goal, he has since learned research is about so much more than that.
"I like the freedom that research gives me because it doesn't feel like a full-time job," Prysakar said. "It feels like I'm figuring stuff out, and it feels even better than taking a class. When something fails consistently, and then you're able to figure it out, it feels more rewarding. I also feel like it teaches you more about life and allows you to put a little bit of yourself into your work."
Prysakar is grateful to the Santoro family for the opportunity to take his first dive into research this summer.
"The pandemic really took a toll on everyone, but for me, it hit personally to the point where I really struggled and felt kind of lost for the first year-and-a-half of college," Prysakar said. "Now, I feel like I've found a purpose. Without this opportunity, I would have probably just been working at the hospital 24/7. I can't thank the Santoro family enough for giving me the award and the opportunity to start something with no prior experience."