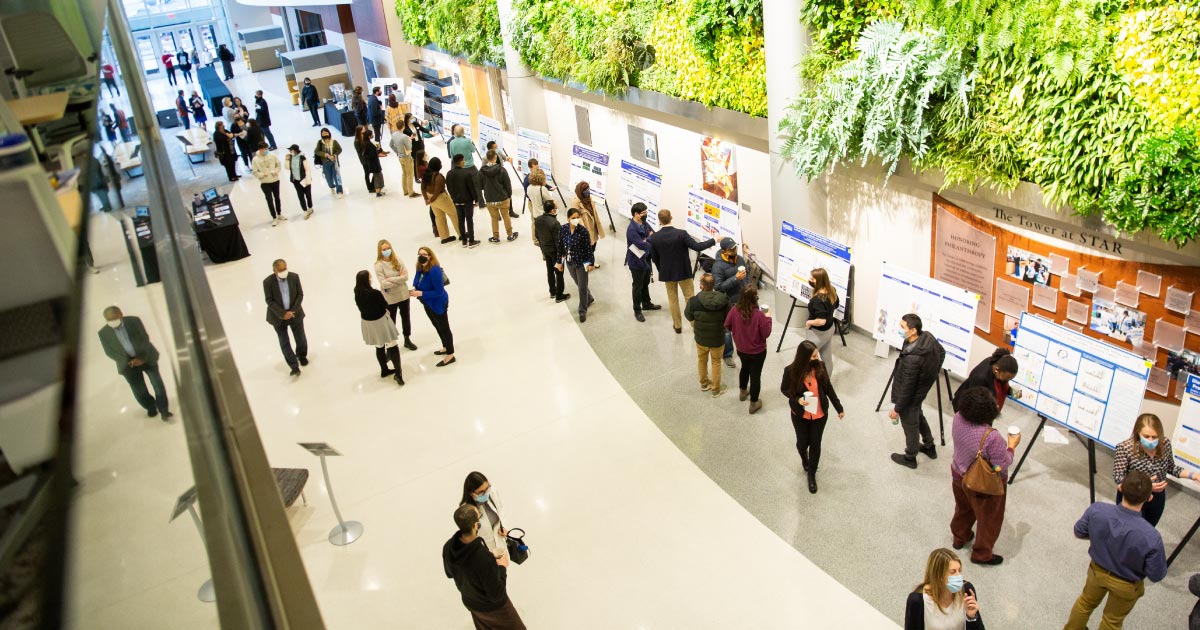 From Ideas to Impact: CHS Research Day
March 21, 2022 Written by Colin Heffinger | Photos by Ashley Barnas
The College of Health Sciences hosted its 2022 CHS Research Day on Wednesday, March 9 at the Audion of the STAR Campus. Welcome and opening remarks were led by Dennis Assanis, President of the University of Delaware, Charles Riordan, Vice President of Research, Scholarship and Innovation, Kathleen Matt, Dean of the College of Health Sciences, and Bill Farquhar, Associate Dean of Research and Professor of Kinesiology & Applied Physiology.
301 participants attended the all-day event in-person, including 130 graduate and undergraduate students as well as a few post-doctoral fellows to present their research. Additionally, parts of the event were live streamed for access virtually.  
Well over a hundred posters were lined along the halls spanning throughout the STAR Campus across two separate poster sessions. During these sessions and one-minute abstract pitches, students were able to present their research, highlighting how ideas are evolving into meaningful impact in the college and beyond.
Bill Farquhar explained how the purpose of the event is to "bring everyone together to share their work and to stimulate new collaborations" throughout the college. "It also provides an opportunity for our students to showcase their data and expand their circle of professional acquaintances," Farquhar said.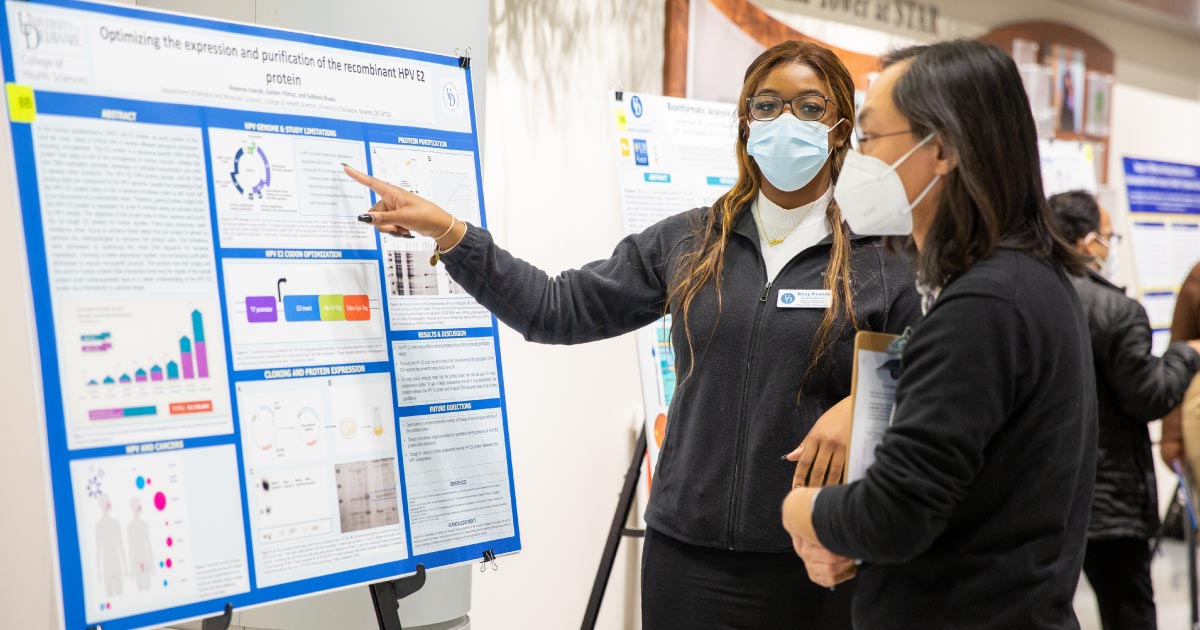 Two prominent keynote speakers led thought-provoking presentations throughout Research Day.
The first speaker was Dr. Rinad Beidas, Professor of Psychiatry, Medical Ethics and Health Policy, and Medicine at Perelman School of Medicine, as well as Director of the Penn Implementation Science Center at Leonard Davis Institute. With over 150 published articles in the field of implementation science, Beidas presented her talk titled: Harnessing Implementation Science to Transform Health and Healthcare.
Beidas emphasized how implementation science is focused on "making sure that all people are getting the things that work in the community and moving the needle equitably in health" as well as structural analyses to effectively engage in implementation strategies.
The second speaker was Gretchen Reynolds, writer of the weekly "Phys Ed" column for the New York Times as well as her book, The First 20 Minutes, which was a New York Times non-fiction bestseller and finalist for the "Books That Make a Difference" award in 2012. During the second speaker session, Reynolds presented her speech titled: Out of the Echo Chamber: A Health Reporter's Take on How to Get Good Research Noticed in the 'Real World'.
Reynolds provided insight into the importance of balance in effective health reporting through various aspects of writing such as between dullness and hype, between being clear and being condescending, and between accuracy and viral clicks. She also confronts issues in health reporting such as misinformation spread from large online influencers as well as complex story lingo that the average reader may not understand.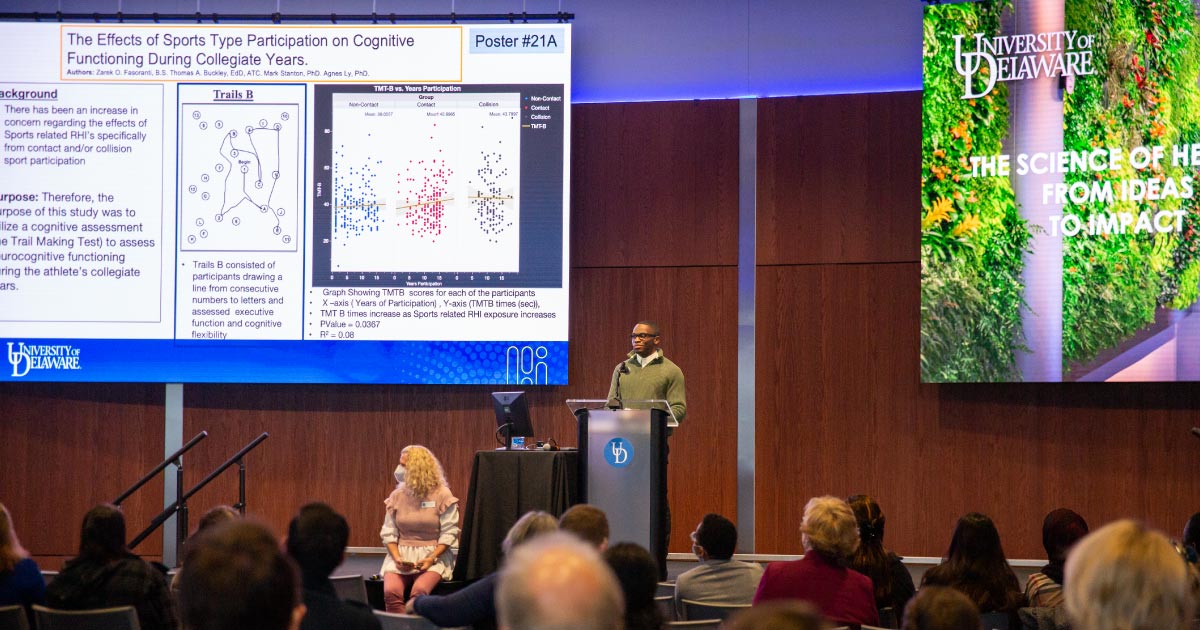 Following each speaker, graduate students were selected at random to introduce their research in one-minute pitches. This allowed students an opportunity to showcase their research to the full audience. Research topics ranged from analyzing genes contributed to macular degeneration to studies about balance control in individuals with Parkinson's Disease and beyond.
After the pitches, attendees were able to explore posters and talk with graduate students directly about their research during poster sessions.
Zarek Fasoranti, a neuroscience graduate student, presented his research titled: "The effects of sports type participation on cognitive functioning during collegiate years" through both a pitch session and at his poster. He highlighted how having to "pick and choose the most important aspects of his research and pitch it to an audience in an enticing way" proved to be a meaningful challenge.  
"My experience at Research Day was very exciting," Fasoranti said. "It's meaningful to share your research with the community after all the hard work that went into it. It helped me continue to value these kinds of opportunities where people are engaged directly in learning about your research and provide feedback as well as new ideas and suggestions."
Research Day concluded with awards presented to outstanding students for their research presentations and closing remarks from Farquhar.
"Over the years, the College of Health Sciences has evolved from having small pockets of research excellence to broad-based research excellence," Farquhar said. "Among similarly structured colleges throughout the country, ours is one of the strongest in terms of total NIH funding."
"It's important to note that our research growth has not hindered our educational mission, but instead has enhanced it," Farquhar reflected. "That is, research or scholarly excellence is educational excellence. I'm hopeful we'll continue to grow the research enterprise, with a focus on high impact collaborative studies that advance science and improve the health and wellbeing of our communities."