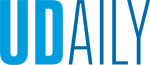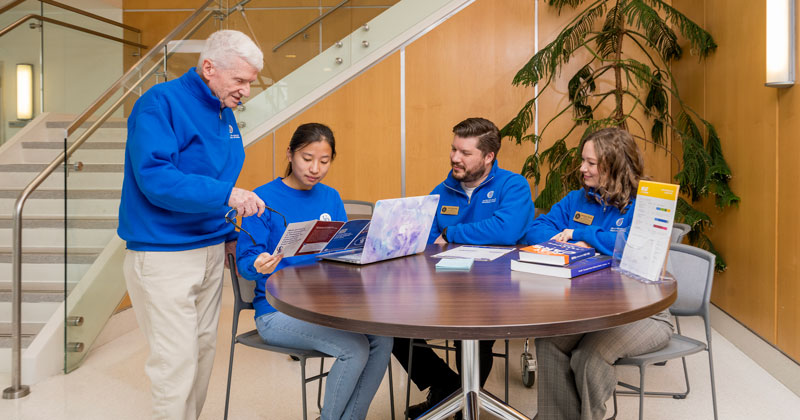 Enhancing student success
Article by Amy Cherry Photos by Kathy F. Atkinson February 13, 2023
Center for Health Profession Studies supports pre-health profession journey and beyond
As an undergraduate honors student at the University of Delaware, Cullen Kisner remembers logging on to websites for various medical schools and feeling completely overwhelmed.
"You think you're never going to get in," she recalled while looking at the litany of requirements.
Kisner's goal was always to go to medical school. When she was 13 years old, her mother was diagnosed with stage 3 breast cancer.
"At appointments, I saw how important the care team was for my mom," Kisner said. "I was inspired by the influence they had on her life in helping her overcome this severe illness," she said.
Her mother is in remission, and Kisner, who was a High Index Senior at UD, is now in her first year at the Sidney Kimmel Medical College at Thomas Jefferson University.
Rachel Wang, a junior honors student with a double major in neuroscience and liberal studies, also knew she wanted to be a doctor at a young age. When she was 5, she fell off her bike and cut her chin open.
"I remember being super scared and panicked at the emergency room at Nemours. My parents were worried, but the doctors reassured us everything was going to be OK," Wang said. "After that, I'd go home and play doctor all the time."
An accumulation of experiences, a passion for the sciences, and a curiosity about the body and human behavior led Wang on the path to medical school.
Both Kisner and Wang credit their experience with UD's Center for Health Profession Studies and the Medical Scholars Program within the College of Arts and Sciences for helping them achieve their goals.
The center assisted them in mapping what their four years of college coursework would need to look like to get into medical school amid evolving requirements. Additionally, the center works with other students who aspire to achieve post-graduate degrees in a variety of health professions, including dentistry, optometry, and podiatry.
"I would have been lost without their guidance," said Kisner, who majored in biological sciences, Spanish, and liberal studies. "They know the ins and outs of the process and provide you with guidance and reassurance to put you on a path so that you can succeed."
Wang recently received conditional early acceptance into Jefferson's Sidney Kimmel Medical College through UD's Medical Scholars Program and will take the MCAT this summer. She said the center supported her pre-med journey.
"I would have definitely been very confused and just frazzled," Wang said. "There are so many technical aspects and major-specific and pre-med required courses. Figuring out how that all fits into your four-year plan was vital."
Founded in 2012, the Center for Health Profession Studies (CHPS) aims to enhance student success in matriculation into health profession programs. The center also administers the Medical Scholars Program (MSP), an early admissions dual-track premedical eight-year academic program in partnership with three medical schools: Sidney Kimmel Medical College at Thomas Jefferson University, Rowan-Virtua School of Osteopathic Medicine, and Philadelphia College of Osteopathic Medicine.​ Approximately, 18% of the UD students pursuing medicine are enrolled in the program.
"It has an exceptionally high success rate in matriculation into medical schools," said Saskia Richter, director of the Medical Scholars Program and assistant professor of kinesiology and applied physiology. "It's one of the pillars of excellence in the College of Arts and Sciences but serves students in all colleges with a growing population of students coming from the College of Health Sciences."
That growing trend prompted the center to open a second office on UD's STAR Campus. Located on the first floor of the Health Sciences Complex in Room 111, the space is open for appointments with first-year students encouraged to visit. Drop-ins are welcome at the center's other location in Pearson Hall in Room 105E.
"We're hoping to foster a greater sense that we're here on campus and become more involved with advisers in CHS and CAS," said Caroline Tillman, academic program coordinator for the CHPS. "We want to see students interested in health professions sooner and have a more defined way for them to connect with us."
David Barlow, director of the CHPS, stressed the importance of connecting with students early.
"If we reach students early enough, they can be well prepared by the time they graduate," Barlow said. "If not, we'll prepare them for post-baccalaureate work."
Just over 20,000 students get into medical schools in the U.S. each year, Barlow said, leaving 60,000 qualified applicants seeking other options.
"We explain to them that they have parallel paths they can simultaneously pursue while preparing for medical school," Barlow said. "Students in some majors meet the core science requirements not only for medicine but for dozens of other healthcare professional fields. Parallel paths increase options for students to explore, and discovery is an important part of this journey."
The team at CHPS also underscores the importance of early exposure to shadowing and volunteering opportunities to meet the 100-hour requirement to get into medical school.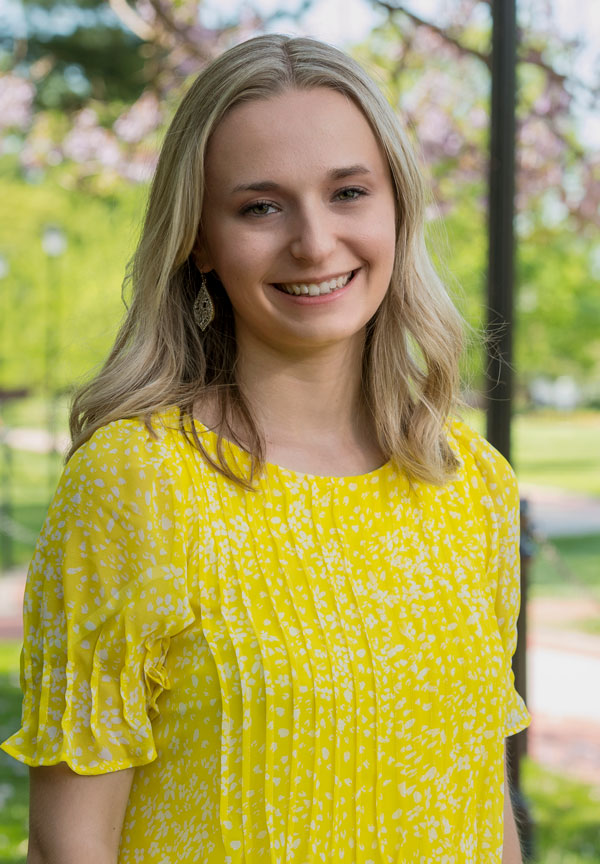 Her freshman year, Kisner shadowed a family medicine doctor in her hometown of Dover. The summer leading into her sophomore year, she shadowed an obstetrician-gynecologist at a women's health center, which helped her narrow down her focus. Both wrote her letters of recommendation – another key requirement for admission into medical school. 
"The Center for Health Profession Studies helped direct me to experiences – not just because they would look good – but because I enjoyed them," Kisner said. "That gave me a leg up in the interview and proved I was a genuine applicant and not just someone checking a box."
Many medical schools require as many as six letters of recommendation. That was a challenge for Wang whose freshman year was entirely online due to the COVID-19 pandemic.
"As a freshman, the application process was very intimidating," Wang said. "Caroline helped me figure out which professors to ask for recommendations, and her advice was really helpful." 
Another helpful offering – the CHPS holds round-robin-style mock interviews consisting of a panel of physicians to help students prepare for high-stakes medical school interviews.
"Medical schools typically interview four people for every opening. That means 75% are going to be rejected," Barlow said. "We want to ensure our students understand the breadth of questions that may be asked of them, so they don't sound rehearsed and can feel a bit more at ease." 
Wang called the mock interviews, conducted alongside a peer, extremely effective. 
"It was helpful to listen to our partner's responses too and think about how we'd respond ourselves," Wang said. 
Medical school applicants are strongly encouraged to include an institutional committee recommendation with their application. UD's Health Professions Evaluation Committee (HPEC), comprised of industry healthcare professionals and faculty, supports students pursuing careers in medicine, dentistry, optometry, and podiatry and evaluates their credentials. The support of the committee is key to successful matriculation into medical and other health professions schools. 
"The committee examines students and determines the criteria for a successful medical professional. We then take what we learn in those meetings and bring it back to students, influencing the opportunities we offer and our ability to work with students to develop the qualifications they'll need to be successful," said Jennifer Nauen, associate professor of biological sciences and faculty director of HPEC. "This expansion is a strong investment in the undergraduate population at UD."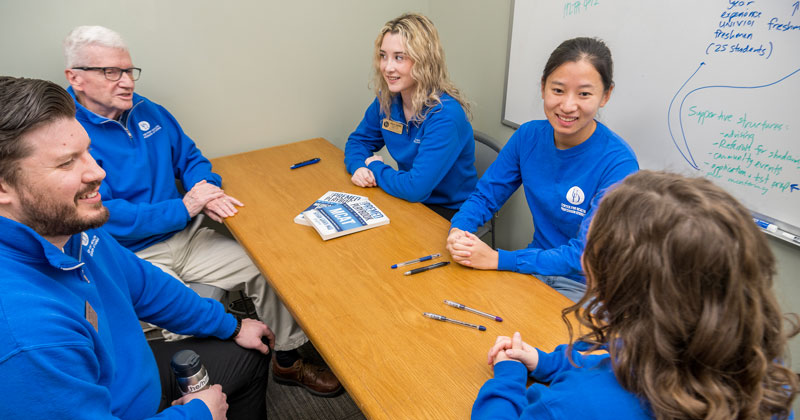 The center also offers a Living Learning Community for freshman students interested in health professions. Wang served as a peer mentor and chemistry tutor for the LLC helping set up health professionals panels, assisting with resumes and tutoring. 
"It's really valuable to have this mentorship," Wang said. "I had upperclassmen friends who helped me during this entire journey, and I really wanted to pass that along and mentor freshman and other students embarking on this path." 
Kisner also appreciated all the resources and advice provided by the center during her four years at UD. 
"When the time came for my medical school interviews, I felt ready. I felt like there was nothing more I could have done to prepare," she said.
The Center for Health Profession Studies is hosting two open houses for students from 2-4 p.m., Tuesday, Feb. 21, in the center's new space in STAR in Room 111 of the Health Sciences Complex and from 2-4 p.m., Wednesday, Feb. 22, at Pearson Hall, Room 105E. Learn more about the various services and programs designed to enhance student success in gaining matriculation into health profession programs of study.