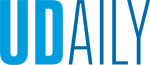 UD students learn about hydroponic food production: youtube.com/watch?v=pFCbA7lAnk8
Growing food without soil
Article by Dante LaPenta Photo by Monica Moriak, Qingwu Meng and courtesy of Grain Craft Bar + Kitchen | Video by JT Maher November 24, 2021
UD students study the science of hydroponic food production
Before pandemic-era panic buying strained food supply chains and emptied grocery store shelves, the United States food system was already in need of sustainable food production improvements.
Interested in the ever-increasing food demands of suburban and urban populations, Erik Ervin saw an opportunity for the University of Delaware. The Plant and Soil Sciences (PLSC) department chair knew UD could attract and teach students how to address food system challenges from all angles — scientific, business and social. So PLSC faculty created sustainable food systems, a new major where entrepreneurial Blue Hens learn to grow healthy, nutritious food with a minimized carbon and water footprint.
Whether the challenge is growing local food all year round or feeding people in need, a crucial piece of sustainable urban food production is hydroponic production systems, which allow plants to grow in nutrient-rich water without soil. With diminishing arable land in urban areas, growers can strategically place hydroponic systems in underused buildings, rooftops and brown fields.
Soon after the program launched, PLSC hired Qingwu (William) Meng, whose expertise in controlled-environment horticulture could serve as a foundation for the incoming generation of indoor farmers.
"Students learn about alternative ways of growing food sustainably, especially in urban areas, to feed our increasing population," said Meng. "Our program trains students to become professional growers, technicians or researchers in the hydroponic industry."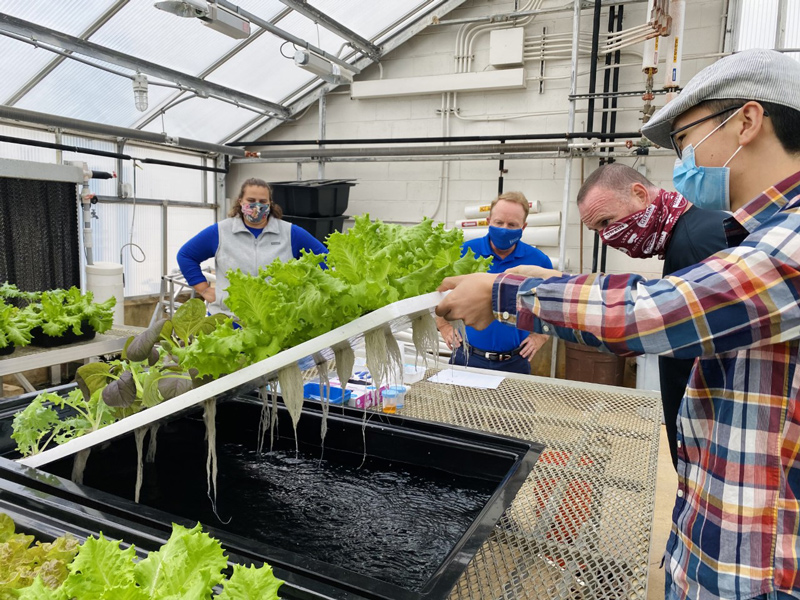 Meng's Delaware Indoor Ag Lab (DIAL) works on soilless production of specialty food crops, including leafy greens, culinary herbs, microgreens and fruiting crops. His research focuses on plant physiological responses in controlled environments like indoor vertical farms and greenhouses. 
"This allows us to improve growth and quality traits of indoor crops efficiently by optimizing variables like light, temperature and nutrients," explained Meng.
The luxury of growing plants indoors can boost crop yield, taste and nutritional value while shortening production cycles. The appeal is evident for many groups, including non-profits feeding people with food insecurities, local food devotees and even astronauts.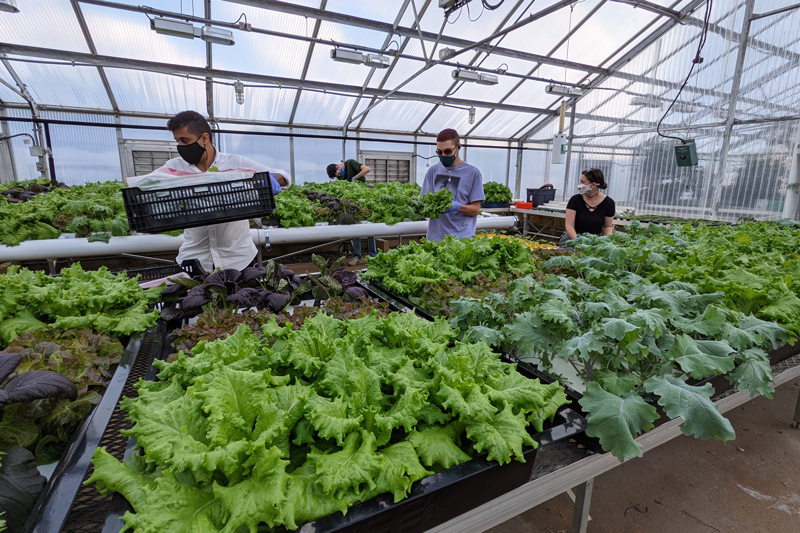 A student in UD's plant and soil sciences graduate program, Emily Kennebeck is working on NASA-funded space crop production research with Meng. The researchers are investigating how hydroponic leafy greens grow under different light wavelengths and superelevated carbon dioxide levels found in space conditions. As a former NASA intern, Kennebeck is passionate about how we can grow food crops efficiently to supplement astronauts' dietary nutrition in long-duration space missions. Her research uses state-of-the-art plant growth chambers in DIAL. 
"My time spent interning at the plant processing area at NASA's Kennedy Space Center solidified my interest in furthering space crop production and its relevance for use on Earth," said Kennebeck. "I was excited to learn I could continue doing plant research with space applications under Dr. Meng at the University of Delaware."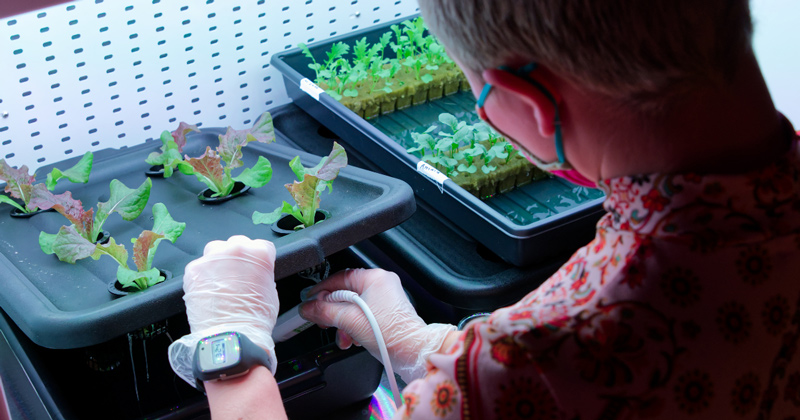 At the undergraduate level, students learn to build hydroponic systems, grow food crops, manage nutrient solutions and analyze economic viability in Meng's Hydroponic Food Production course. Comprised primarily of sustainable food systems and plant science majors, undergraduates get the ultimate hands-on education as they build, test and maintain their own greenhouse hydroponic systems, collecting and analyzing data as they grow and harvest crops. They also learn to diagnose problems like nutrient deficiencies during the production cycle. 
"Hydroponics is a big part of making our food systems more sustainable. My favorite project was building the nutrient-film-technique system because it was a big, complicated system [where a stream of water containing dissolved nutrients is re-circulated]," said Ian Kelly, UD Class of 2024 member and sustainable food systems major. "We had to work as a team, and there was a lot of problem-solving involved in putting it together."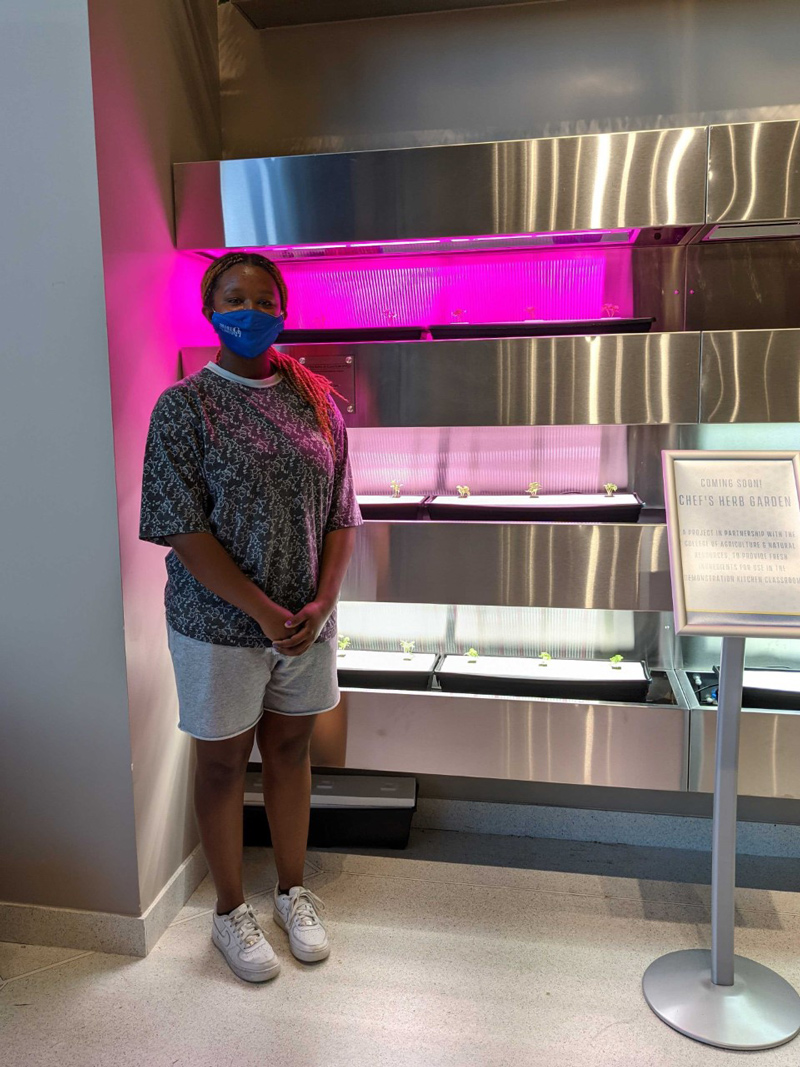 UD's research and degree programs captured the attention of VOLT Grow. The lighting company donated dimmable LED lights, which increase energy use efficiency to save on electricity compared with current high-pressure sodium lamps. These fixtures provide Meng and his students with advanced lighting capabilities for greenhouse plant research. 
"Horticulture research is vital in creating sustainable crop production and improving society's well being. Controlled-environment horticulture is at the forefront of this initiative, and we are looking forward to seeing how manipulating lighting with our LED grow lights will contribute," said Casey Brynjolfsson of VOLT Grow. "We are excited to help expand the University of Delaware's indoor horticulture research opportunities."
City of Newark residents can also get a taste of the carefully grown produce. The popular Grain Craft Bar + Kitchen is partnering with the College of Agriculture of Natural Resources to serve UD fruits and vegetables grown in the greenhouses and on the UD Fresh to You student-run farm.
"We are so excited to team up with our UD alma mater to bring the freshest, locally grown ingredients directly to the Newark community," said Kiran Wiker of Grain. "By choosing to support local, sustainable farming, we leave less of a carbon footprint by decreasing transit times from farm to table and are able to offer healthier, more nutritious and flavorful ingredients."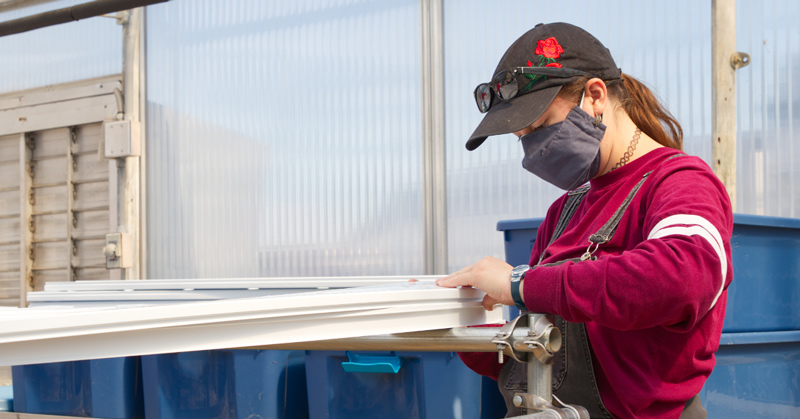 The produce will be carried across the street from CANR to UD's Science, Technology and Advanced Research (STAR) Campus as Grain opens a new, full-service restaurant on the ground floor of the under-construction FinTech Innovation Hub. 
Also, across the street, Meng and Honors undergraduate student Stefanie Severin are working with the College of Health Sciences to revitalize a hydroponic herb garden in The Tower on STAR. Right next to the green wall, the herb garden is now fully functional with a wide array of culinary herbs to be used in cooking demonstrations and nutrition classes. The garden is a practical showcase of Meng's research on how different light colors can influence plant growth and flavor.