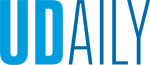 Promo video for UD magazine: youtube.com/watch?v=7SnYjm08DVU
2020 vision
Article by UD Magazine Staff Video by Paul Puglisi and Ally Quinn September 01, 2020
Blue Hens keep hope in sight in latest issue of UD Magazine
The world is changing, and so are we.
It's impossible to avoid now, considering 2020's grim onslaught — global coronavirus (COVID-19) pandemic, economic collapse, racial reckoning and seemingly endless months of social isolation.
But as we change, who will we become?
The August issue of UD Magazine, online and arriving in mailboxes, offers a hopeful prediction — one found in the very fabric of the University of Delaware community.
On the frontlines and behind the scenes, UD alumni, faculty, students, staff and friends are battling the coronavirus pandemic with a fighter's spirit. They have built intensive care units overnight and made masks by the thousands. They donated food and laptops and airline tickets and blood plasma.
They helped, they healed, they saved and survived.
The Class of 2020 did, too, as the members have through a lifetime of crises, from 9/11 to school tragedies. They pushed on and persevered, completing their final semester online and offering messages of love, resilience, strength and equality.
Overdue conversations on racism and its enduring legacy — in our country, in our companies, in our colleges — were renewed, as we found ourselves once again wrestling with racial injustice.
To quote from the Magazine's opening pages: "Through it all, we tried to believe we were still finding ways to become better people. We like to think we also discovered the indelible nature of hope, of resilience and strength. We tried to keep sight of the spirit we thought could never fade.
"It hasn't. Together or apart, our community remains united. We are all Blue Hens, wherever we are, whoever we are, and whatever we face together."