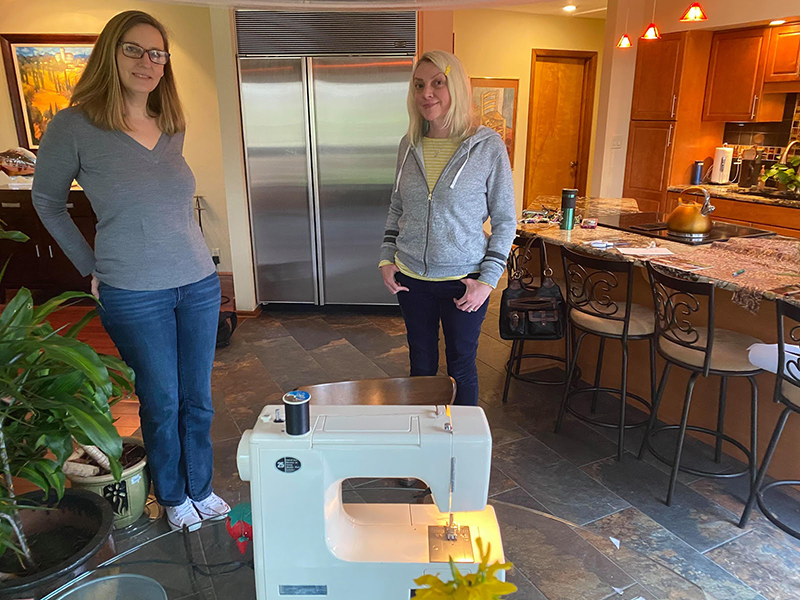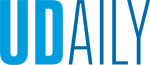 A stitch (just) in time
Virtual army of mask-making moms 'keep calm and sew on' during the corona-crisis
Eric Ruth May 18, 2020
It was an idea that started off small, as beautiful ideas often do: Let's find some scraps of stray fabric, rouse the sewing machine from dusty hibernation, and do something about the state's facemask shortage—stitch by furious stitch.
Just over month after that little Internet-borne brainstorm, UD graduate Kristin Barnekov-Short and her friend Kerry McElrone look back with a wonderfully weary feeling, dizzied by what their fellow civic-minded sewers have done in these endlessly grim and life-altering weeks:
From a dead stop, the 2,300-member Facebook group they began in late March grew into a virtual assembly line and delivery juggernaut that quickly spread statewide, sending 25,000-and-counting cloth masks to grateful front-line workers and patients at more than 100 facilities. Along the way, hundreds of volunteers were infected by a new sort of viral energy, one driven by the spirit of common purpose, and already spreading far beyond Delaware's borders.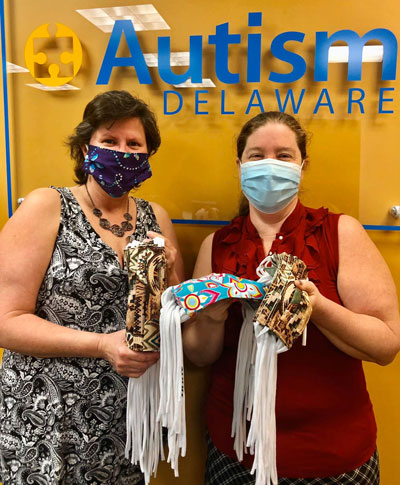 "They saw a problem, and they came up with a solution. It's amazing," said Cheryl Heiks, a UD alumna and director the Delaware Health Care Facilities Association, which includes 90 long-term care centers and more than 6,000 at-risk residents who were supported by the group. 
From hundreds of basements and spare rooms, chattering machines churned out masks made in a kaleidoscope of colors and patterns, courtesy of an army of craft-minded mothers and daughters, and a steady second team of sew-a-phobic sons and dads. "Some of the women have these production lines like you would not believe," said Barnekov-Short, daughter of retired UD professor and dean Tim Barnekov.
The Facebook stream of Help for Healthcare Workers Delaware quickly filled with snapshots of relieved workers receiving their bundles, and heartfelt notes of thanks.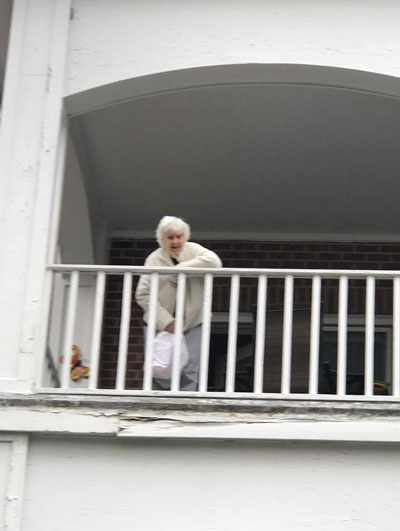 "There were a few weeks there where we were the only game in town. We were getting requests from nursing homes begging in desperation," said Barnekov-Short, who in more typical times works as a nonprofit leader and business owner, and was well-served by her UD degrees in international relations and public administration.
Out of thin air on the eerily empty roads, she and her cadre stitched together a transportation system sustained by a battalion-sized force of volunteer drivers, coordinated by cloud-based spreadsheets and deployed with businesslike logistical calm. In an endless stream of Facebook posts, workers unraveled the inevitable glitches, soothed momentary supply shortages. "Does anyone have elastic? I'm really low on elastic," one volunteer asked on Facebook. "Wal-Mart in Milford got an order of white thread in," another volunteer chimed in, even as one idled mask-maker searched vainly for a source of sewing-machine lube.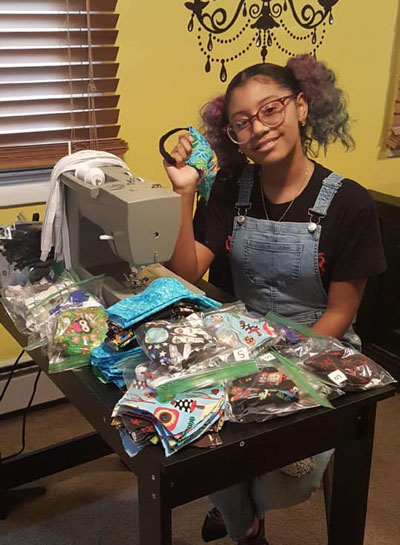 Around the clock and across the state, the masks fluttered out like confetti, headed for YMCAs and police departments, pharmacies and school districts, fire departments and post offices. "It seemed like almost as soon as one of our facilities sent out a request for masks, I would see a note on Facebook: 'Delivered,'" Heiks said. Occasionally, the recipients were inspired themselves to donate cash for more supplies, all of it quickly snatched up by the sewers.
"I've used over 3,000 yards of thread, 52-plus yards of cotton, and I don't even recollect how much elastic or twill tape I've blown through," said volunteer Kimberly Bovee, who had made 631 masks by early May. An informal sub-group of sewers found its own team spirit, dubbing themselves the "Washington House Condominium Masketeers."
"Every time I think it's sort of slowing down, we get another one of these orders that flips us on our head," said Barnekov-Short, who like many others in the group, has a personal stake in the crisis—her daughter Rowan is an ICU nurse at Beebe Hospital in Lewes, Del. "When the CDC made the recommendation that everyone wear a mask, there was a huge uptick. Then the state made wearing masks mandatory in public, and the demand grew again."
Perhaps inevitably in this interconnected age, the spirit would spread beyond the state, even leaping the ocean to the United Kingdom. "I'm afraid to admit that I have been a little spy on your group," a woman posted on the page one recent day. "This group inspired me to set up a group in Sheffield, England, along the same intentions, which is going very well so far."
All through the campaign, volunteers found stark reminders of their world's new realities, and life's tendency to roll on regardless:  One sewer would give birth during the campaign. Another would lose her husband to Covid-19. And still, the machines chattered on.
"I certainly never expected it to turn into quite what it did. But it took off, and it seems there wasn't any stopping it," said Barnekov-Short. "Often, citizens and people can move faster than government bureaucracies can. I had never worked a sewing machine in my life. Now I can make four or five different styles of masks."
In her view, the final lesson of it all is clear, despite the chaos of the past few weeks: "Just get up and go. Do what you need to do. Don't wallow," she said. "That's been the spirit.''