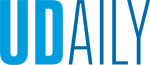 Feeding hungry people
Article by Artika Casini Photos by Kathy F. Atkinson April 24, 2020
UD alumnus coordinates volunteer operations for the Delaware Food Bank
The warehouse looks different now.
Blue tape divides the floor into 6-foot sections that serve as social-distancing reminders. Where volunteers once sifted side-by-side through towering boxes of food, they now work in scattered isolation.
But here, at the Food Bank of Delaware, the work continues.
When the coronavirus COVID-19 pandemic shut down most operations across the state and nation in March 2020, University of Delaware alumnus Joe Certesio wondered what that would mean for the organization that feeds Delaware's hungry. Would the Food Bank close? Would people still volunteer?
He spoke to his boss, discussing the challenges, the risk, the overwhelming need. "And we said, 'We've got to keep going. We're going to keep grinding. We'll work the long hours, and we'll help.' "
In his role as volunteer coordinator for the Food Bank, Certesio manages the daily operations for the thousands of people who donate their time and energy to stocking the pantry, sorting the boxes and helping distribute the millions of pounds of food to Delawareans each year.
Volunteers are critical to the organization's efforts, doing the work of 19-to-25 full-time employees.
The UD community has long been a loyal and active partner to the Food Bank, with 104 different groups donating time, produce and nonperishables in recent years. But now, in the midst of this global pandemic, the need has never been greater.
Over the course of just three days in mid-March, the Food Bank of Delaware served close to 800,000 pounds of food to more than 5,000 people — almost one-10th of the 8.8 million pounds they gave out last year.
The figures will surely increase in the coming weeks and months, said Certesio, as businesses shutter and unemployment rates continue to skyrocket. And as the economic crisis worsens, the need for donations will only grow.
"We'll take anything you're willing to give," said Certesio, who added that during a typical year, there is a constant demand for cereal, breakfast items, canned fruit, taco shells and fresh and frozen produce. "We want to help anybody and everybody in the state and eliminate hurdles as best we can."
In many ways, it is a mission rooted in Certesio's 2017 undergraduate degree in human development and family services, which taught him that although societal needs are great, so, too, is the capacity to give.
He has witnessed it himself, in the past weeks, as hundreds of Delawareans have heeded the Food Banks pleas for volunteers.
"The community has really rallied around us," he said.
The shifts all begin with safety precautions and protocols for social distancing, and they all end with profound gratitude — from Food Bank employees like Certesio, but from the volunteers themselves.
"Many people feel a moral calling to help, and others just want to get out of the house," he said. "If people are looking for something to do, there's always something to do here."