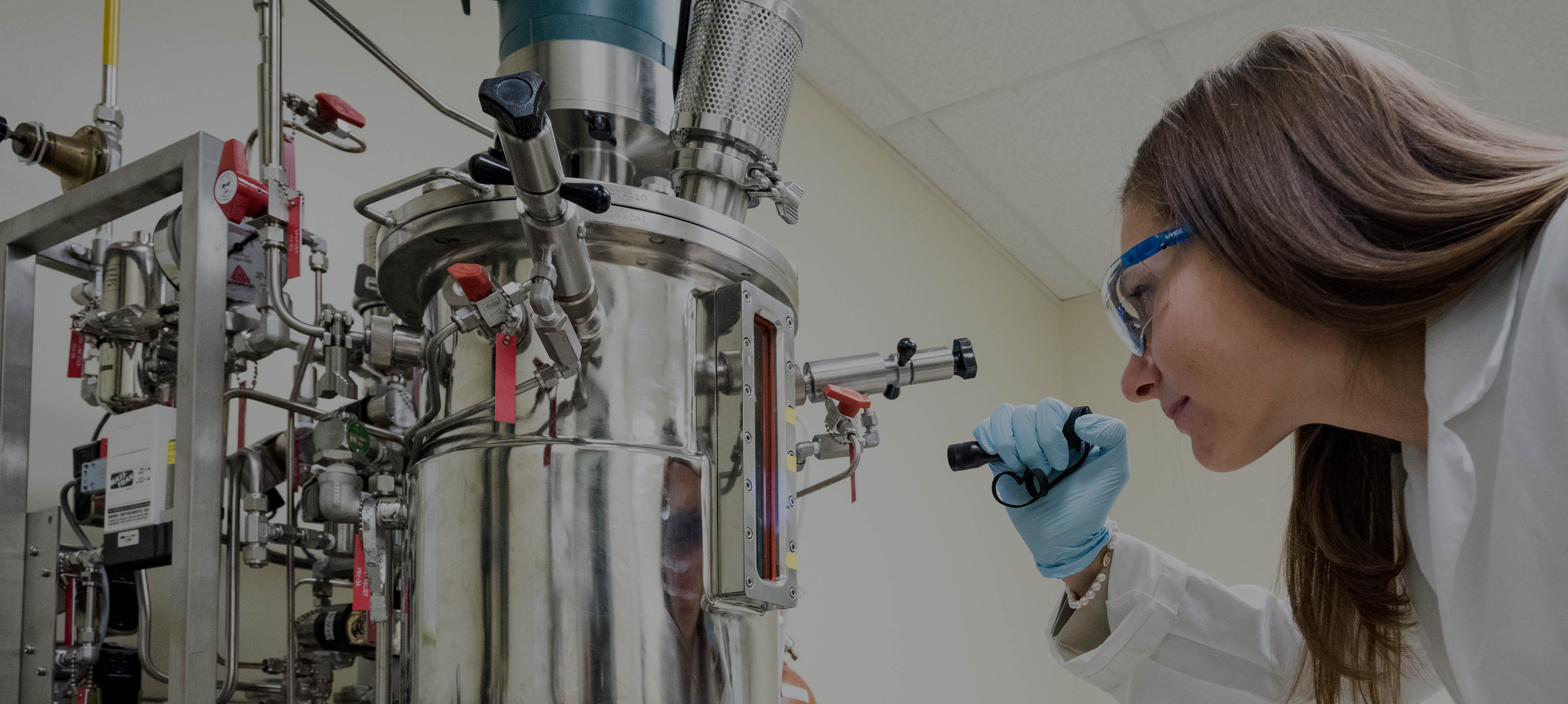 Biopharmaceutical Innovation
Discovery. Innovation. Collaboration.
The students, faculty and researchers involved in biopharmaceutical sciences at the University take an interdisciplinary approach to addressing grand challenges of healthcare, medicine and biopharmaceutical manufacturing—creating solutions from living cells. UD is innovating research, academics and workforce training in the cutting-edge field of biopharmaceuticals.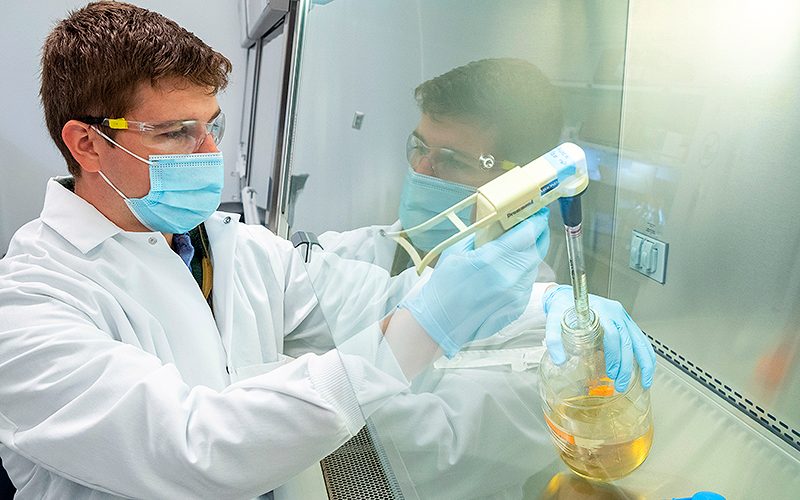 BIOPHARMACEUTICAL
RESEARCH & DEVELOPMENT
As an academic institution, the spirit of discovery is inherent at the University of Delaware. However, our students, faculty and staff are also advancing new innovations in biopharmaceutical development and manufacturing to help address the unprecedented growth and demand in this industry sector.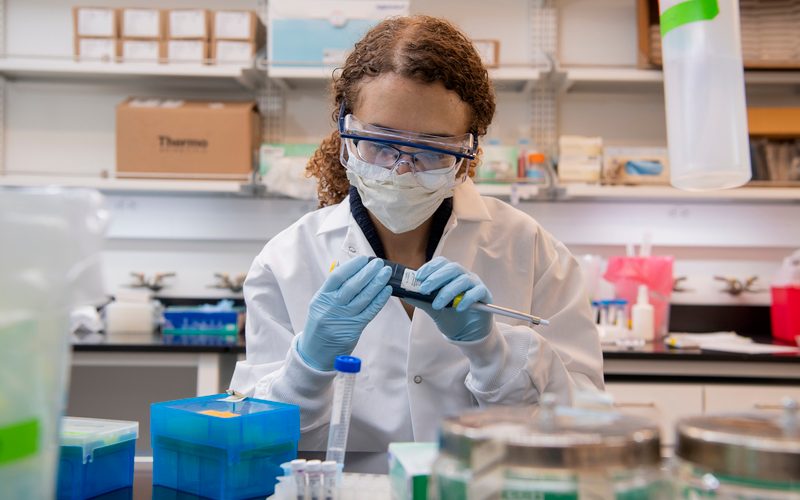 BIOPHARMACEUTICAL SCIENCES MASTER'S PROGRAM
The newest addition to UD's academic programs for the industry is a master's degree in biopharmaceutical sciences. The program emphasizes hands-on learning in all technical courses, providing immersive exposure to open-ended problems as well as business, finance and regulatory constraints. In addition, students connect practical and conceptual learnings through a unique 15-month internship model that runs parallel with coursework.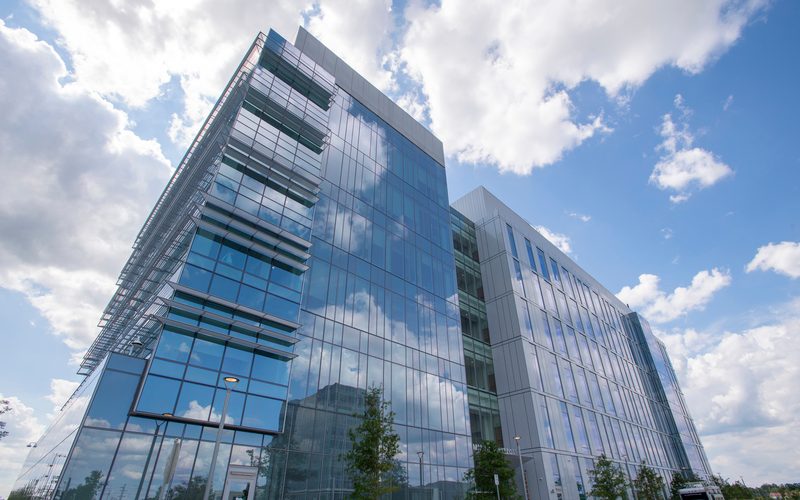 INNOVATIVE FACILITIES 
While many spaces throughout UD's campus are home to biopharmaceutical research, training and academics, the Ammon Pinizzotto Biopharmaceutical Innovation Center is the scientific epicenter for UD's biopharmaceutical sciences initiative. The facility brings together academia, industry and government to create an interdisciplinary hub of discovery, innovation and industrial practice based on collaborative approaches. It is also home to NIIMBL, leveraging UD's foundation of impactful partnerships.
Biopharma Sciences: youtube.com/watch?v=JkSWT1JjHeg
From foundational, interdisciplinary undergraduate classes to a new master's program, UD is ensuring the next generation of biopharmaceutical sciences professionals are well trained and prepared to tackle the dynamic industry. Listed here are some of the most popular undergraduate and graduate pathways to various careers in the biopharmaceutical industry.
American Chemical Society
American Institute of Chemical Engineers
American Society for Biochemistry & Molecular Biology Student Affiliate
Bioinformatics Student Association (BiSA)
Biomedical Engineering Society
Pre-Pharmacy Society
To learn more about how you or your company can help shape the future of biopharmaceutical sciences or partner with the University's initiatives, contact:

Dana Raftas, Assistant Vice President of Strategic Initiatives & Lerner College, at draftas@udel.edu.
Biopharmaceutical Innovation Advisory Board
The Biopharmaceutical Innovation Advisory Board consists of industry leaders, venture capitalists and academic partners who advise and assist with the growing academic interest of biopharmaceutical innovation at the University of Delaware, including discovery and manufacturing.
The board's mission is to offer distinctive and innovative partnerships and educational opportunities related to the biopharmaceutical industry, ensuring the University remains at the forefront of the growth and progression of this industry.
Board Members
CAROL A. AMMON '11H
Founder and Chief Executive Officer (Retired)
Endo Pharmaceuticals

DENNIS ASSANIS
President
University of Delaware

ELENI ASSANIS
First Lady
University of Delaware

ANDREW COTTONE, III
Founder and President
Adesis

STEPHEN K. DOBERSTEIN '81
Chief Scientific Fellow (Retired)
Nektar Therapeutics

DAVID V. ELKINS '91
Executive Vice President and Chief Financial Officer
Bristol-Myers Squibb
CHAITANYA R. GADDE '06M
Chief Executive Officer
BioTek reMEDys

GREG HANNON
Chief Technical Officer
W.L. Gore and Associates, Inc.

KIRK D. MALLOY '90M '93PHD
Chief Executive Officer
Verogen, Inc.

MARIE E. PINIZZOTTO '08M '19H
Senior Director of Global Safety Surveillance and Epidemiology (Former)
Wyeth, LLC
DENNIS J. PURCELL '77
Founder and Senior Advisor
Aisling Capital

RICHARD ROGEL
Special Representative
University of Michigan

SUSAN ROGEL
Special Representative
University of Michigan
HELEN C. STIMSON
Chief Operating Officer (Retired)
Adesis

MIKE THIEN
Senior Vice President of Global Science, Technology & Commercialization
Merck & Co. Inc.

DOUGLAS A. TRECO '79
Co-founder, President and Chief Executive Officer
Ra Pharmaceuticals

KRIS VADDI
Founder and President
Prelude Therapeutics

TRACY VANDERSLICE
Vice President and Head of Global Clinical Sciences & Delivery
GlaxoSmithKline

NICHOLAS H. VROLIJK '88M '92PHD
Managing Director
BDO's BioProcess Technology Group

GAIL WASSERMAN
Senior Vice President of Biopharmaceutical Development
AstraZeneca