Unique Strengths Internships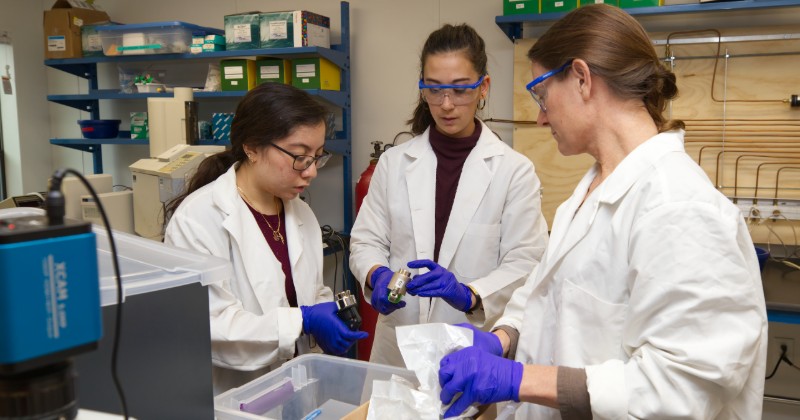 Unique Strengths Undergraduate Research Internship
The CANR Unique Strengths summer undergraduate research internship program will provide support for a 10-week undergraduate research internship experience with a CANR faculty member.  The CANR Unique Strengths encompass five research areas:
Genetics and Genomics
Mitigation of and adaptation to climate change
A "one health" approach to animal, plant, human and ecosystems;
Sustainable food systems, landscapes and ecosystems; and
The human dimensions of agriculture and natural resources
Eligible undergraduates must be nominated by a CANR faculty member.  Once nominated, each nominee will need to provide a brief personal statement articulating how the internship experience with the nominating faculty member will serve their longer-term career goals and interests. 
The 10-week internship begins the week of June 5 ending the week of August 14.
For more information, please check in with your faculty advisor.
In our college
Summer research and education experiences to undergraduates (both UD and non-UD students) who are interested in pursuing an advanced degree in the agricultural, natural resources, or life sciences.
During this summer internship, students will follow Cooperative Extension's service learning model, implemented through one of extension's four program areas: 4-H youth development, family and consumer sciences, lawn and garden, and agriculture and natural resources. Applications will be accepted until February 11.
UDBG's staff works with interns in all areas of public garden operations. Students familiar with horticulture can use the internships to expand their horizons and discover new aspects in this diverse industry.
Positions available for UD Undergraduate students in Cheesemaking and Quality Assurance.
Intensive, hands-on research education and experiential learning projects help to bridge the perceptual change required for students to Envision themselves as Scientists.
Fresh to You is looking for student interns who are interested in working on the farm! Interns will participate in all aspects of the farm including propagation, crop maintenance, harvesting, farm stand sales, insect pest management, and more.
The CANR Unique Strengths summer undergraduate research internship program will provide support for a ten-week undergraduate research internship experience with a CANR faculty member.
Around the University
UDWRC water internships provide a unique opportunity for undergraduate students, faculty, and scientists to be directly involved in research and education that address critical water resources issues.
Through this federal TRIO program funded by the U.S. Department of Education, funding supports students' involvement in research and scholarly activities. McNair participants are first-generation college students with financial need or members of a traditionally underrepresented group.
This program allows eligible, early-career students to use federal work-study funds to gain research experiences. Students make meaningful contributions while learning about the research and scholarships in their field. This apprenticeship facilitates the relationship between low income, economically disadvantaged students and research faculty.
As an umbrella for student research at UD, URP runs broad-based programs of our own through the academic year and in the summers and we also coordinate with many other offices, departments, and academic units. Staff provide you with general information as well as guidance on how to identify and approach a faculty mentor with whom you might like to work.
Summer Opportunities for Undergraduate Research and Creative Endeavors (SOURCE) Program
This program provides summer research opportunities for college students who are not currently enrolled at the University of Delaware.