UDairy Creamery on Instagram
The Moo Mobile
In 2013, The UDairy Creamery partnered with UD's Horn Program in Entrepreneurship to launch the Moo Mobile, a full-sized ice cream truck. The Moo Mobile serves up to 20 flavors and provides outreach opportunities for the UDairy Creamery across the region, including the Delaware State Fair, University of Delaware and Newark community events, as well as UD's corporate affiliates & Blue Hen Weddings.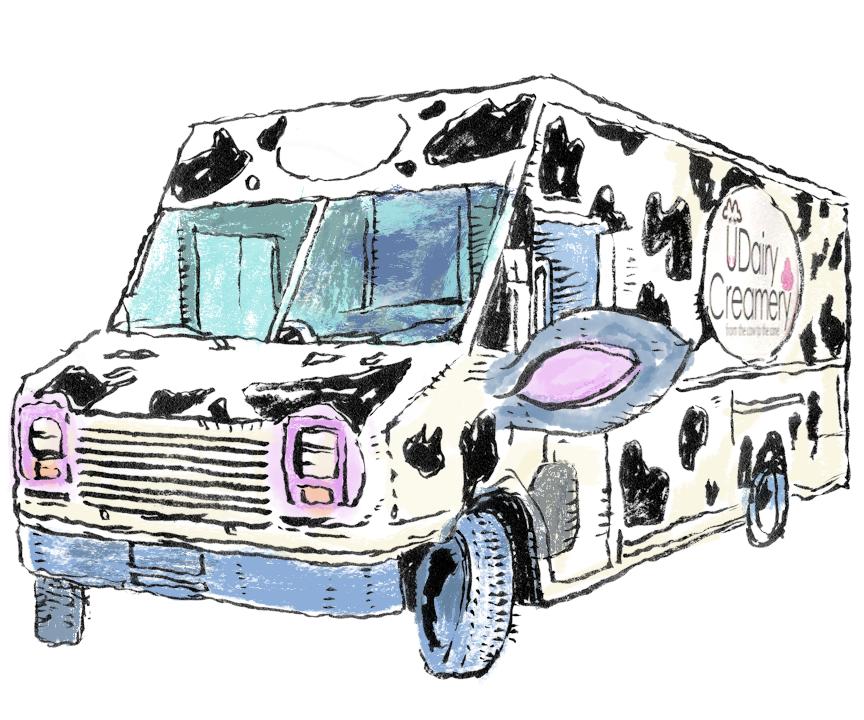 Events related to our mission
The UDairy Creamery, as well as the Moo Mobile, is a non-profit entity of the University of Delaware and College of Agriculture and Natural Resources. Like most nonprofit organizations, we rely on donations to help support our mission; therefore, we choose not to compete with for-profit businesses or events that are unrelated to our mission.
We consider attending events only relating to:
The University of Delaware and its Colleges

City of Newark, Delaware

University of Delaware Corporate Affiliates

Agriculture

Ice Cream Festivals 
If your event, group, or company is interested in booking the Moo Mobile for an event, contact us at moomobile@udel.edu. Please describe your relationship to us, as listed above.
Blue Hen Weddings
The Moo Mobile is available for wedding catering; however, keeping with the spirit of our mission, we do require either a bride or groom be a University of Delaware alum. Please contact us at moomobile@udel.edu for more information; we will require the name and graduation year of the alum prior to the event approval.