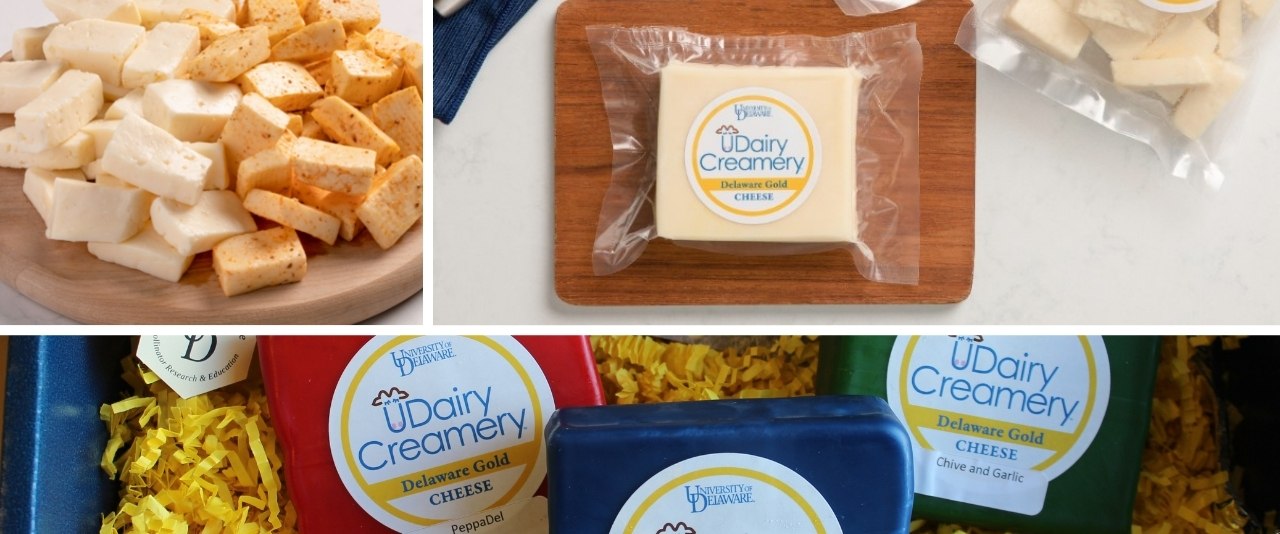 Say cheese!
Farmstead cheese is made with milk
from UD cows by UD students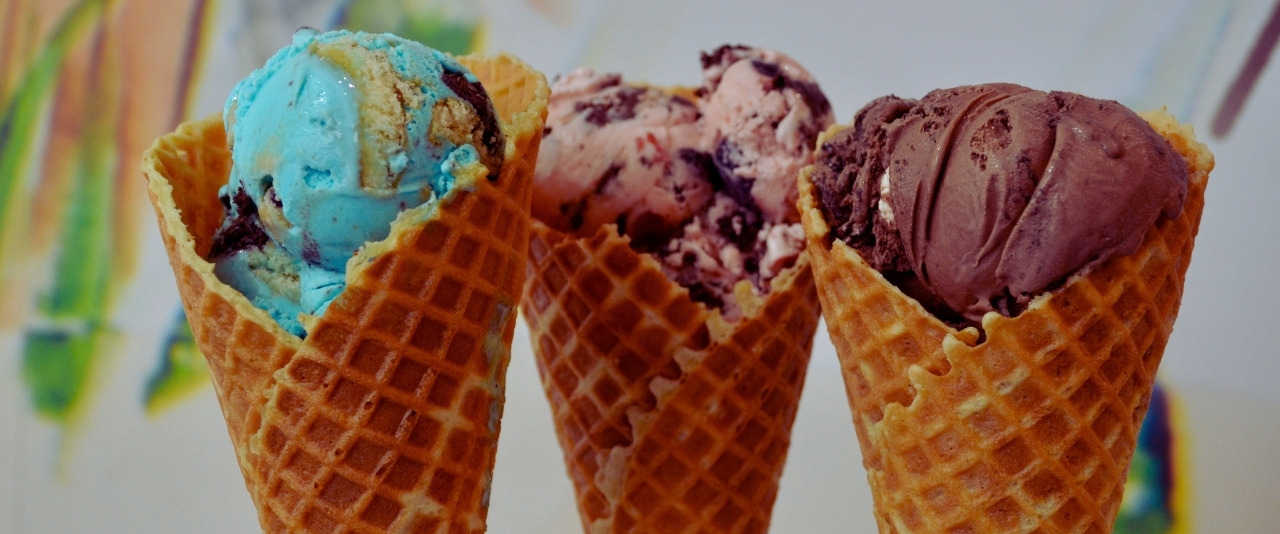 Delicious flavors
created by UD students
YouTube Video Link for Behind the scenes at the UDairy Creamery: youtube.com/watch?v=bh40Kr1eYAE
UDAIRY CREAMERY LOCATIONS
UDairy Creamery Café
The UDairy Creamery Café serves favorites like ice cream, waffle cones and cheese. Additionally, the café offers a full coffee drink menu and light fare, including sandwiches made with UDairy Creamery cheese. This new location increases the number of intern opportunities available to UD students.
The UDairy Creamery Café is open year round!
General Hours
Monday through Friday
9:00 AM - 8:00 PM


Saturday
10:00 AM - 8:00 PM


Sunday
12:00 PM - 6:00 PM
Whether on Main Street or in the surrounding lots, café parking is metered or pay by Passport App.
UDairy Creamery Flagship Location
Launched in 2011, our flagship store is located next to the UD athletic complex and across from the College of Agriculture abd Natural Resources' dairy farm in Newark, Delaware. UD students make ice cream onsite with milk from the farm and serve over 34 ice cream flavors year-round.
The UDairy Creamery is open year round!
Please note: Our flagship location will be closed Thursday, Friday and Saturday of this week due to the Thanksgiving holiday.
Our normal hours are typically seven days a week from 11 a.m. to 9 p.m.
From Monday to Friday during business hours, parking is available at the "15-minute" spots across the road from our front door. The surrounding lots are permitted lots during business hours or can be paid for longer terms via the Passport App. On nights and weekends, parking is available next to our walk up window or in front of the ice arena. 
Dear customers,
UDairy Creamery has been informed by a supplier of a potential ingredient quality issue in select ice cream products. 
Out of an abundance of caution we are encouraging customers to dispose of any potentially affected products. These include pints and half gallons of ice cream marked with the lot codes noted below. These containers were sold at the South College Avenue store in Newark, Delaware between July 14, 2022 and July 24, 2022. Contact UDairy Creamery at udairycreamery@udel.edu or 302-831-0999 for a refund. 
No injuries or illnesses have been reported to date. Anyone who is feeling ill should contact a medical professional. 
We are continuing to monitor the situation and may issue further updates as necessary. As always, the health and safety of our customers remains our first priority. We apologize for any inconvenience. 
ICE CREAM FLAVORS/LOT CODES AFFECTED 
Delaware River Mud Pie: Lot #220714
Tona Toffee: Lot #220717
All Nighter: Lot #220718
Mint Chocolate Chip: Lot #220718
Cookies & Cream: Lot #220719
Cookie Dough Dynamite: Lot #220719
Vanilla: Lot #220720
Blissful Bing Cherry: Lot#220719
Butter Pecan: Lot #220721
Peanut Cocoa Loco: Lot #220722
Raspberry Cheesecake: Lot #220722
Mint n' Cookies: Lot #220722
Lot codes can be found near the container's bar code, as shown in the photos.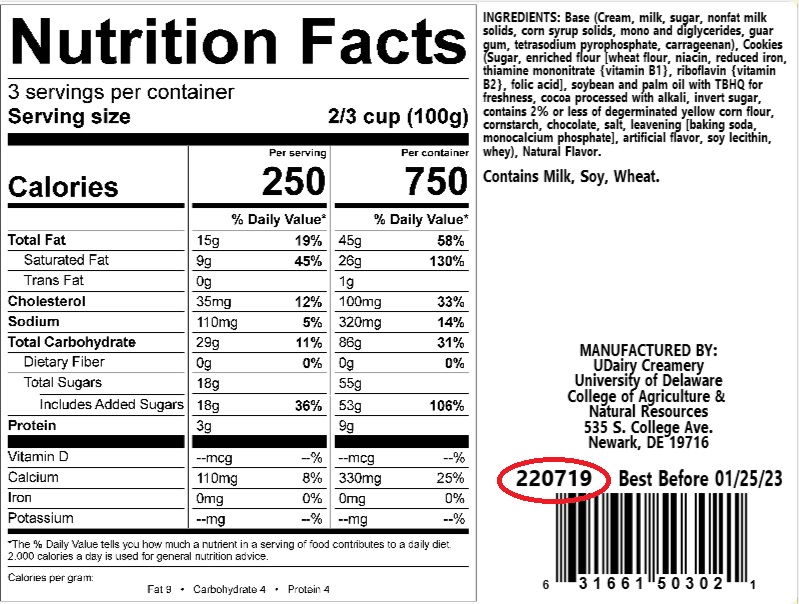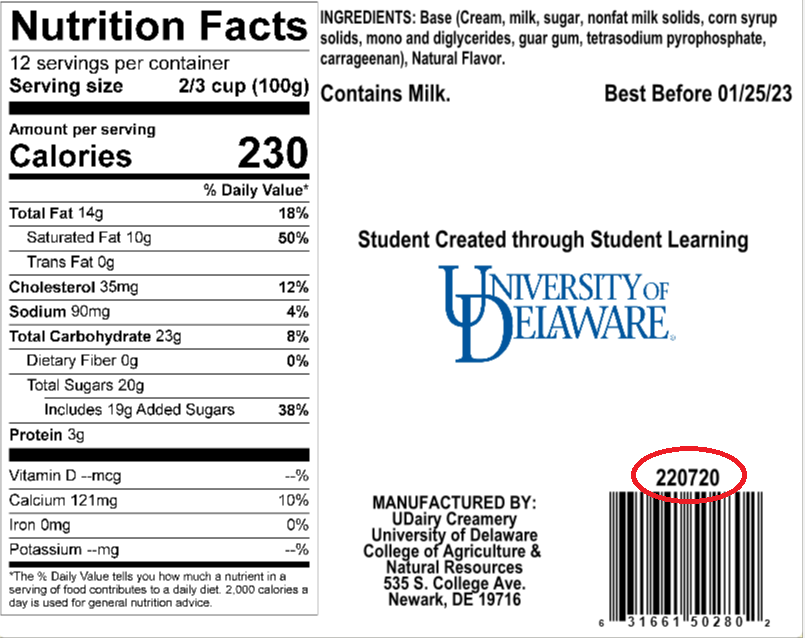 CONTACT US
For Orders and General Questions: udcreamery@udel.edu or fill out this form

For MooMobile inquiries: MooMobile@udel.edu
For UDairy Creamery Cafe Catering Inquires: udairycafe@udel.edu
Phone Numbers
UDairy Creamery Flagship Location: (302) 831-2486
UDairy Main Street Café: (302) 831-6804
Genuardi Food Innovation Lab: (302) 831- 0983
UDairy Creamery Staff
LeeAnne Ahamad
Events & Creamery Cafe Manager
Email: ahamad@udel.edu
Lena Andino
Assistant Manager
Email: aandino@udel.edu
Samantha Gartley
Lab Coordinator
Email: Sgartley@udel.edu
Garrett McManus
Retail Operations Manager
Email: gmcmanus@udel.edu
Jennifer Rodammer
Email: jenrod@udel.edu
Director of Operations


UDairy Creamery on Instagram