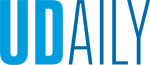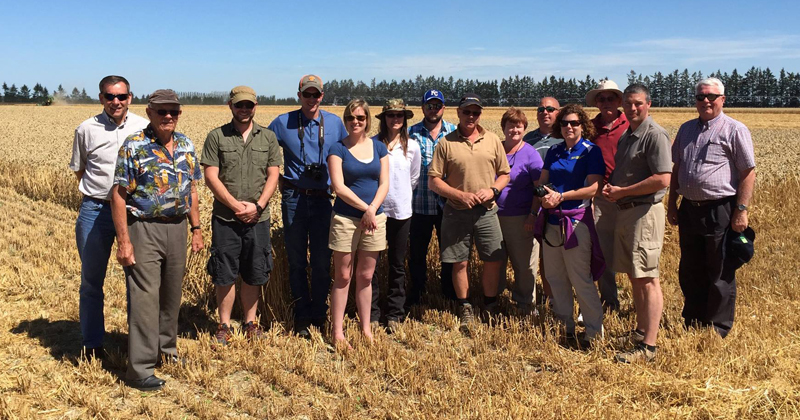 Empowering agricultural voices
Article by Michele Walfred Photos courtesy of LEADelaware and Jenn Volk October 26, 2023
UD plays key role in shaping agriculture and natural resources leadership program
The need for issues-focused leadership around the agriculture and natural resources sectors is vital for the continued success of Delaware's largest economic driver. Agriculture is Delaware's number one industry, providing more than 69,000 jobs and nearly $10.3 billion of economic activity, according to the Delaware Department of Agriculture and a 2023 Feeding the Economy report.
To meet this need, LEADelaware is empowering individuals from across the First State. With significant input from the University of Delaware's College of Agriculture and Natural Resources (CANR), the two-year leadership program is turning out impassioned and informed community leaders. A goal is to advocate for agriculture and natural resources and lend an important voice to local, regional and national policies and conversations.
Delaware's program was modeled directly from a successful Maryland program, created to counter negative attitudes at the government level toward agriculture producers.
"The political climate, especially in Maryland, was not favorable to agriculture," said Ed Kee, CANR executive-in-residence. "When government leaders were making statements about agriculture that were misinformed or not positive, that was the point where we saw a need to provide the younger generation with the skillset to voice policy issues to government at all levels."

Kee credits Kenneth Bounds, then affiliated with Mid-Atlantic Farm Credit, for leading the effort in Maryland. Bounds sought to duplicate its success in the First State.
Around 2003, Bounds secured a $10,000 commitment each from the budgets of Michael Scuse, secretary of the Delaware Department of Agriculture, and UD's Robin Morgan, then dean of the College of Agriculture and Natural Resources. The commitment from both institutions continues to this day.
"That was great seed money to get the program going," said Kee, whom Bounds tapped to launch the LEADelaware inaugural program.
With Kee's established track record of community and agriculture leadership, including a long career with UD Cooperative Extension as the extension fruit and vegetable specialist and statewide agriculture program leader, he was a logical choice. Kee identified the program's mission of servant leadership, combining professional goals alongside addressing community needs.
In the first class, Kee recruited six farmers and six individuals from related sectors and organized the curriculum, which includes a foreign study trip as a capstone to the two-year experience.
"The international study trip was paramount — learning about the agricultural import and export markets from another country's perspective and economies broadened my understanding of the global markets," said LEADelaware alumna Laurie Wolinksi, extension agent and director of Northeast Extension Risk Management Education Center.
"Agriculture is a global industry and enterprise," Kee said. "To develop leadership, farmers or agricultural professionals benefit from getting a sense of how things work and relationships between other countries and the U.S. The port of Wilmington, for example, serves as the largest point of entry for winter fruit produced in Chile."
The South American nation rose as the top choice for the first of the program's study trips abroad. Subsequent locations included Peru, New Zealand and Argentina.
Fellows gather periodically and meet with local leaders and producers. They also visit production sites and take occasional weekend trips, such as to Washington, D.C., to meet with national policymakers and legislators.
Since its 2007 launch, the program boasts 70 alumni, 15 of whom share a UD affiliation. Countless UD faculty and professional staff have served as instructors. Several UD sites across the state are destinations throughout the diverse agenda. Fellows are exposed to a broad range of topics to better appreciate the broader interconnectedness and depth of agriculture and natural resources management.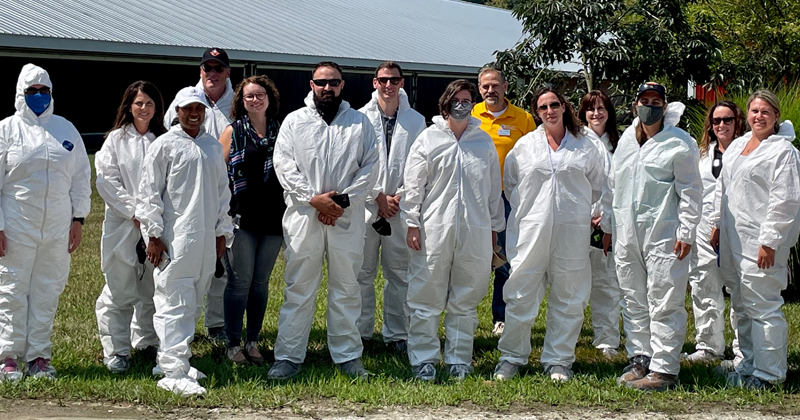 With Kee at the helm, two UD staff members enrolled in the inaugural class: Cory Whaley, Sussex County extension director and agriculture agent, and his colleague, Wolinski.
"LEADelaware allowed me to experience and understand the many aspects of agriculture on a local, national, and global scale," Whaley said. "It opened my eyes to what leadership is and what characteristics make effective leaders."
It was important for Kee to schedule guest speakers who would share authentic leadership stories. 
"We had leaders — people who had been in the fire," Kee said. "That brought in an element of listening and interacting with bonafide leaders with a track record of success and also in that track record that experienced some really tough times."
When Kee departed UD to serve an eight-year term as the Delaware Secretary of Agriculture, other CANR faculty and staff members assumed leadership roles in the program, including Bill McGowan, Tom Ilvento and Michelle Rodgers.
Blake Moore, a horticulture and natural resources extension agent, attended Class IV, culminating in a trip to Argentina. After graduating, Moore made a career move to UD Extension, where he runs the Delaware Master Naturalist program. The LEADelaware alumnus interacts with instructors, volunteers and other partner organizations to create an effective network that supports Delaware's natural environment. 

"The leadership skills that I developed throughout the program gave me the confidence to step into local, regional and national leadership roles," Moore said.  
Class II alumna Jenn Volk began her leadership development with LEADelaware, then representing the Delaware Natural Resources and Environmental Control. She learned how to assemble and lead diverse teams with specific goals. Volk said before starting the program that her leadership confidence was low, but the program was transformative and launched a long-term leadership journey.

"The coaching I received in LEADelaware helped me lead our team to success on that task, ultimately opening up many doors for my career," Volk said.
Indeed, after joining UD as an Extension environmental specialist in 2012, Volk's leadership roles continued to advance first as Kent County extension director and later as associate director of extension. In that role, Volk co-directed Class V and VI alongside Delaware Department of Agriculture counterparts.

Her leadership sojourn continued to evolve. Volk, who now serves as interim extension director, analyzed the program's effectiveness as part of her research for her Ed.D. in Educational Leadership.
"I was very much interested in evaluating LEADelaware to determine our effectiveness to date and apply the feedback that I would obtain from our partners, sponsors and alumni to improve the program in the future," Volk said.
Volk was at the helm during a challenging period for the program. COVID-19 thwarted Class V's scheduled trip to Southeast Asia; Class VI primarily met virtually. The study trips for both classes included agriculture locations in the U.S.
"I learned about sectors of Delaware agriculture that I never thought much about, such as urban ag, plant nurseries, oyster farmers, not to mention the high tech industries supporting farming operations on Delmarva," said Brian Ladham, senior scientist in Avian Virology at the Department of Animal and Food Sciences and Allen Biotechnology Laboratory. "With every new experience, I tried to find a way to incorporate that industry into my efforts at UD."
Volk said that Class VII for the 2024 to 2026 term will reflect the feedback obtained from her academic research. She is eager to implement changes. She hopes to see applicants willing to lead through the challenges of agriculture sustainability.

"Our biggest change for Class VII is that we are now attempting to tie our sessions together around a common theme — the environmental, economic, and social sustainability of Delaware's agriculture and natural resources sectors," Volk said.
Yet the core mission of LEADelaware remains unchanged. 
Kee hopes LEADelaware's future will include strong representation from farmers, agribusiness and food industry personnel. 
"Farmers need to be articulate and have a firm understanding of their industry, at least in the segments they are closely involved in and be able to explain to non-farm people and policymakers the importance of agriculture and the impacts these policies, positive and negative, have on agriculture production," Volk said.
LEADelaware benefits from sponsor support from several agricultural organizations such as the Delaware Chicken Association, FMC, Mountaire, Horizon Farm Credit and Corteva. 
Applications for Class VII are open through mid-November on the LEADelaware website.