GRADAUTE STUDENT PROFESSIONAL DEVELOPMENT Competencies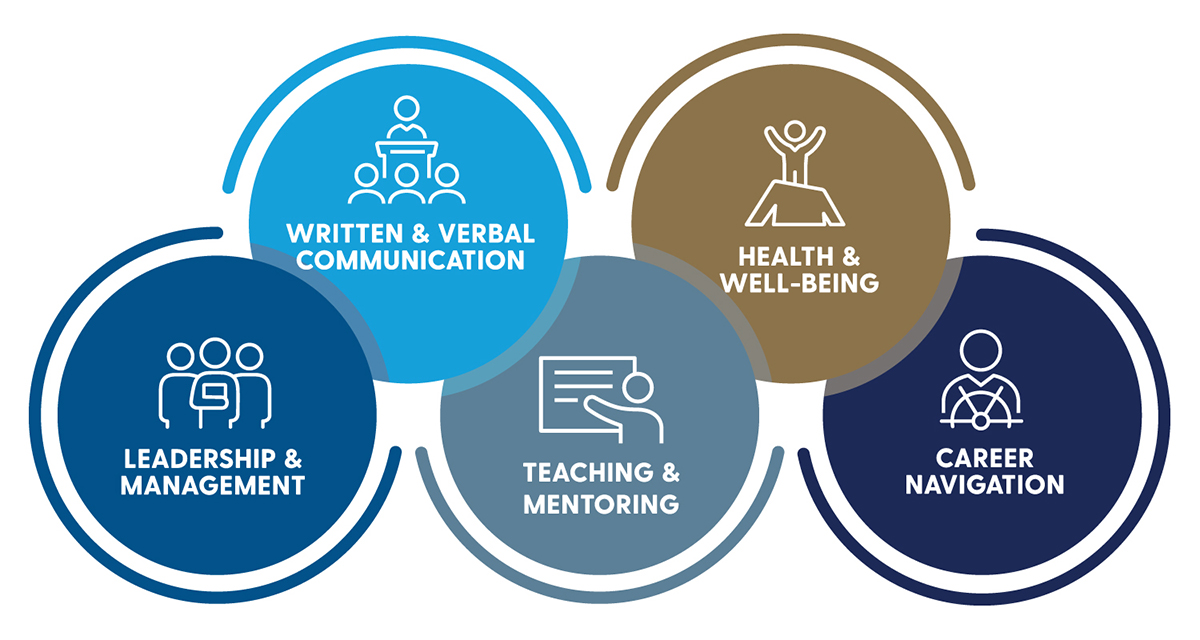 Through a variety of programs, collaboration with University partners like the Career and Writing Centers, and an evolving catalog of workshops, the Graduate College strives to develop the skills necessary for UD graduate and post-doctoral students to succeed wherever their careers take them.
Upon completing their graduate training at UD, our students will have acquired the competencies of:
leadership and management
effective communication
teaching and mentoring
personal growth and wellbeing
career navigation
Leadership and Management
Leverage the strengths of others to achieve common goals.
Use interpersonal skills to coach and develop others.
Assess and manage your emotions and those of others.
Use empathetic skills to guide and motivate and to organize, prioritize, and delegate work.

To explore your potential and gain leadership certification in multiple levels of leadership through the nationally recognized program, please visit Blue Hen Leadership Program (BHLP). Leadership training opportunities available at the BHLP are centered on The Social Change Model of Leadership (Higher Education Research Institute) and build on its tiered curriculum to correspond to the Self, Group, and Community lenses of that model. The Leadership Challenge (Kouzes and Posner) and its five principles--Model the Way, Inspire a Shared Vision, Challenge the Process, Enable Others to Act, and Encourage the Heart-- provide the foundation for the Emerging Leader tier of the program. All leadership theories and models taught in the program rely heavily on self-awareness, values, the importance of relationships, and communication in ultimately affecting positive change. 
The Graduate College is also developing a leadership certificate program with specific tracks for graduate students to prepare them for diverse, global working communities.
Articulate thoughts and ideas clearly and effectively in written and verbal forms.
Present ideas and demonstrate the impact of one's work to a broad range of audiences.
Write clearly and effectively for technical and non-technical audiences.
Graduate student writing support is available at the Writing Center. 
​The Writing Center is a place where all members of the UD community can come to write and to talk, think and learn about writing. All Writing Center services are free.
Graduate students from the English Department provide one-to-one consultations to UD graduate students for any graduate writing project, such as theses, dissertations, articles, or assignment, in one-to-one and small group tutorials. They provide assistance for all stages of the writing process, from brainstorming to revision. To make an appointment, view our Online Scheduler​
As you progress through your academic career and begin working on your dissertation, the Writing Center also facilitates Dissertate Write Now and Dissertation Retreats. The student-run writing group, Writing Hens can also provide peer support for writing through goal check-ups and write-on-sites. Interested members please join our slack channel or email writinghens@gmail.com.
Gain knowledge of instructional pedagogies, assessment methods and promoting inclusive teaching environments.

Effectively mentor undergraduate students, early scholars and peers.
The Center for Teaching & Assessment of Learning (CTAL) offers a variety of programs and resources throughout the year to meet the needs of instructors at every stage of their teaching careers. From graduate students entering the teaching ranks as instructors of record to experienced faculty fine-tuning their craft, all instructors will find participation in CTAL programs an opportunity for exploration and discovery in a collegial setting. Visit the events calendar on CTAL's homepage to view and register for upcoming programs, such as the Course Design Institute (CDI), Friday Roundtables, and Teaching Online Together: SPOT-ON. 
Graduate Students preparing to be teaching assistants for the first time are encouraged to explore CTAL's online and asynchronous New Teaching Assistant Orientation Canvas Resource. This Canvas site has been designed by CTAL to provide new TAs with concrete strategies to manage their new roles with ease. This Canvas site serves as a "getting started" resource that will help guide conversations TAs can have with their department, advisor and other graduate students in their program to prepare for the unique responsibilities of their teaching assistant role.
CTAL staff are continually reviewing LinkedIn Learning content for material related to teaching and learning. Before making our recommendations, we ensure the materials' quality and relevance to our unique University of Delaware academic ecosystem.
If you haven't already, please visit www.udel.edu/linkedinlearning to activate your UD sponsored access to LinkedIn Learning at no financial cost to you. Once your account has been activated, you will have the opportunity to join LinkedIn Learning with your existing LinkedIn profile. Joining these two accounts allows you to share LinkedIn Learning course completion accomplishments, such as digital certificates, with your professional network.
After learning about a particular strategy or idea via LinkedIn Learning, we strongly recommend scheduling a one-on-one consultation with a CTAL team member, who can help you identify evidence-based solutions inspired by what you've learned. Together, we can tailor a strategy to your unique learning environment that reflects your teaching philosophy, student learning outcomes, program educational goals, and disciplinary values.
For additional resources on teaching and mentoring at UD, visit the CTAL website.
Personal Growth and Wellbeing
Build resilience to manage stress and promote self-care, self-compassion and positive outlook.
Advocate for yourself and on behalf of others.
Engage in difficult conversations with confidence.
Develop personal finance literacy skills.
Become aware of career options that match your values, skills, interests, and priorities.

Understand how to cultivate lasting professional connections.

Engage in experiential learning opportunities to acquire and master new skills.

Strategize and develop a plan to pursue career opportunities effectively.

Identify and articulate your skills, strengths, knowledge and experiences relevant to the desired career goals.
To ensure that our graduate students and postdoctoral trainees from all backgrounds, experiences, viewpoints, and identities achieve their career aspirations, the Graduate College provides the following career navigation support. Additional programs and resources such as career fairs, employer meetups, job and internship recruiting, and virtual interview programs are offered by the Career Center.
Career Development Support for Graduate Students and Postdocs
Career advising is available to graduate students and all current post-doctoral trainees. One-on-one discussions with a career coach can help you gain clarity on your career direction, learn about best practices on building professional networks, launch a job or internship search, or ace the interviews. 
To schedule an appointment, sign into your Handshake account and select "Graduate Students and Postdocs" appointment option. If you are a graduate student in the Alfred Lerner College of Business and Economics, please select the "Business Career Interest" appointment option. An online tutorial for setting up virtual career appointments is available here.
Academic departments, faculty members, and graduate student organizations can request career skill-building workshops for their courses or program offering. These independent modules span the entire spectrum of the job search process, including exploring career options, building professional networks, creating effective application materials, preparing for interviews, and negotiating salary. A typical workshop duration is 1 hour. If desired, workshops can be combined and/or extended to include additional hands-on exercises and peer feedback opportunities.
Please send workshop inquiries or questions to gradsuccess@udel.edu.