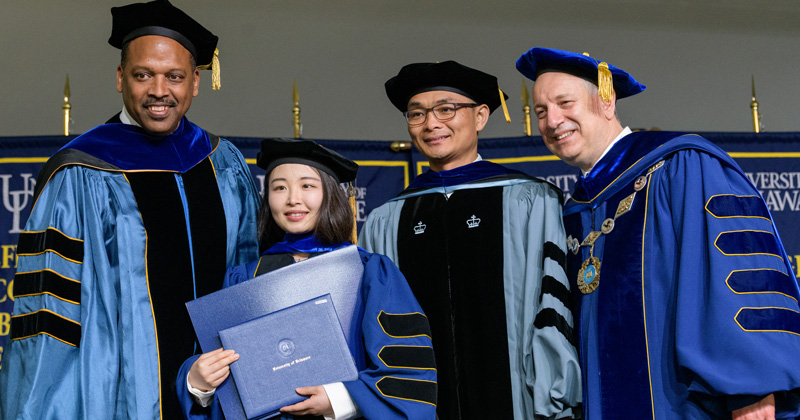 Upon the receipt of the Application for Advanced Degree, the Graduate College sends by email to the student specific directions to follow for the submission of a dissertation/thesis/portfolio/project brief as required for the degree. The following steps below are to help the student to prepare the final written project for the degree.
Step 1:
Start Preparing the Format Early
Acquire and use the UD Thesis / Dissertation Styles to set up the format for your paper. Refer to the UD Thesis / Dissertation Manual for formatting requirements for your document, including examples of proper signature pages.
Step 2:
Submit the Application for Advanced Degree
Graduate degrees are awarded at the end of fall, winter, spring and summer sessions. You must file your Application for Advanced Degree with the Graduate College to start the process.
Step 3:
Take Note of the Deadlines
There are deadlines that apply to doctoral candidacy admission, dissertation and thesis submission and advanced degree application submission. Check the submission deadlines at the bottom of this page.
Step 4:
Plan the Defense Date
Defend dissertation / education leadership portfolio /project brief (thesis if required). Doctoral students: Acquire signatures of the committee members on the Certification of Doctoral Defense form.
Step 5:
Thesis / Dissertation / Education Leadership Portfolio / Project Brief
Prepare a PDF version of your thesis/dissertation/education leadership portfolio/project brief. Submit the PDF to http://www.etdadmin.com/udel
TO Convert to PDF:
If written in Microsoft Word, click here.
If written in Tex or LaTex or on a Macintosh, assistance is available at the IT Help Center in Smith Hall or by calling 302-831-6000, ext. 6000.
Click here > for help with embedding fonts in a Microsoft Word PDF.
Step 6:
The Signatures
Acquire the signatures on the first approval page, except for the Vice Provost for Graduate and Professional Education and Dean of the Graduate College.
Send the signature page signed by the Committee and the Dean's signature page signed by the Chair of the Department to the Dean of your College.
The Dean of the College will sign the Dean's page and forward all signature pages to the Graduate College.
NOTE:
The Graduate College arranges for the Dean of the Graduate College to sign the approval page.
Getting Ready to Graduate, Copyright, ProQuest and Your Thesis/Dissertation and You
Presented by Dr. Paige C. Morgan

Topics covered include:
The author's copyright of their dissertation (copyright notice, registration, and the stakes of choosing to register or not register their copyright)
Use of copyrighted material (how to determine copyright status, how to consider fair use potential, how to get permission, the potential for copyright infringement, and ProQuest's practices)
Navigating copyright when a thesis or dissertation includes material that has also been (or will be) published in an external journal
How to get help with copyright questions