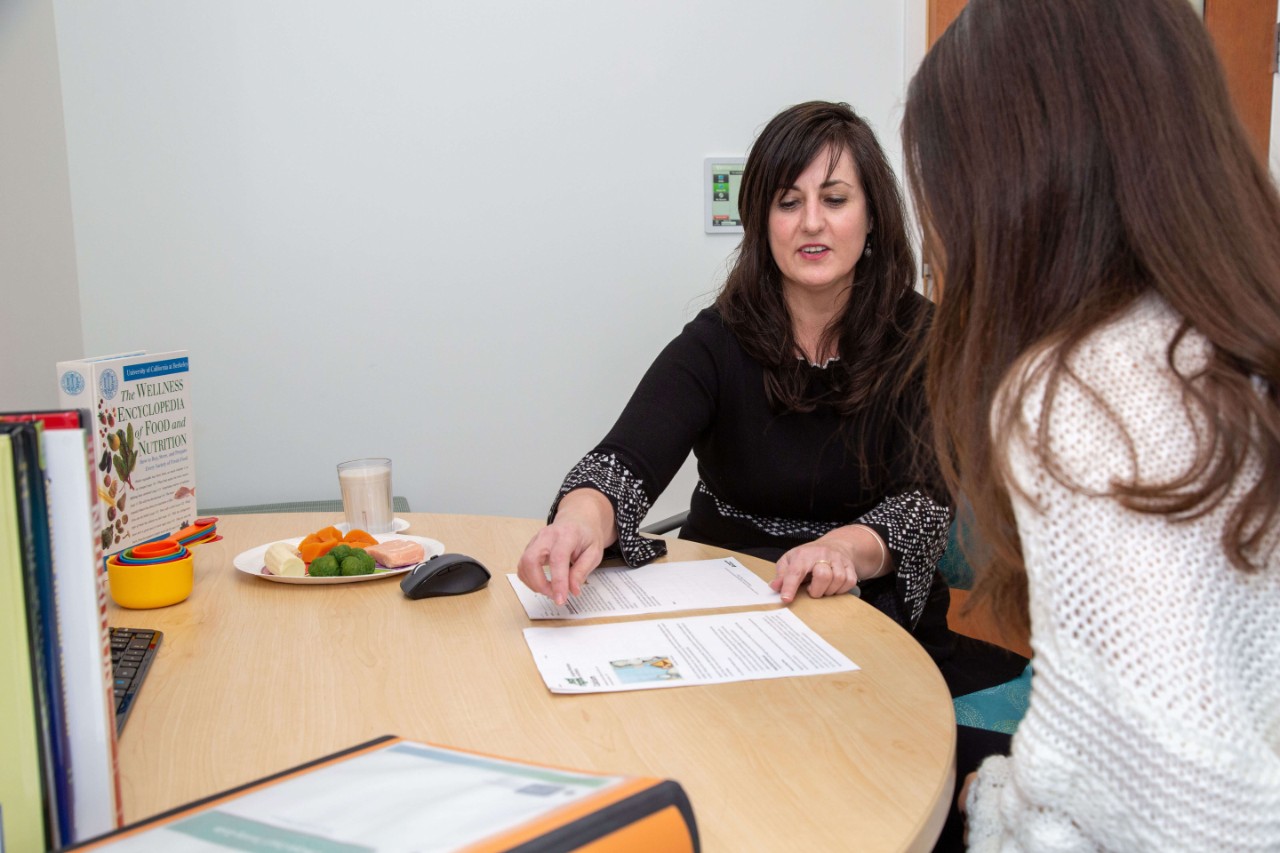 About the program
The Nutrition and Dietetics major is the first step leading to the credential of the Registered Dietitian Nutritionist (RDN). At the University of Delaware, a student enrolled in the Nutrition and Dietetics major is completing the requirements for a Bachelor of Science degree and the Didactic Program in Dietetics (DPD) accredited by the Accreditation Council for Education in Nutrition and Dietetics (ACEND).
The University of Delaware's DPD is currently granted accreditation status by the Accreditation Council for Education in Nutrition and Dietetics of the Academy of Nutrition and Dietetics (120 South Riverside Plaza, Suite 2190, Chicago IL 60606-6995, (800) 877-1600 ext 5400). ACEND is the accrediting agency for education programs preparing students for careers as Registered Dietitian Nutritionists (RDN or RD) or Nutrition and Dietetics Technicians, Registered (NDTR).
After completing the DPD, a master's degree and ACEND-accredited supervised practice program is required to become a Registered Dietitian Nutritionist. At the University of Delaware, students may complete an accelerated master's degree:
Additionally, the Department of Health Behavior and Nutrition Sciences offers majors in Nutrition and Medical Sciences and Nutrition.
Why study Nutrition & Dietetics at UD?
Graduates from our program applying to Dietetic Internship programs have a higher success rate than the national average. Additionally, 96.6% of UD Dietetics alumni pass the national Registration Examination for Dietitians on their first attempt.
Experiential opportunities in Nutrition and Dietetics at UD are available in and out of the classroom. Students may gain skills in nutrition education, counseling, management, resource development and research. Courses include hands-on labs and real world experiences in food service, community and simulated medical settings.  Meet some nutrition majors!
Registered Dietitian Nutritionists work in a wide variety of practice settings. Some graduates use their nutrition major as preparation for innovative careers. RDs and RDNs work in:
Health-care and medical settings such as hospitals and clinics as part of the interprofessional health-care team.
Communities and public health to help Americans achieve and maintain good health; they may also advise government on population-wide initiatives to improve the health of the public.
Hospital foodservice departments and/or run and manage kitchen staff and foodservice production in schools, nursing homes, restaurants, industrial plants, military bases, and other institutions.
Private practice, operating their own consulting businesses. They may work with a variety of clients or focus on a specific group such as athletes, those with eating disorders, or children.
Collaboration with private companies like supermarkets, food manufacturers or pharmaceutical industries.
Media and communication, including vlogs, social media and print/web-based journalism like magazines.
Universities and research areas, teaching students about nutrition or conducting research to answer important scientific, clinical and policy questions. Many Dietitians continue their education by going to graduate school for nutrition, public health or other allied advanced degrees.
Some graduates use their nutrition major as preparation for innovative careers.
Before requesting a change of major to Nutrition and Dietetics, students must schedule an appointment with a BHAN Academic Advisor.
Additionally, students must complete CHEM101 (or 103 or 107) and have a cumulative GPA of 2.5 or higher. Once all of the requirements have been met, the student then submits their request via the "Change of Major, Minor, Concentration and Graduation Term" webform on UDSIS. Any student that meets the requirements will be approved to change to Dietetics.
Students in Nutrition and Dietetics take foundational sciences like biology, chemistry and physiology early in their academic careers. In Junior and Senior year, there is a greater focus on nutrition-specific courses including Nutritional Assessment, Nutrition Counseling, Medical Nutrition Therapy and Quantity Food Production. Please click the button to the right to view a sample curriculum plan. 
To earn a Bachelor of Science degree, students must complete 120 credits and meet specific requirements, as outlined in the University of Delaware Catalog. Each semesters' courses will vary, depending on the student's background and academic preparation.
The average number of credits per semester ranges from 12 to 17. Winter and summer sessions can help lighten the load of regular semesters. For more information regarding Nutrition and Dietetics major requirements and suggested course sequence, please click here.
Katherine Rippon, a senior nutrition and dietetics major at the University of Delaware, spent the summer examining the effects of wild blueberry consumption on cardiovascular health and cognitive function in the older adult population.: youtube.com/watch?v=1uwYvWsC7so