COMBINED MS NUTRITION/DIETETIC INTERNSHIP
The combined Master of Science in Nutrition and Dietetics/Dietetic Internship (MS/DI) program at the University of Delaware provides graduates of a didactic program in dietetics (DPD) with advanced knowledge of nutrition and metabolism, research methods, critical thinking skills, as well as an opportunity to engage in methods, implementation and interpretation of nutrition research, and to acquire competencies needed to practice dietetics in a variety of settings, in one seamless program. In line with the missions of the University, the College of Health Sciences, and the Department of Health Behavior and Nutrition Sciences, the MS/DI values high-quality education of students, service in the community, and participation in professional organizations.
Graduates of the Master of Science in Nutrition and Dietetics/Dietetic Internship (MS/DI) at the University of Delaware will be proficient entry-level practitioners across all areas of nutrition care including clinical, food service, and community dietetic roles. Students are expected to operate independently with high levels of professionalism and integrity both during the MS/DI and throughout their careers. The knowledge and skills gained through successful completion of the MS/DI will allow students to successfully pass the registration examination for dietitians.
Completion of the MS/DI track is expected to take 19 months, with students completing 27 graduate credits towards the Master's degree during Year 1 of the program, consisting of fall semester, winter session, spring semester, and summer session. Students will complete an evidence-based project before the end of summer session of Year 1. In addition, students must successfully complete a comprehensive examination during the summer session of Year 1 before being permitted to begin the supervised practice experiences. During Year 2, students will complete at least 1,000 hours of supervised practice and 4 online graduate credits.
Program completion requirements:
27 graduate credits during Year 1 with a minimum cumulative GPA of 3.0 (see curriculum)
Successful completion of evidence-based project
Successful completion of comprehensive examination
Minimum of 1,000 hours of documented supervised practice with achievement of all required competencies (NTDT 648/649: Dietetics Practicum I/II)
Successful completion of NTDT 650/651: Current Perspectives in Dietetics I/II
Successful completion of all required assignments
Satisfactory final preceptor evaluations in all rotations
Upon successful completion of the MS/DI track, the Master of Science degree in Nutrition and Dietetics will be conferred. In addition, each student will receive a verification of completion certificate and be eligible to take the Registration Examination for Dietitians in order to receive the Commission on Dietetic Registration's Registered Dietitian Nutritionist credential. 
Note: As of January 1, 2024, all individuals wishing to sit for the Registration Examination for Dietitians will be required to have earned at least a Master's degree.
In many states, including Delaware, graduates also must obtain licensure or certification to practice. Information on licensure/certification requirements can be found on the CDR website.  Graduates who successfully complete the ACEND-accredited Dietetic Internship at the University of Delaware are eligible to apply to take the CDR credentialing exam to become an RDN. All U.S. states and territories with licensure and certification laws accept the RDN credential for state licensure and certification purposes.
For more information about educational pathways to become an RDN please visit the Academy of Nutrition and Dietetics.
IMPORTANT NOTE: The University of Delaware is required to comply with state and federal laws regarding the delivery of distance education.  Please see the following website for more information on how State Authorization may affect you: http://www.pcs.udel.edu/state-authorization/.
ACEND information on permitted program changes due to COVID-19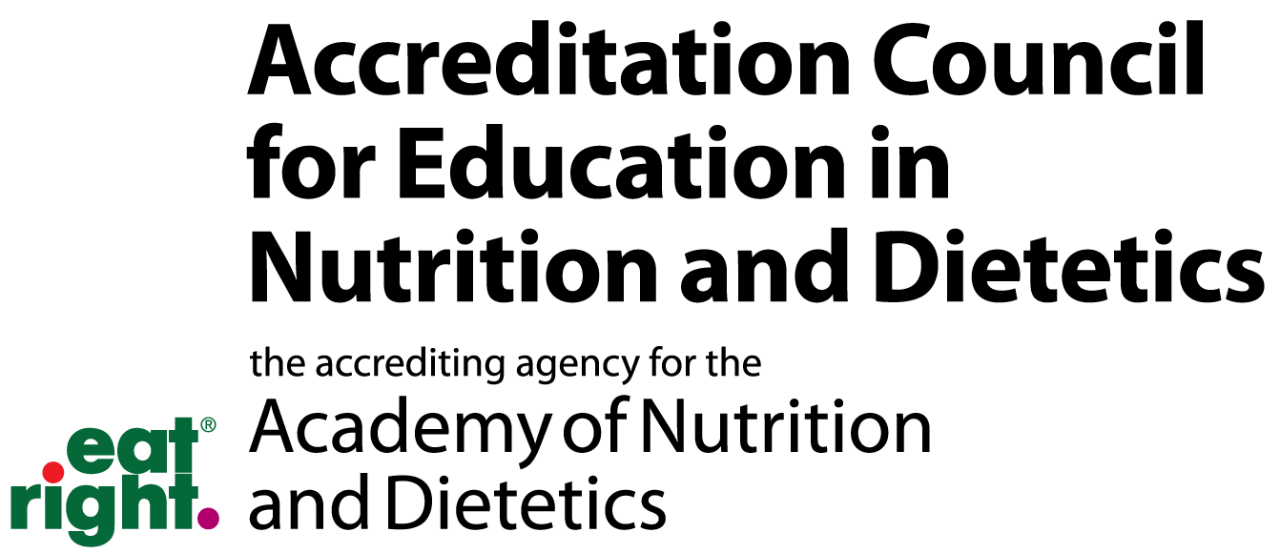 The University of Delaware Dietetic Internship program is currently granted full accreditation by the Accreditation Council for Education in Nutrition and Dietetics of the Academy of Nutrition and Dietetics, 120 South Riverside Plaza, Suite 2190, Chicago, IL 60606, (312) 899-5400. http://www.eatrightpro.org/acend