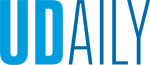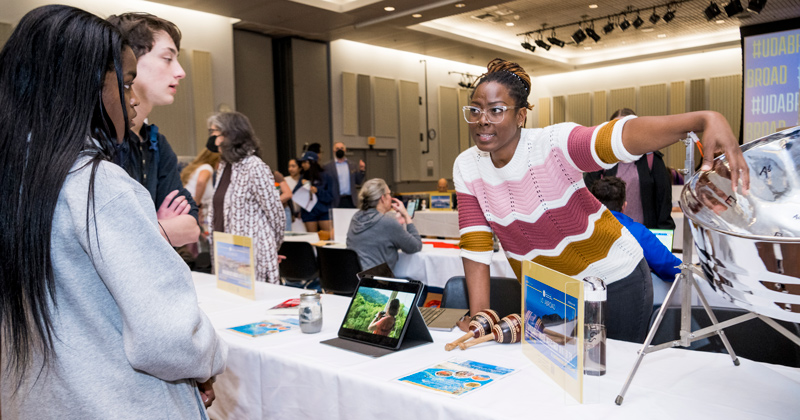 Explore global opportunities
Article by Stephanie Ferrell and Grace Kearns Photo by Kathy F. Atkinson and courtesy of Eva Pumo and Kaitlyn Sill September 01, 2023
UD Study Abroad Fair invites students to learn about this year's upcoming study abroad programs
Touring 12th century castles in Dublin, navigating the streets of Granada, fulfilling physical health requirements in the forests of New Zealand — these are just some of the study abroad adventures that 120 University of Delaware students embarked on over the summer of 2023.
Exposing all students to the University's rich array of study abroad opportunities is the goal of an upcoming Study Abroad Fair, scheduled for Wednesday, Sept. 6, from 2 p.m. to 4 p.m. in the Trabant Student Center multipurpose rooms. Students are invited to learn more about UD's winter, spring and summer study abroad programs, opportunities for financial support and other ways to internationalize their undergraduate education at this free event, where UDairy Creamery ice cream will be served.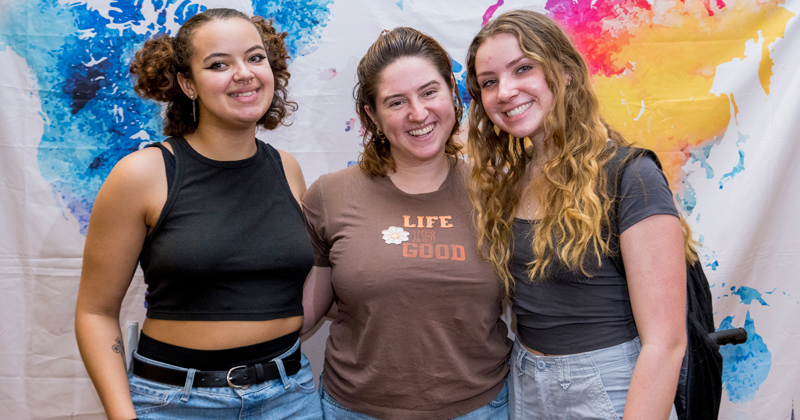 As the Sept. 20 deadline quickly approaches for many of this year's winter and spring programs, the Study Abroad Fair will serve as a last call for students still interested in applying to go abroad before next summer. Currently, there are 18 different programs accepting applications for Winter Session 2024 as well as 13 semester-long programs for the spring semester of 2024. Faculty advisers and program coordinators will also share information about study abroad opportunities for the Summer Session 2024.
This year, as UD celebrates the 100th anniversary of study abroad, the University recognizes the reach and impact of UD's global community since Professor Raymond Kirkbride proposed the first Foreign Study Plan in 1923. At the time, just eight students were selected to study abroad for a year-long program in France. Today, the University boasts 100+ study abroad programs, which send students to over 40 countries on all seven continents. Around one-third of Blue Hens study abroad at some point in their university career, compared to 10% of students nationally.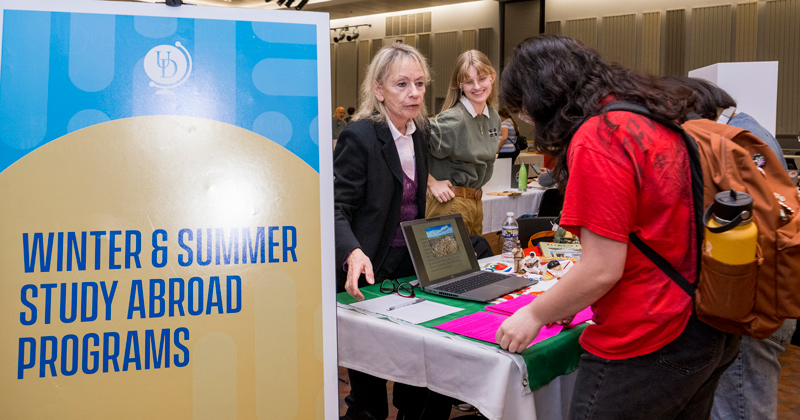 UD offers study abroad programs that focus on topics ranging from international marketing to video game development combined with Spanish to crafting movie soundtracks to semester-long internships in the Asia-Pacific region. With all of these incredible global opportunities, it may be difficult to determine which program fits each student's personal and academic goals. The UD Study Abroad Fair is meant to help with this decision.
More information can be found on the Study Abroad Fair webpage (udel.edu/global/fair) and UD Abroad Blog, which offers firsthand student perspectives.
No registration is necessary to attend the fair and all students are welcome. For additional details, contact CGPS at go-global@udel.edu.
From Delaware to the World
2023 marks the 100-year anniversary of study abroad, pioneered at the University of Delaware in 1923 when UD language professor and World War I veteran Raymond Kirkbride took eight students to France for their junior year. Today, UD boasts more than 100 study abroad programs in 40-plus countries and has an international student population that hails from over 100 countries.
About the Center for Global Programs and Studies
The Center for Global Programs and Services (CGPS) at the University of Delaware is home to the operations of UD Global, which includes Study Abroad, International Student and Scholar Services, World Scholars Program and Global Outreach and Partnerships. The Center provides leadership and collaborative innovation in support of all of the University's global initiatives and campus internationalization efforts, with its Global 360 Strategy serving as a roadmap for infusing international perspectives throughout the University's scholarship, research, and service missions. Focused on a student-centered approach, CGPS provides expert advising and a wealth of global engagement opportunities to the UD campus community, including the weekly International Coffee Hour in the fall and spring semesters.
Follow and engage with @UDGlobal on Instagram and Twitter for the latest updates on everything global happening at UD.