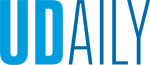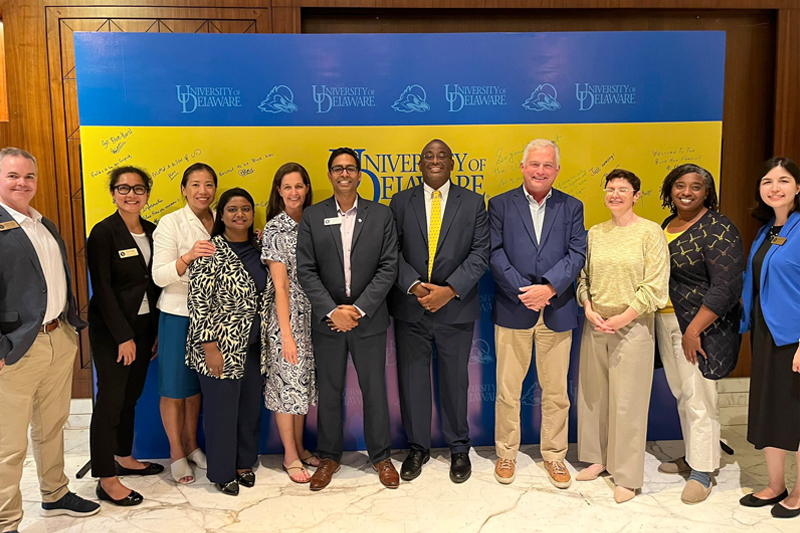 UD in India
Article by Artika Casini Photos courtesy of Chime Photography in India November 13, 2023
A delegation of Blue Hen faculty and administrators traveled to India to welcome admitted students, strengthen relationship with potential overseas academic partners
Incoming Blue Hens from Newark to New Delhi share similar questions about campus life: What should you pack for the residence halls? When do the buses run? What are the classroom expectations? Where's the student gym?
To provide answers to these questions and more, a group of 11 faculty and staff members traveled to India in summer 2023 to help students 8,000 miles away acclimate to life at UD. In three Indian cities — Ahmedabad, Hyderabad and Mumbai — the UD team offered pre-departure orientations for more than 180 incoming students.
"Our goal is to support you even before you reach our campus in Newark, Delaware," said Ravi Ammigan, associate provost for international programs. "It is an honor for our delegation to be here in India to personally welcome you and help you embark on this exciting journey at the University of Delaware."
The UD team also hosted alumni receptions to connect former and future Blue Hens and used every moment in between to strengthen academic and research partnerships with leading institutions across the country.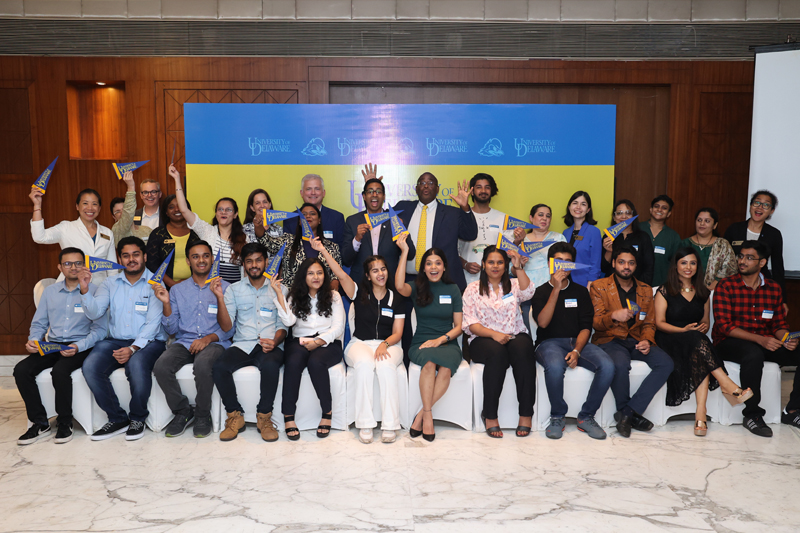 Expanding on its rich heritage of study abroad and international engagement, UD has made concerted efforts to invest in strategic markets that offer growth and opportunity. In India, that includes developing relationships with the Jio Institute to discuss potential academic collaborations; conversations with the renowned Indian Institute of Technology in Hyderabad to launch virtual faculty workshops in engineering; and meetings with the multinational pharmaceutical company Zydus and Reliance Industries to explore the possibility of research and student collaborations with the University of Delaware.   
"UD has such a long tradition in international exchange and global engagement, whether it's through student mobility programs, academic partnerships or research collaborations," Ammigan said. "Our presence in India this year is a clear indication of our commitment to building strong, lasting, mutually beneficial relationships that expand on UD's signature strengths and global collective impact."
Those strengths have not gone unnoticed by prospective applicants. Over the past two years, India has sent the largest number of international students to UD, accounting for more than 536 Blue Hens, or roughly 24% of the current international student population, in fall 2023. Notably, 90% of UD's Indian student community is composed of graduate students.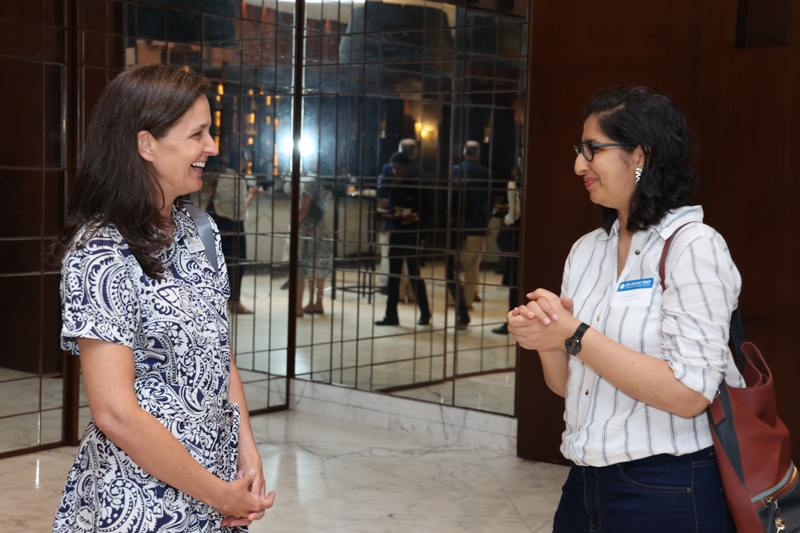 "The faculty and staff at UD are proud of their work offering so many outstanding academic programs and experiences to our students," said Louis Rossi, dean of the Graduate School. "It's clear that when scholars across the globe are researching top universities in the country, our name is high on that list." 
Rodney Morrison, vice president for enrollment management and one of the members of the Indian delegation, echoes this sentiment. 
"We're seeing an increase in both the quantity and quality of applications across the globe," he said. "UD has long been a destination of choice, and it's clear that our reputation continues to grow stronger by the year."  
The Center for Global Programs and Services led this year's international delegation, which included representation from a wide range of campus units: enrollment management, the Graduate College, the Lerner College of Business and Economics, career services, and the Office of Development and Alumni Relations.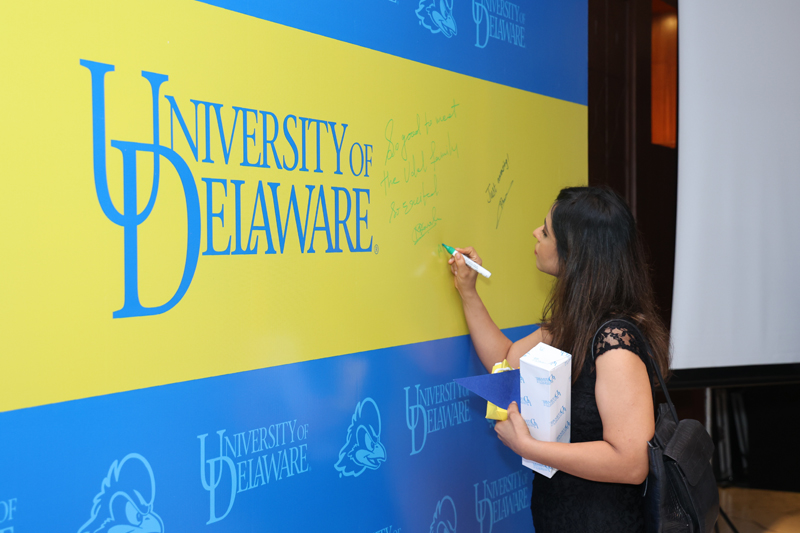 The trip to India this summer was the University's third visit in a year — the first focused on recruitment and alumni relations and the second helped to strengthen ties between the University, the state of Delaware and India.  
It also marks UD's second pre-departure orientation, following a visit to China in 2019. The goal, as always, is to build on UD's Global 360 Strategy to infuse internationalization efforts into all aspects of campus life, from weekly International Coffee Hours to mentorship programs to multicultural student organizations, including Indian Student Associations for both graduate and undergraduate students, to festivals that celebrate cultural heritage and pride. Establishing on-site orientation programs for students across the globe is a fitting progression. 
"International education is in our ethos," Ammigan said. "We want our students to have an innate sense of belonging, and that begins before they arrive on campus."
The mission is working. 

"I haven't even gone to campus," incoming chemical engineering major Rushil Rathod said at the pre-departure orientation in Mumbai. "And I already feel like a Blue Hen."