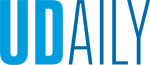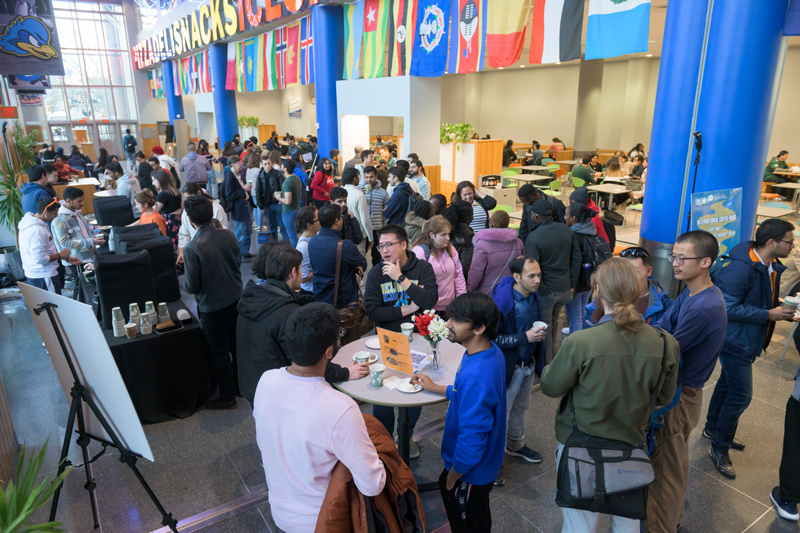 International Coffee Hour
Article by Amy Wolf Photos by Evan Krape March 01, 2023
Weekly tradition at UD connects global campus community
On any given Friday during the spring and fall semesters, students from China, Brazil, India, Spain — any of the 100 countries represented by more than 4,000 international students, scholars and families at the University of Delaware — can be found at International Coffee Hour, enjoying coffee, company and culture.
Hosted by the Center for Global Programs and Services, International Coffee Hour is UD's main venue for meeting fellow students, scholars, families and friends from around the world. The event takes place in the Trabant University Center every Friday during the fall and spring semesters from 4 to 6 p.m., and all members of the University community — not just international students — are invited to attend. The next one is Friday, March 3.
Aish Chandrasekaran, a second-year doctoral student from India studying computer science, has been attending International Coffee Hour since her first semester at UD.
"Learning about different cultures is also learning about perspective," Chandrasekaran said. "UD is home to so many students from different countries all over the world, so it's nice to know where people are coming from and what culture they belong to and what we all bring to the table."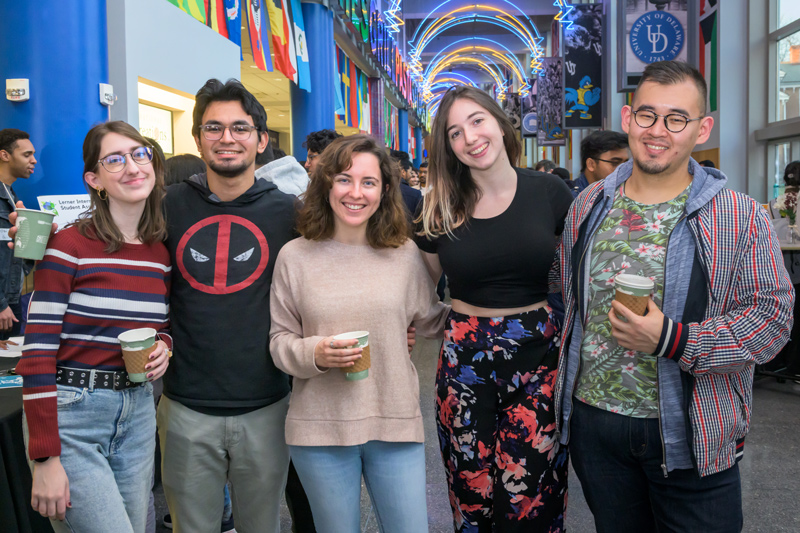 Coffee Hour began in 2013 as part of an effort to enhance the international student experience at UD. What began as a humble gathering of about 20 students is now a tradition that regularly attracts 150 to 200.
"It grew over the years and became such an important tradition that not only allows us to create a sense of belonging for our international community, but also engage others on campus with the value added — the cultural richness — that our international representatives bring to the institution," said Ravi Ammigan, associate provost for international programs.
The event is intentionally informal and is an opportunity to meet new people, practice language skills and learn about different cultures, all while enjoying free coffee, tea and snacks.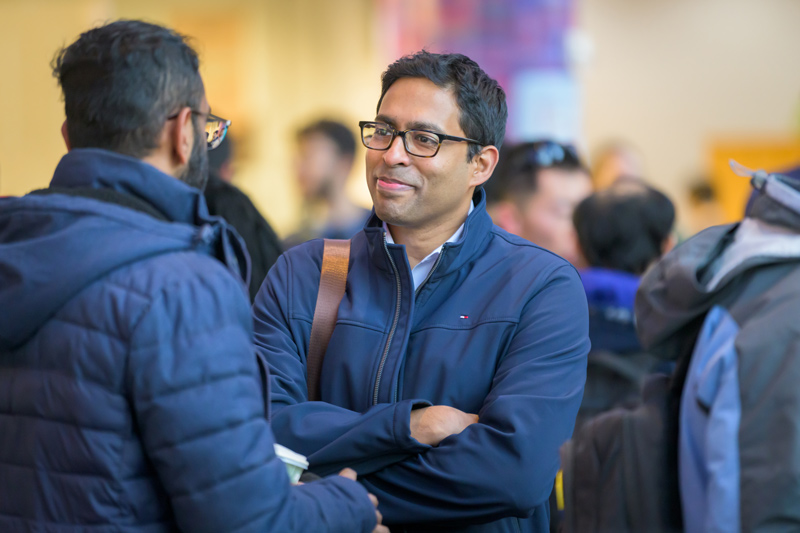 Christian Escobar, a doctoral student from Colombia studying electrical and computer engineering, has been going to International Coffee Hour for more than four years. He said it is a way for him to learn about other cultures and expand his mindset.
"I grew up in a small city, so it was basically just people from my city, so [Coffee Hour] gives you an opportunity to learn about the world," he said. "You don't have to go to China or Kazakhstan to know their culture; you can learn right here. That's the beauty of it."
By learning about different cultures, students will be prepared to thrive in a diverse, interconnected world, Ammigan said.
"At one point in your life, you are going to live, work, study or become friends with somebody from a different culture and background than yours," he said. "So this is just one way that we are engaging our students outside of the classroom and helping them develop intercultural competence and self-awareness. And at the same time, we're contributing to campus internationalization by building a welcoming and international friendly environment for all students."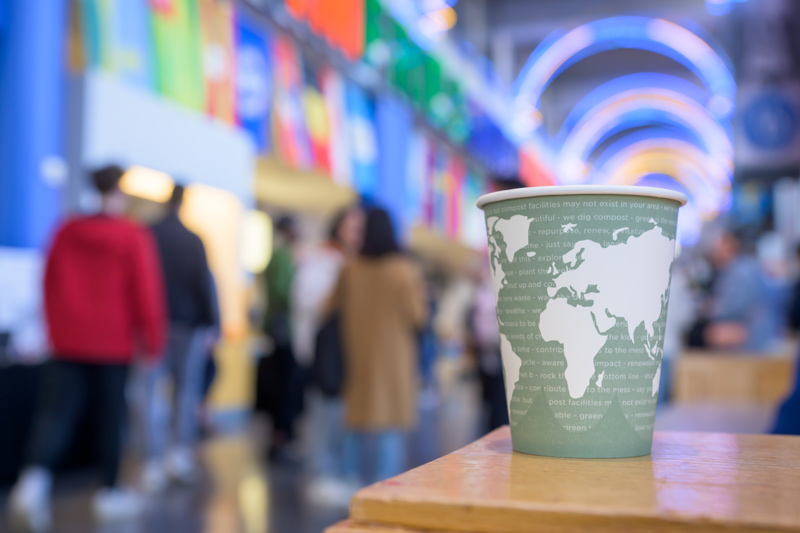 Vina Titaley, associate director for international student engagement and success, agreed that being able to be versatile in cross-cultural moments is a valuable skill to have, both professionally and personally.
"It just enriches your life — being able to interact with different cultures," she said. "It expands your horizon and expands the way that you look at the world."
For Joshua Sparks, a sophomore three-language major studying Japanese and German (his third language is undecided), International Coffee Hour is a great place to practice his language skills. Since he is a commuter student, the venue is also a great opportunity to socialize and make new friends. Indeed, Sparks met and became good friends with Omi Hatada, a student from Japan, by coming to Coffee Hour.
"For commuter students, socializing is not as easy as living on campus," Sparks said. "Socializing is more of a deliberate thing; it's not as spontaneous as it could be if I lived here. And you never know, you might just meet some best friends that you didn't know you'd make here. I made a lot of friends here I never would have met if it weren't for Coffee Hour."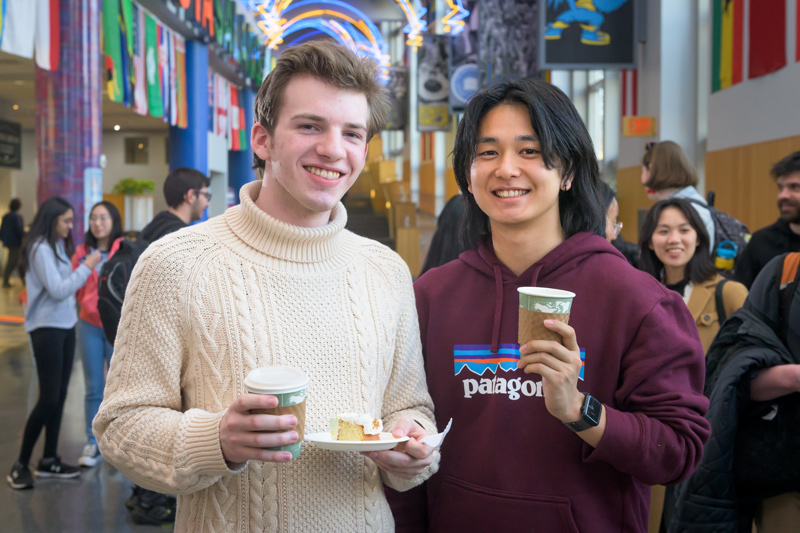 Nadya Ellerhorst, a junior majoring in international relations and Russian studies, said she enjoys that the event is structured in a way that encourages her to walk up to people she's never met before and start a conversation.
"I really love that it's a place where you're actively encouraged to come, walk up to someone, and just get to know them better," she said. "I've learned the value of walking up to someone and asking what they're studying, what they're interested in, what they do on campus. And learning about their experiences on campus is just a wonderful way to get a multifaceted view of the University community and make new friends in the process."
Maria Ferre, a graduate student from Spain studying Spanish literature and pedagogy, said Coffee Hour is a great way to catch up with old friends, meet new people, learn about different cultures and unwind after a busy week of classes.
"Even though we all have really different backgrounds, we also have some similarities because we're all in the same position as international students, and I think that's really cool," she said. "It's great to open your mind and learn about different perspectives. You start to think differently when you learn about new people from different countries."