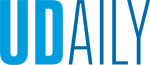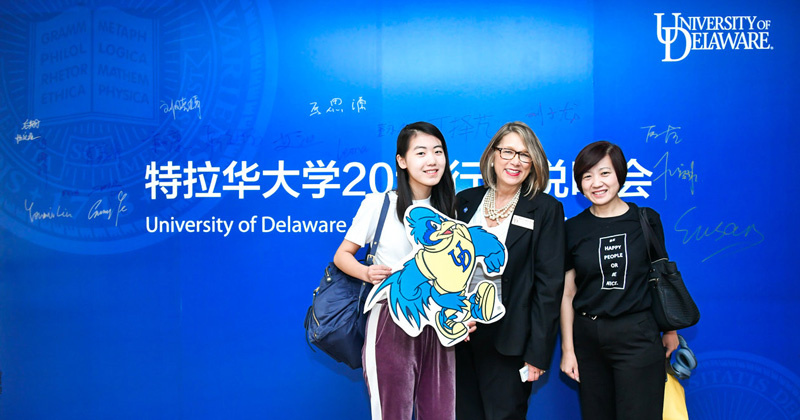 UD in China
Article by Stephanie Ferrell and Tabitha Groh Photos by Zhang Lei July 12, 2019
UD officials visit China to help new students prepare for life in Newark
A delegation of University of Delaware administrators traveled to China to help prepare incoming students for their first year on campus and to connect with UD alumni living in China.
Pre-departure orientations, held in Beijing on Saturday, June 15, and Shanghai on Sunday, June 16, familiarized 220 incoming students and their family members with UD. Alumni receptions in Beijing and Shanghai, gave 120 graduates the opportunity to reconnect and learn about what's new on campus. This collaborative trip was the first of its kind for UD, and based on its success, may not be the last.
A former international student himself, Ravi Ammigan, associate deputy provost of international programs, said he understands how overwhelming the process of preparing for such a life-changing journey to the University of Delaware can be for incoming international students. Ammigan said the trip is an important piece of campus internationalization efforts.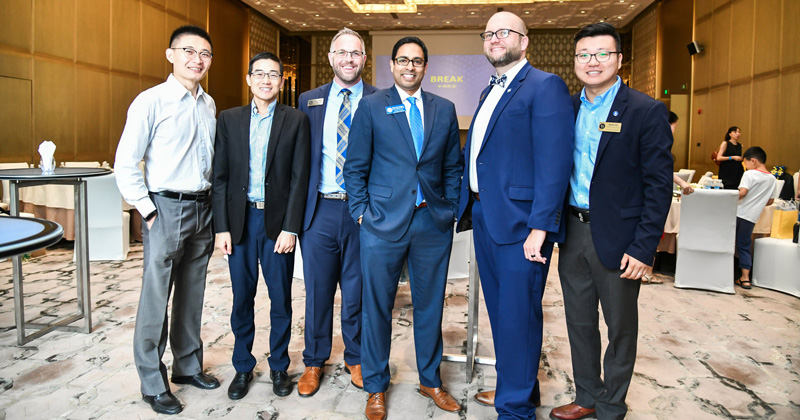 To have so many units from campus involved in such an elaborate endeavor was fantastic," said Ammigan. "The manner in which the team shared leadership and commitment throughout the planning process was really impressive, especially considering this was our first joint effort."
All new students experience some trepidation about the transition to college. The majority of incoming UD students attend New Student Orientation on campus in Newark during the summer, complete with a checklist of to-do items, pre- and post-orientation. The pre-departure events in China, organized by the Division of Student Life, the Office of Admissions, the Office for International Students and Scholars (OISS), Development and Alumni Relations and the English Language Institute (ELI), brought orientation to the students.
As he welcomed students and their families on behalf of President Dennis Assanis — also a former international student — and Provost Robin Morgan, Ammigan assured the incoming students and their families that they are joining a strong support system centered on students.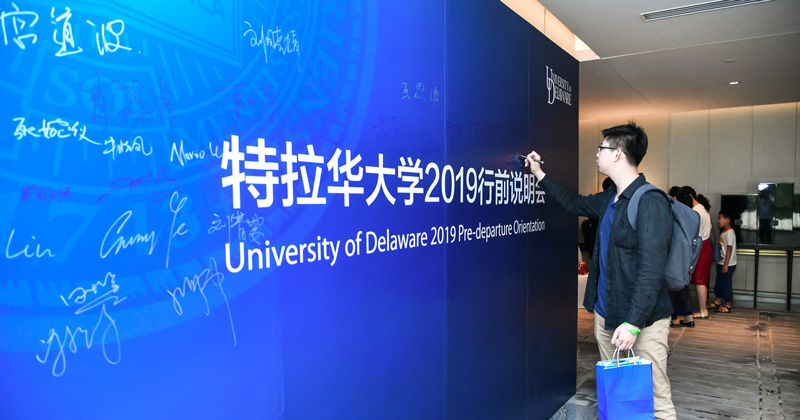 In the 2017-18 academic year, UD was home to 4,766 international students, scholars and their families. China sent the most, with 59% of the total.
Student Mario Wu, Class of 2023, will travel about 7,000 miles — managing visa and immigration regulations and processes — to take college classes in a non-native language while navigating a new culture and new set of rules.
"I have been researching UD for two years and the hotel, restaurant and institutional management program in the Alfred Lerner College of Business and Economics," said Wu, while speaking to Adam Cantley, UD's dean of students. "It is a great program and I can't wait to attend. I chose UD because of the program and the location that is close to many cities in the United States. Today was perfect and I feel better prepared to come to the University in August."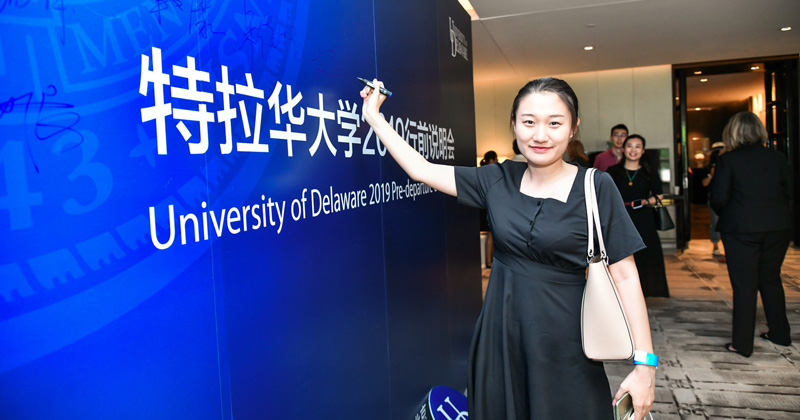 Many students brought family members to the orientation sessions. Like most incoming students, their families felt a mix of pride and concern about the next phase of their student's life. The UD team discussed the support services that are in place for students to meet the additional challenges of distance, language and culture.
"I am very happy and proud of my daughter, but nervous because she is going to the United States alone," said Cui Ma, father of Bao Qing Ma, Class of 2023. "Today helped me to understand more about the University and I am more comfortable with her traveling to campus. The University representatives were friendly and I think UD will be an excellent place for her."
Like Bao Qing Ma, about 200 students each year enter UD via the ELI's Academic Transitions (AT) pathway program.
"AT students show the same exceptional academic talent as students directly admitted to UD, but need to spend time improving their academic English," said Karen Asenavage, director of academic programs at the ELI.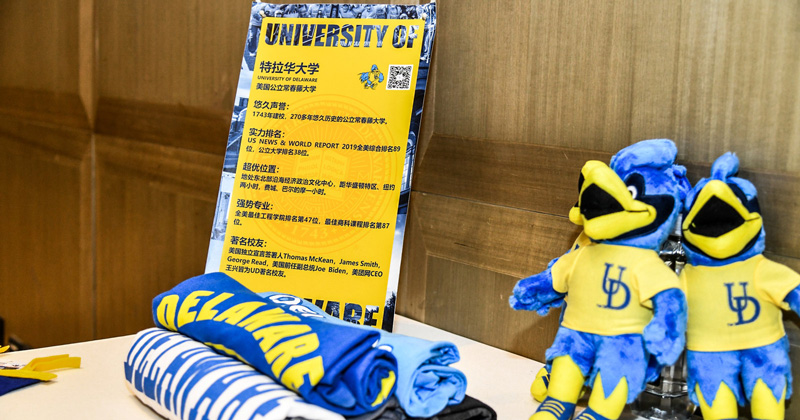 Director of International Admissions Song Hoffman was a key collaborator on the creation and execution of the events. She and her team have worked hard to recruit international students, and she said the events will help bring more of them to campus. "We also appreciate the many current and former students who volunteered at the events," Hoffman said. "We were approached by many grateful school counselors who now have a deeper appreciation for the excellent opportunity and service UD provides their students."
Cantley said he thought meeting with UD officials helped parents feel more confident about their child's college choice.
"This was an amazing opportunity for our collaboration to connect with students, families, alumni, and our partners in China," Cantley said. "This program helped students feel a stronger connection to UD and gave families who cannot travel with their students the ability to meet members of our community. Many parents thanked our team and let us know they feel more comfortable sending their students to the United States."
This enthusiasm was shared by the Chinese graduates who attended alumni receptions organized by Development and Alumni Relations. In addition, Ammigan and Beth Brand, senior associate vice president of development, met one-on-one with some especially active Chinese alums. They expressed enthusiasm and interest for the many new programs and services now available to support international students at UD.
The international coffee hour, a weekly event that draws over 200 students and scholars to Trabant University Center every Friday in fall and spring, was especially exciting to alumni, who recognize that the important work of cross-cultural engagement is best when it is fun.
"UD is committed to continuing to cultivate an inclusive environment, including ensuring our international alumni feel connected to and proud of the University," said Brand. "This trip provided opportunities to bring Blue Hens from China together to reminisce and network. It was a great reminder that they will always be a part of the Blue Hen family, no matter how far from campus they are."
To ensure that students, families and alumni had the opportunity to engage with a variety of representatives from across the University, a team of 10 administrators traveled from Newark to join international recruiters Chang "Emily" Liu and Ziyan "Austin" An from the UD China Office.  
Ammigan, Cantley, Asenavage, Hoffman and Brand were joined by Stacey Muzzi, senior director of development from Development and Alumni Relations; Erin Bastien, assistant director, International Admissions, and Julie Keddell, international client specialist, from the Office of Admissions; Matt Drexler, assistant director for student engagement, Office for International Students and Scholars; and Tim Kim, assistant director of student life, from the English Language Institute. Others who were instrumental in the planning of this initiative, but who did not travel to China, included Kris Graves, assistant vice president of regional and global programs, Development and Alumni Relations; Nadia Redman, assistant director, English Language Institute; Heather Maginnis, director, Orientation and Transition Programs; and Nathan Elton, director, Career Services.