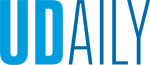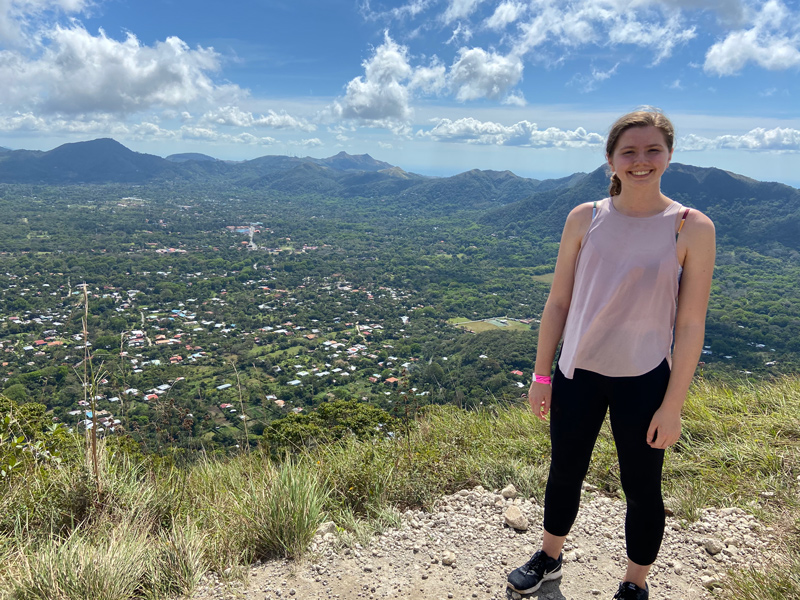 Delaware Diplomats
Article by Diane Stopyra Photo courtesy of Dana Wilkins, Curtis Aiken, Kalli Ruffennach and Cesar Caro January 03, 2022
UD program allows study abroad hopefuls to earn cash while expanding global knowledge
Studying abroad has the potential to transform everything from your career earning potential to your innate humanity (hello, increased empathy and cross-cultural understanding). But all this transformation costs more money than the average student can save buying used textbooks from the University of Delaware bookstore or scoring free food from the Perkins Student Center.
"It is expensive to travel the world, and that creates an accessibility issue," said Matt Drexler, interim associate director of study abroad and assistant director of student engagement at UD. "As an institution, we're very aware of this, very concerned about it and very focused on finding solutions."
Enter the Delaware Diplomats program, which began at UD in 2014 as one pathway for increasing access. Run by the Center for Global Programs and Services (CGPS), the initiative allows students to earn three badges, Girl Scout-style, for completing specific multicultural activities on campus. Each badge translates to a cash award, meaning Blue Hens interested in an international experience can earn up to $1,500 toward their accommodations, excursions, meals and other expenses. So far during the 2021-22 academic year, 25 students have put to use $30,000 worth of Delaware Diplomat money exploring everywhere from Barbados to Budapest, Malta to Martinique, Dominica to Dubai. And, since 2014, nearly 400 awards representing more than $350,000 have been issued. (These funds are over and above the hundreds of need-based scholarships issued by CGPS every year, which totaled approximately $900,000 in 2021.)
"Internationalization is central to the University's mission, from top to bottom," said Drexler, citing the more than 4,000 international students currently studying on campus. "We want to help all members of our community relate to the global lens that is UD."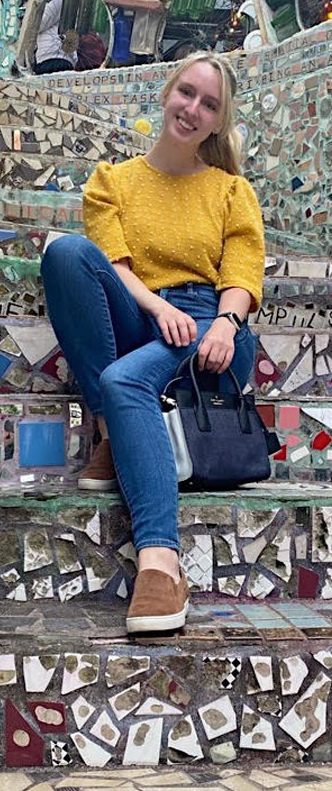 One student taking advantage of this resource is Kalli Ruffennach, a sophomore majoring in psychology and communication. She had always liked the idea of traveling overseas, she said, so when a representative from UD visiting her Pittsburgh high school mentioned that the institution had been the first University in the nation to launch a study abroad program — and that it continues this global legacy with a robust lineup of more than 100 options in 40 countries — she knew this was the right college for her.
Admittedly, though, Ruffennach "did not know a whole lot about other countries or cultures," she said — at least, that is, until she enrolled at UD and joined the Delaware Diplomats. To earn the program's World Knowledge Badge, she attended a campus presentation on New Zealand, a so-called Kiwi Night, where she discovered that the island country is not, as Ruffennach once thought, just a remote land of pretty beaches. Rather, it is an enchanting place rich in geography (active volcanoes, majestic glaciers, thundering waterfalls) and rich in culture — she was particularly intrigued to learn about the storied traditions and tribal legends of the indigenous Māori people.
Now, with the help of $1,500 in hard-earned diplomat money, Ruffennach is planning to spend UD's Winter Session of 2023 Down Under, COVID-19 permitting. In the meantime, she is serving on the Delaware Diplomats council, the student board that organizes monthly meetings and other programming for the group. This opportunity comes with an additional stipend of $500, but the money, while a motivating factor at the start, has become secondary to some of the program's less tangible rewards.
"Delaware Diplomats has been one of my best college experiences," Ruffennach said. "It has helped me grow as a person, hone my leadership and communication abilities and develop life skills I will apply in a future career. I would strongly encourage anyone even slightly interested in studying abroad to join."   
According to the experts, doing this kind of leg work before an educational experience overseas is key to receiving the most out of that experience.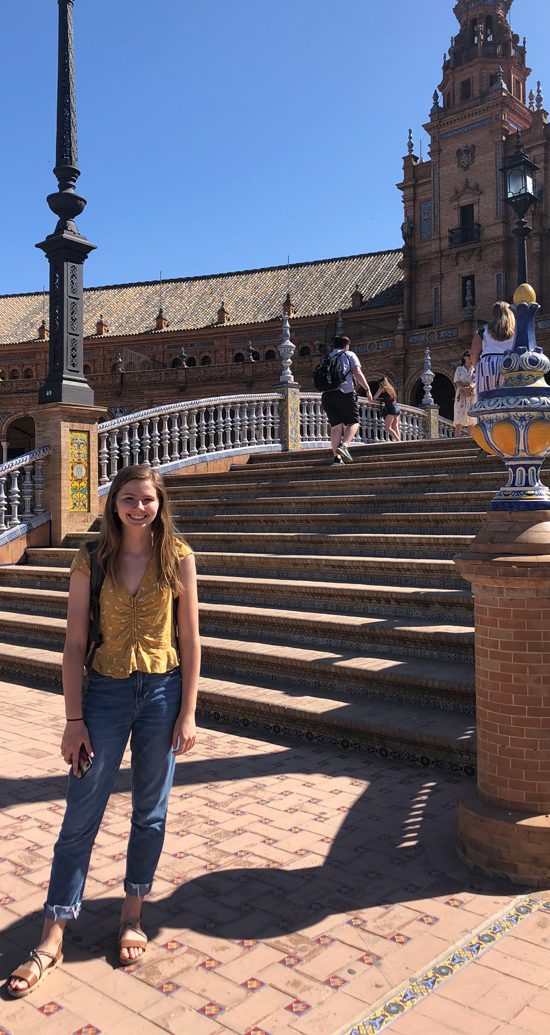 "Study abroad is not a guarantee of global learning," Drexler said. "It is not a guarantee that you will develop language skills or cross-cultural communication skills — it is not magic. There needs to be a deliberate process. It is our responsibility as a University to make sure we are doing more than saying: 'Here's your trip, go buy your plane ticket.' And there is a responsibility on the part of the student to think about who they are, where they're going, what kind of interactions they might have and how these interactions might impact their identity."
This sense of responsibility led Dana Wilkins, a diplomat and an Honors senior biomedical engineering major, to a workshop on ethical storytelling, one option for earning the program's Study Abroad Prep Badge. Here, her eyes were opened to the importance of thoughtful social media posting while abroad, and she carried this lesson with her on a service-learning trip to Panama. While volunteering at an orphanage, she felt tempted to post a photograph of the children to her Instagram account, but this, she had learned, would be exploitative.
"In the moment, it is easy to think, 'Oh this is a great photo op'," said Wilkins, who has also completed a study abroad adventure in Granada, Spain. "But you need to take a minute and remember why you're there — it is not to portray yourself as a savior."
Now, Wilkins is preparing for the third and final overseas program of her college career. This Winter Session, she'll take off for Sorrento, Italy, and "Delaware Diplomats is definitely making this last hurrah possible for me," she said.
Joining Wilkins in Italy will be Curtis Aiken, a senior communication major. While his diplomat work has provided crucial funds for this upcoming trip, he said, it has also crystallized for him the importance of this kind of travel.
To earn the program's International Friendship Badge, Aiken mentored a UD student from Shanghai through the University's American Host Program. Speaking with her over the course of a semester, even about seemingly trivial things like favorite movies or hobbies, became a "mind-altering experience," he said. "A lot of people operate in their own little bubbles, but connecting with people from different cultural backgrounds opens your eyes and makes you a more well-rounded individual. That's how we will get to a place of alignment in this world, and how we'll break down those stereotypes."
An ambitious goal? Maybe. But it's also one that Blue Hens are tackling head on, in all corners of the globe. For those looking to join their ranks, support is available — one badge at a time.
"Our message is: Please reach out," Drexler said about Delaware Diplomats and all resources offered by CGPS. "If you think you might want to study abroad and you don't know how to make it work, the worst thing you can do is never ask."
Become a Delaware Diplomat
The next application window will run from Feb. 1 to Feb. 27, 2022. To prepare for application, students should think about what challenges they expect to face on their path to study abroad and while being abroad, as well as their personal, career and social goals for participating in the program.
To learn more about the Delaware Diplomats Scholarship Program, please visit the website or contact dediplomats@udel.edu.
Center for Global Programs and Services
The Center for Global Programs and Services (CGPS) at UD is home to the operations of UD Global, which includes Study Abroad, International Student and Scholar Services, World Scholars Program and Global Outreach and Partnerships. The center is committed to providing leadership and innovation in support of the University's global initiative and campus internationalization efforts. Focused on a student-centered approach, CGPS provides expert advising and a wealth of global engagement opportunities to the UD campus community, including the weekly International Coffee Hour in the fall and spring semesters.