Geological Sciences Degree Programs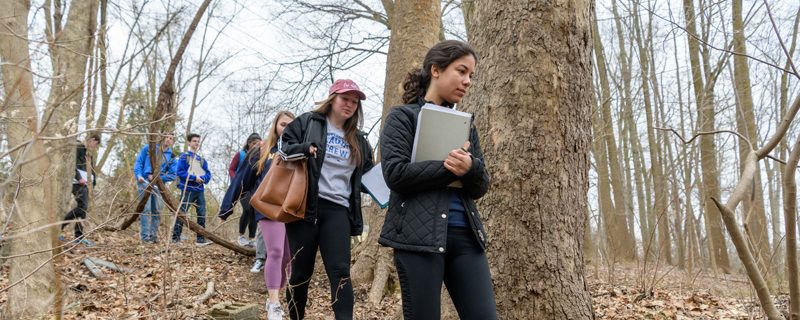 The University of Delaware's Department of Earth Sciences (ES) prepares students for their future by exposing them to exciting opportunities through education and research in the classroom, the laboratory and the field.
Our graduates go on to fulfilling careers in environmental consulting firms, the energy industry, governmental regulatory agencies, earth science teaching and research in the geological sciences. ES programs feature small classes with hands-on field and laboratory-based instruction delivered by an internationally respected, research-active faculty.
The University of Delaware offers academic and research programs leading to the Master of Science degree in Geological Sciences to qualified students who hold bachelor's degrees in the field of geology or related science and engineering disciplines. Major research emphases are geomicrobiology, environmental geochemistry, hydrology, geomorphology, solid earth geochemistry, and geophysics.
Admission to the Geological Sciences graduate program is based on
previous academic record (undergraduate and graduate),

two or more letters of recommendation,

resume,

applicant essay (describing reasons for seeking a graduate degree, proposed areas of study, and relevant preparation), and,

for foreign applicants for whom English is not the first language, TOEFL scores (a minimum score of 600 on the paper-delivered test and a minimum score of 95 on the IBT exam must be achieved).  
Applicants must have a Bachelor's degree by the time that they matriculate into the graduate program. The Department will consider qualified applicants without a degree in Earth Sciences, although additional course work or preparation may be required. 
Before qualified applicants are admitted to the Department's graduate program, a faculty member must agree to serve as the principal advisor for the applicant.  
30 credits of graduate study (24 course credits). The required 24 course credits must be taken at the graduate level (600- or 800-level).

Research, preparation, and defense of a thesis (6 credits) that describes original work completed by the student.

GEOL601 (1 credit) that introduces students to graduate work in the department, must be taken during the first semester.

GEOL602 (1 credit) the department seminar, must be taken for credit twice.

Students are required to take 3 credits of communications and/or research methods course(s).

The remaining 18 course credits can be from classes, special problem courses (GEOL 866), and research (GEOL 868).
Students work with their principal advisor and thesis committee to develop a coursework plan.
The University of Delaware offers academic and research programs leading to the Doctor of Philosophy degree in Geological Sciences to qualified students who hold bachelor's degrees in the field of geology or related science and engineering disciplines. Major research emphases are coastal and marine geology, geomorphology, hydrogeology, stratigraphy, Quaternary geology, and near-surface geophysics.
In any graduate program, a student's advisor provides mentorship and guidance while filling crucial practical roles in their education as well. Success in either a master's or Ph.D. program requires a student to find a faculty member with an established record of scholarship in the specific research field the student wishes to investigate. Use this categorization of the department's faculty to help find good potential matches for an advisor.
In geomicrobiology, the work is multidisciplinary, combining geochemical field characterization and sampling, molecular biology, biochemistry, microbiology and a wide variety of microscopy and spectroscopy techniques to study how microorganisms affect environmental chemistry and how chemistry selects for and influences the evolution of life. Research in environmental geochemistry includes investigations of the mechanisms of carbonate nucleation/growth and the influence of organic templates and living interfaces on these processes, unraveling the biogeochemical behavior of radiogenic isotope and rare earth element concentrations in the modern ocean,  studying submarine groundwater discharge and associated chemical fluxes, and developing and applying new methods in isotope geochemistry and in synchrotron radiation studies of mineral-fluid interactions.
Earth Sciences faculty and their students combine field work, lab studies, and numerical modeling to research groundwater flow, fluvial geomorphology, and modifications to Earth's surface as a result of changes in climate and human activities. Areas of study include: coastal groundwater dynamics, groundwater-surface water interaction, groundwater flow and solute transport modeling, geostatistical modeling of subsurface heterogeneity, hydro-economics, effects of dams and dam removal on rivers, novel methods for measuring  and modeling river bank erosion, and more.

Our faculty and their students examine samples of peridotite – the main rock of the upper mantle – and use seismology – the study of the passage of waves generated by earthquakes and other sources – to examine modern surface deformation and the physical and chemical processes, mechanisms and driving forces that govern plate tectonics.  Their research investigates the role of the mantle in the plate tectonic cycle, from the generation of lithospheric plates at ocean ridges to their destruction at subduction zones, as well as the flow that occurs within the convecting interior of the Earth.
They also use a variety of high-resolution geophysical techniques including ground penetrating radar, side-scan sonar, shallow seismic reflection, and geoelectrical techniques to study Quaternary stratigraphy, integrated biogeophysical systems, and coastal, estuarine, and riverine benthic habitats.

Step 3
Click the Submit Application link to create an online account. You will receive a temporary account PIN that you can use to create a new password.

Step 4
Start a new application. Fill out your biographical information, select your program of study and follow the on-screen prompts.