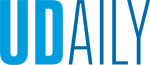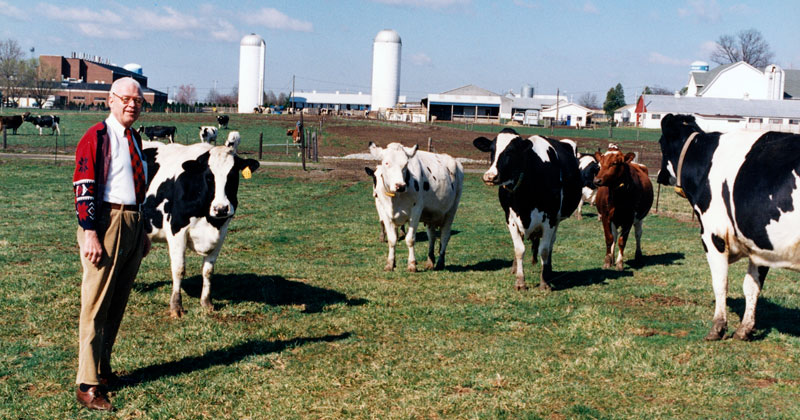 In Memoriam: George Haenlein
Article by Dante LaPenta Photos courtesy of University Archives and Records Management April 17, 2023
UD colleagues mourn the passing of animal science professor, extension specialist, alumnus and donor
George Haenlein, professor emeritus in the University of Delaware Department of Animal and Food Sciences, passed away on April 8, 2023, in Ona, West Virginia. He was also the Delaware State Dairy Extension Specialist in charge of Delaware Dairy Herd Improvement and supervisor of the University's dairy herd.
"George left an indelible mark on the University and on the many students, faculty and staff whose lives he touched," said Calvin Keeler, interim dean of the College of Agriculture and Natural Resources (CANR). "Our college is a better place because of George's research, teaching and unmatched generosity."
"George Haenlein loved what he did. For decades, he was the kind face and booming voice of the University of Delaware dairy program," recalled Robin Morgan, former University of Delaware provost and dean of the College of Agriculture and Natural Resources. "Dr. Haenlein was a teacher, mentor, adviser and friend to countless students, faculty, staff, industry professionals and especially farmers who depended on his wise counsel."
In September 1951, Dr. Haenlein arrived from Germany to the University of Delaware speaking no English. The scholarship student detailed his UD experience in the Dec. 5, 1952, edition of The Review, thanking the (then) School of Agriculture for "very interesting excursions" and his professors for working with him on his English. He met the love of his life of 68 years, Elizabeth Zeitler, when he bicycled to visit a prominent dairy farm of a German immigrant family in Glasgow, Delaware.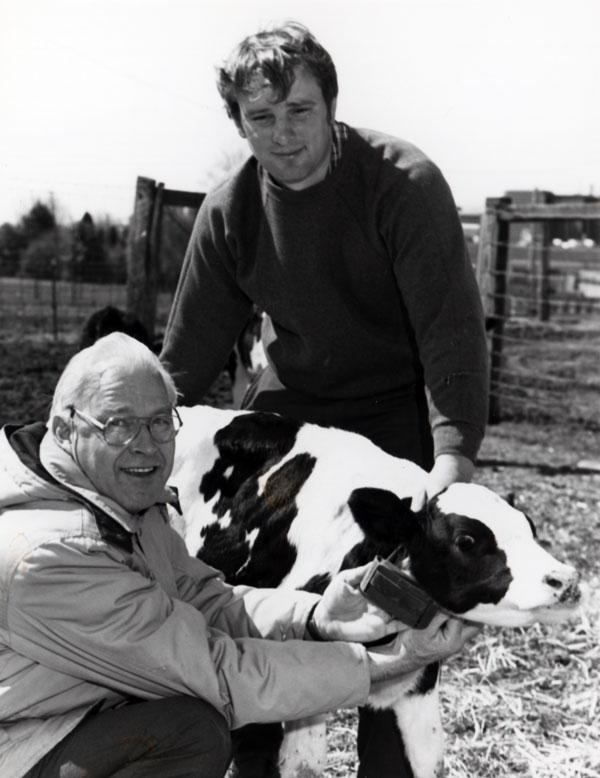 He received a master's degree from UD in 1960, a doctoral degree from the University Hohenheim in Germany and a Ph.D. from the University of Wisconsin-Madison.
As a UD employee, he began as a research associate from 1957 to 1964 and became a faculty member in the Department of Animal and Food Sciences in 1964. He supervised the college's dairy herd from 1957 to 1999 and served as Cooperative Extension dairy specialist from 1978 to 1999. As Morgan points out, UDairy Creamery owes its beginnings to Haenlein.
A prolific researcher, especially in the dairy field, the UD faculty member served on several scientific journal editorial boards. For more than two decades, Dr. Haenlein was editor-in-chief of the Small Ruminant Research Journal. He authored several books, including the U.S. Department of Agriculture-sponsored Goat Extension Handbook. His research motor never stopped when he retired from the University at age 75. Well into his nineties, he continued regularly writing and editing articles for peer-reviewed journals.
"I still remember that George asked me really challenging questions when I interviewed for my position at UD," recollected Lesa Griffiths, professor in the Department of Animal and Food Sciences. "I was very intimidated by him at the time, but came to know him as an amazing scholar and caring colleague that was always willing to share advice and guidance."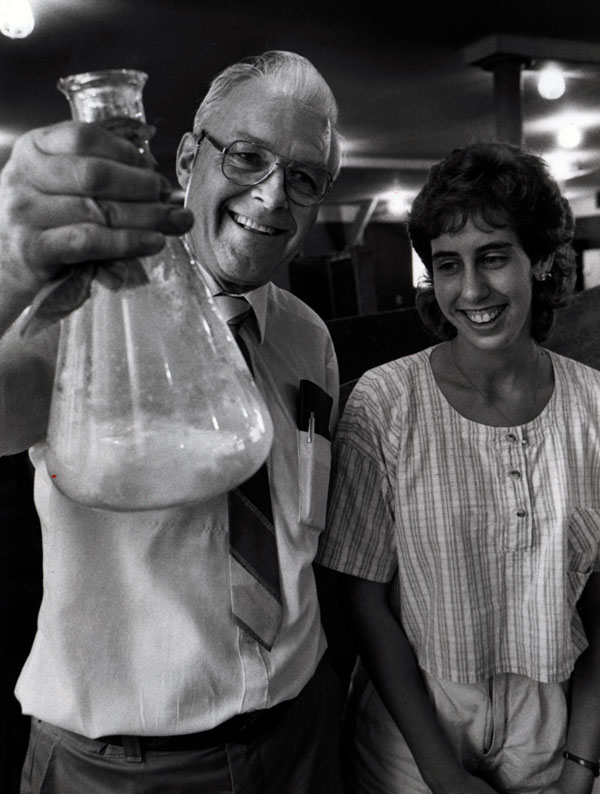 "George was invaluable and extremely helpful in assisting dairy farmers in the state via his Extension appointment. George's scholarly endeavors were also of high merit, and he was world-renowned in the field of milking goats," added Limin Kung, professor emeritus and former department chair in the Department of Animal and Food Sciences. "Moreover, George was a kind soul, and his outgoing happy personality will surely be missed."
In 2002, George and his wife, Lizzy, initiated a scholarship that has supported numerous students as they begin their journeys into dairy science. Now known as The Dairy Scholarship in Memory of Dr. George F. W. Haenlein, this scholarship fund reflects the immense impact of his work. Gifts can made on the University of Delaware's secure website, udel.edu/makeagift, listing "Dairy Scholarship in memory of George Haenlein" in the special instructions section.
"George loved people and he loved seeing farmers, especially dairy farmers, implement new genetics, new technologies so their farm business would remain sustainable and profitable," concluded Ed Kee, a UD alumnus, former Cooperative Extension agent, former state of Delaware secretary of agriculture and current CANR executive in residence. "Whether it be teaching undergraduates, conducting sophisticated research or making Extension visits to dairy farmers, he was content and saw all of it as equally important."
To learn more about the life of George Haenlein, read his obituary.