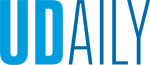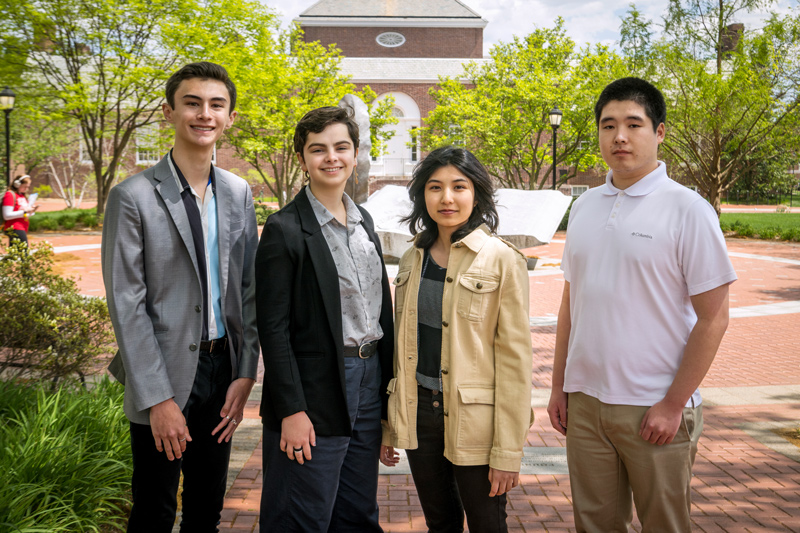 Goldwater Scholars
Article by Erica K. Brockmeier and Hilary Douwes Photo by Kathy F. Atkinson April 26, 2023
Four UD students awarded top science and engineering scholarship
Four University of Delaware students received 2023 Goldwater Scholarships, one of the oldest and most prestigious awards for undergraduate students planning research careers in mathematics, natural sciences or engineering.
The students are junior Dana Kullgren, junior Miyu Mudalamane, junior Derek Wu and junior Qi (Matthew) Zhang. They are among 413 Goldwater Scholars who were selected from a nationwide pool of 1,267 nominated college sophomores and juniors this year.
"The Goldwater Scholarship is an incredibly prestigious award, and I tell all students who apply that to even be amongst consideration for the award is an honor," said Lauren Barsky, associate director of the Undergraduate Research Program. "I'm so thrilled that all four of these fabulous and deserving students are getting recognized for their accomplishments. The fact that we have four winners this year speaks not only to the strength of the students themselves, but also to the hard work and dedication of the faculty, staff and mentors at the University."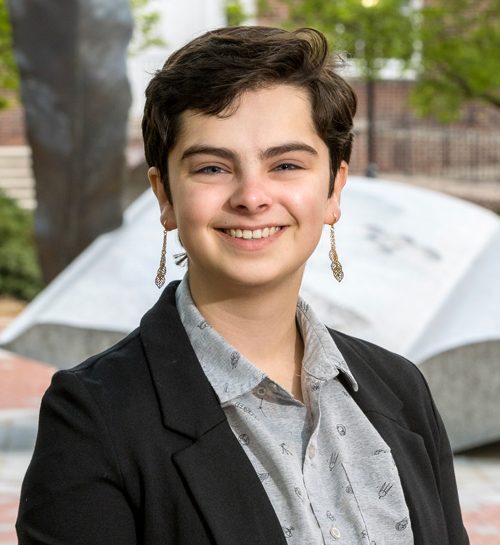 Dana Kullgren, of New Market, Maryland, is majoring in physics, with a concentration in astronomy and astrophysics and minors in French and math. Her research at UD began in the summer of 2021 when she worked with the IceCube, an observatory in Antarctica which collects data about high-energy subatomic particles called neutrinos. The data helps scientists explore the cosmos and answer some of the fundamental questions in physics. Kullgren, an Honors College student, also conducted astrophysics research at Northwestern University, where she worked with a group that focuses on simulations of star clusters. Kullgren's project examined variations in the stellar initial mass function, which determines the different masses of stars that are formed, and simulated how the stars then evolved over time.
Kullgren is continuing to work with the IceCube Observatory through her current research at UD with Frank Schroeder and the Bartol Research institute. It focuses on applying machine learning techniques to identify signals from space particles called cosmic rays  to learn more about the climactic events that produced them, such as supernovae and black holes. After graduation she would like to pursue a doctorate in astrophysics.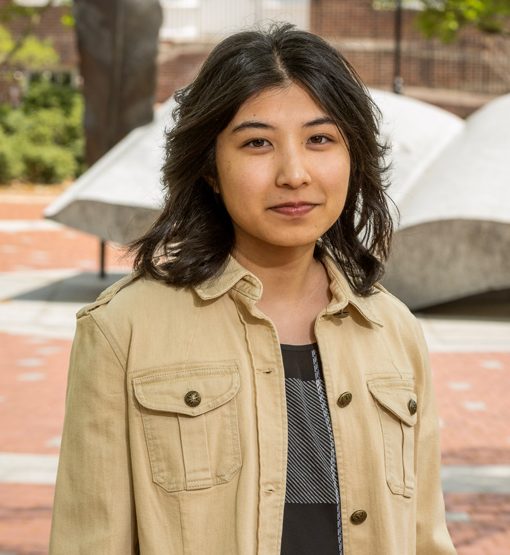 Miyu Mudalamane, of Hockessin, Delaware, is a chemical engineering major with minors in biochemical engineering and sustainable energy technologies. Mudalamane, who is also a student in the Honors College and is a Distinguished Scholar, first became interested in research after working in the lab of Robert Opila during high school. After completing a data science internship at the National Institute of Standards and Technology (NIST) with Chandler A. Becker, she joined the lab of Aditya M. Kunjapur and has been working there since her sophomore year. 
Mudalamane is researching safer and more sustainable ways to make nitroaromatic compounds, a common component of antibiotics and other pharmaceuticals. Her project involves bioengineering microbes to synthesize nitroaromatics and developing biosensors to screen for potentially toxic nitroaromatics. She plans to combine these two research directions while developing a more efficient way to test the enzymes' nitroaromatic production capabilities. After graduation, she plans to pursue a doctorate in chemical engineering and hopes to continue developing synthetic biology tools to create organic compounds more sustainably.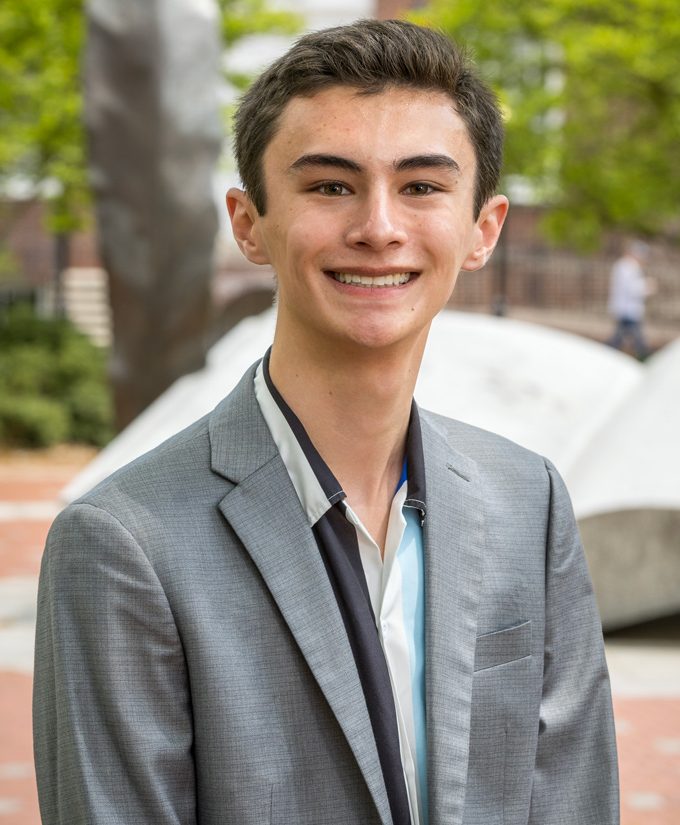 Derek Wu, originally from Hereford, Maryland, is an Honors College student and Eugene du Pont Scholar, double majoring in biological sciences and environmental science, with a minor in biochemistry. He began studying human impacts on tree growth in urban settings with Tara Trammell, the John Bartram Associate Professor of Urban Forestry in the Department of Plant and Soil Sciences during the spring of his first year. A research experience at the University of Tennessee, Knoxville, expanded his interest to environmental microbiology and led to a publication which is currently under review. It will be Wu's second publication — he is first author of a textbook chapter on physiological and biochemical adaptations of microorganisms in extreme environments which is used by biological sciences professor Carlton Cooper in his introductory microbiology course.
Wu's future research will include microbiology in both marine waters and in soil. He will work at the Mote Marine Laboratory and Aquarium in Sarasota, Florida, this summer and with Jennifer Biddle, professor in the UD's School of Marine Science and Policy, next year. During his senior year he will also work with Trammell on a project examining how an invasive shrub called the multiflora rose may be altering the microbial communities in the soil in which they grow. After graduating from UD, he plans to pursue a doctorate in microbiology, with the goal of becoming a microbiology professor who encourages students to pursue their niche interests in biology to achieve their research and professional goals.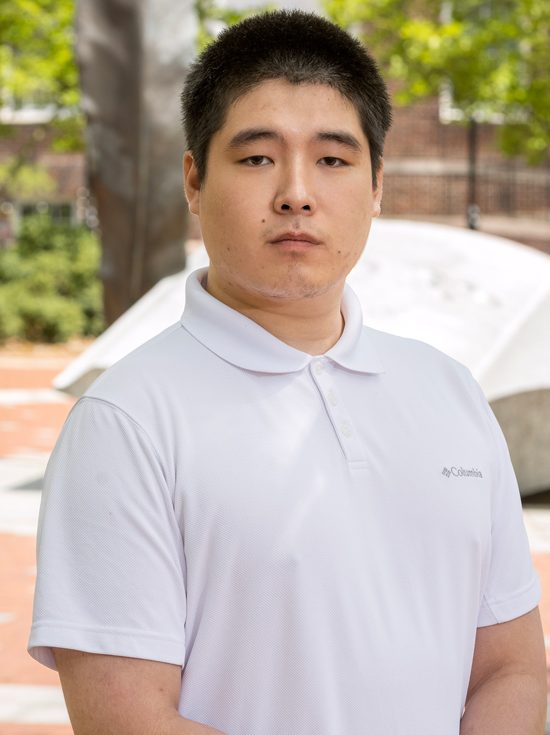 Qi (Matthew) Zhang of Beijing, China, is pursuing a double degree in chemical engineering and chemistry with a minor in biochemical engineering. Zhang first became interested in chemistry-related topics while participating in the China Chemistry Olympiad in middle school, and since then has worked on several different undergraduate research projects at UD. He is currently working in the lab of April M. Kloxin.
Zhang's project incorporates tools from 3D cell culture, bioengineering and responsive material design to gain a better understanding of the interactions between cells and their microenvironment. The long-term goal of this research is to find new therapeutics for immune system disorders. After graduation, he plans on pursuing a doctorate in biochemical engineering or chemical engineering, where he hopes to use biomaterials and immune engineering to develop new therapies for difficult-to-treat diseases. 
About the Goldwater Scholarship
The Goldwater Scholarship Program identifies, encourages and financially supports sophomores and juniors who show exceptional promise of becoming this nation's next generation of research leaders. Goldwater Scholars receive up to $7,500 annually to cover tuition, fees, textbooks and room and board. Applicants work with Lauren Barsky, associate director of the Undergraduate Research Program.
The University of Delaware has produced 51 Goldwater Scholars since 1990.