Congratulations and thank you!
More than 113,000 donors contributed over $1.05 Billion to UD

Delaware First: The Campaign for the University of Delaware unified our UD community for one purpose: advancing this great institution in order to have a lasting impact on its people, programs and the world beyond.
Every donor, every gift and every engaged champion led us to this historic moment for the University. The numbers are impressive, but the truly incredible part of the Campaign is the difference it is making for Blue Hens today and for generations to come.

Thank you to all the donors and supporters of Delaware First: The Campaign for the University of Delaware. The generosity of the UD community has enabled the achievement of an unprecedented milestone in the University's history: fundraising more than $1 billion. Together, we are redefining student success, transforming our campus and inventing a new tomorrow with impactful discoveries.
Dennis and Eleni Assanis
UD President and First Lady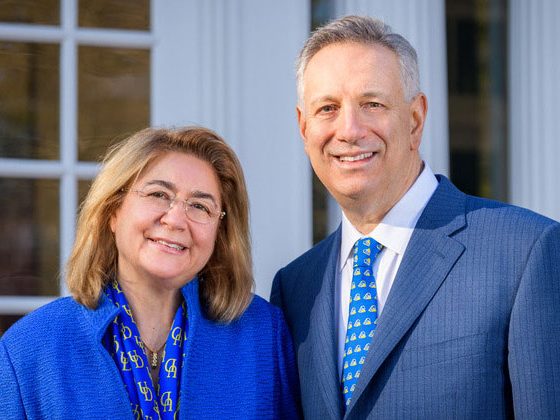 Delaware First: Moments and Milestones
Delaware First Impact video: youtube.com/watch?v=a7bwIEHssZM
BUILDING ON THE MOMENTUM
"I hope everyone shares my enthusiasm for the amazing progress and momentum that has been created through
Delaware First–more than
 a billion dollars raised and more great things to come. It is truly expanding our impact on the world and elevating the Blue Hen experience."
–Terri L. Kelly, EG86, Chair, UD Board of Trustees
BY THE NUMBERS
Delaware First record-breaking fundraising numbers show the strength of many as the UD family united to bolster UD's people, programs and places.
unique Delaware First donors

number of gifts made during Delaware First

raised for current operations–replacing tuition dollars with philanthropy

donated by faculty and staff

THANK YOU!
The University of Delaware community is forever grateful for all who have been part of this historic campaign. While the fundraising numbers are impressive, the difference the Delaware First supporters have made for our Blue Hen family is truly incredible.


Together, we will continue to change the world.
SPECIAL RECOGNITION
A special thank you to our President's Leadership Council who served as the Campaign Ambassadors, helping lead the University to such great success.
On behalf of the students and faculty who have benefited from the generosity of contributors, a special thank you to the donors who have made a commitment of $50,000 or more throughout the Campaign.