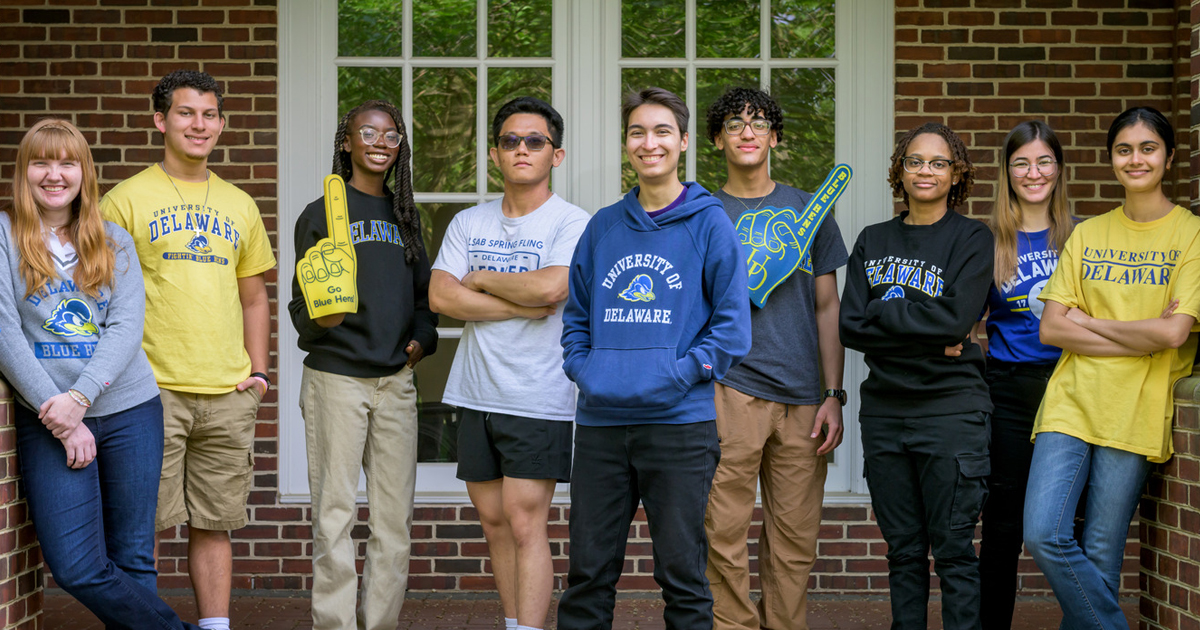 Student Success
At the University of Delaware, we focus not only on what our students learn, but how they learn. We break down department barriers, giving students access to experts and experiences across disciplines with collaborative opportunities in innovative labs, makerspaces and real-world situations.
You and your fellow donors are truly underwriting an extraordinary student experience, empowering students to explore beyond their limits.
DISCOVER IN THIS SECTION:
Scholarships have the power to change lives, fuel dreams and empower excellence. They help so many students who lack only the finances—not the drive, talent and ambition—to pursue their academic journeys at the University.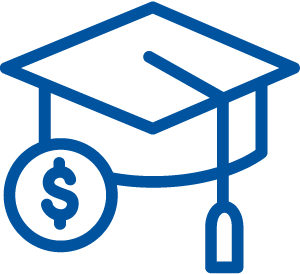 $177.5 million

raised for undergraduate support
482 undergraduate scholarships

created throughout Delaware First, changing countless lives for generations to come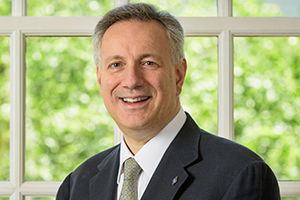 PRESIDENT'S SCHOLARSHIP CHALLENGE
In 2018, UD President Dennis Assanis announced his President's Scholarship Challenge to inspire more scholarship support. Blue Hens answered the call and rose to the challenge, with more than 50 donors establishing 56 new endowed undergraduate scholarships as part of Delaware First.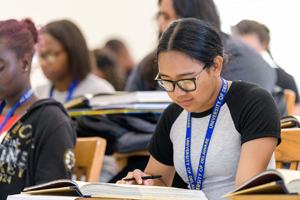 FIRST-GENERATION STUDENT IMPACT
A number of scholarship recipients throughout Delaware First have been the first in their families to pursue a college degree. Without family to share firsthand experiences for accessing and navigating college, scholarships are often a way to open doors to new possibilities and pathways.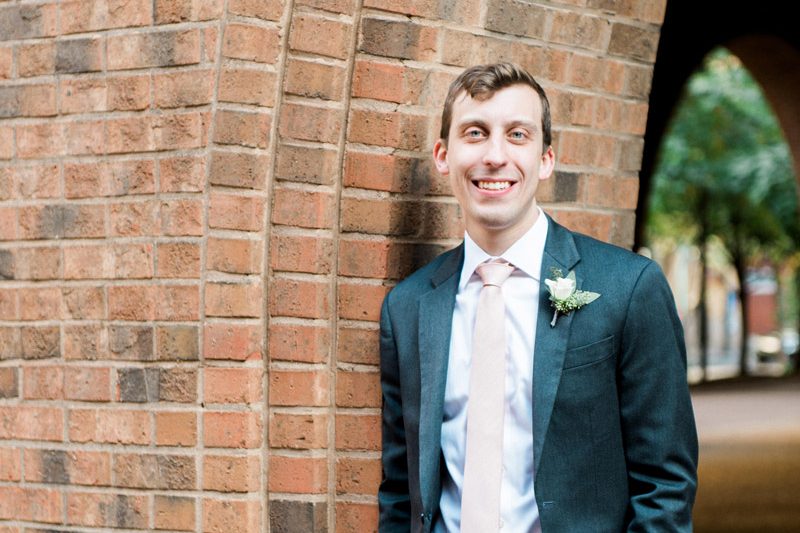 IN MEMORY
For the longest time, Jon Marc Finamore, AS11, knew he wanted to study the brain. It amazed him, and he was curious to learn more about how it worked.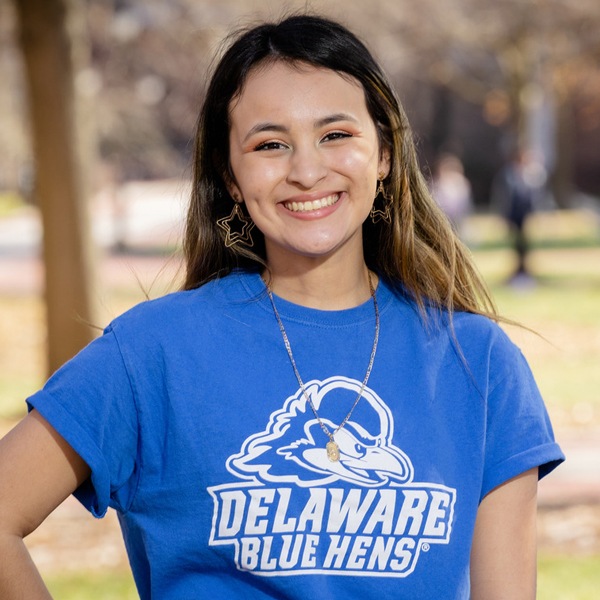 "As a child raised by immigrant parents, I was always told education is paramount. This message shaped my dream to be a teacher, but as the first in my family to pursue a college degree, I didn't know where to begin.
Then I had a truly life-changing experience in UD's Teachers of Tomorrow program, which immerses underrepresented high school students into college life with classes, mentors and resources to prepare them as educators and for entering college. There I formed a supportive network that helped me secure critical scholarships to pursue my education at UD and discovered how to align my values with my career goals. I find beauty in being the change for a future generation."
– Geraldine Lara-Silva, EHD24, recipient of the Clarice E. Wolf Education Scholarship, Walter Stark Scholar Award, William B. Keene Scholarship and the 2022 Seitz Award, is a junior majoring in elementary teacher education with a concentration in English as a second language.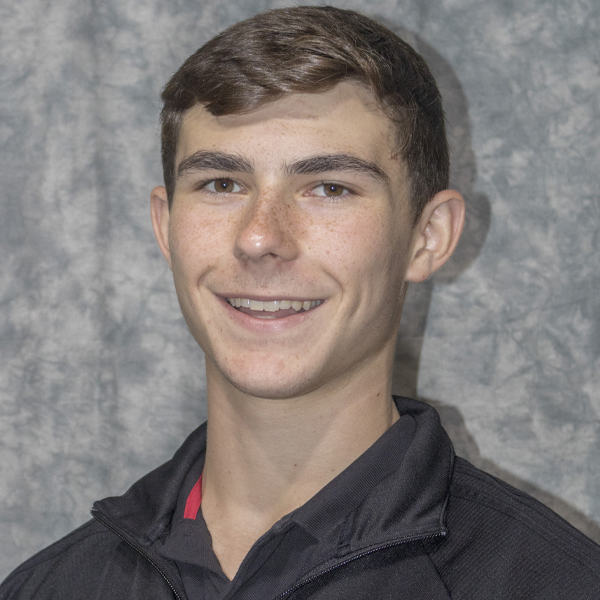 "I'm a first-generation college student from New York, and both of my parents work 60 hours a week to be able to put me and my siblings through school. I could have gone to a school in state, but I wanted to come to UD because it has an Air Force ROTC. This scholarship helped make that possible, and I was able to graduate as a 2nd Lieutenant in the Air Force—the only UD student in my class to get a pilot slot in the Air Force. I'm able to fulfill my dream of becoming a pilot, setting myself and my future family up for great things."
– Jacob Neumann, BE22, recipient of the Torelli Family Scholarship, from Baldwin, NY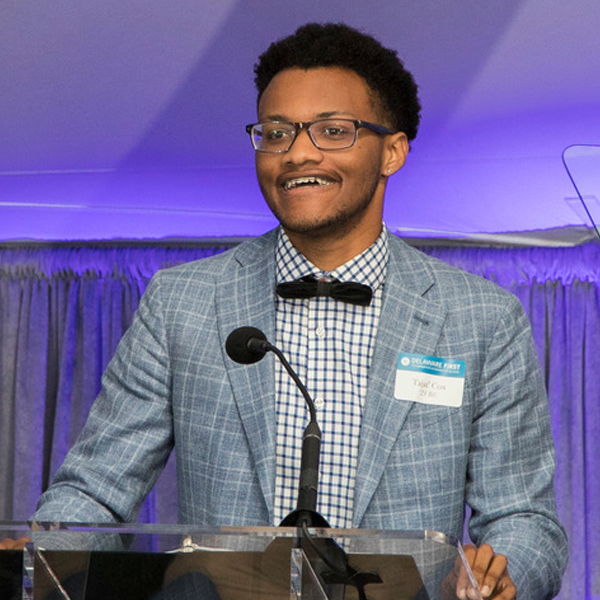 When Tajai' Cox, BE23, lost his mother in his sophomore year, he didn't know how he was going to continue at UD or where life might take him next. Paula Glover's, BE89, scholarship support gave him the finances and hope to realize his dreams.
Hear about the impact the funding had on him in his own words.
UD's arts and humanities programs inform and excite communities and foster local, national and international partnerships that transcend traditional academic boundaries and advance cultural understanding. Throughout Delaware First, UD has seen transformative growth in the area, thanks to the generosity of donors.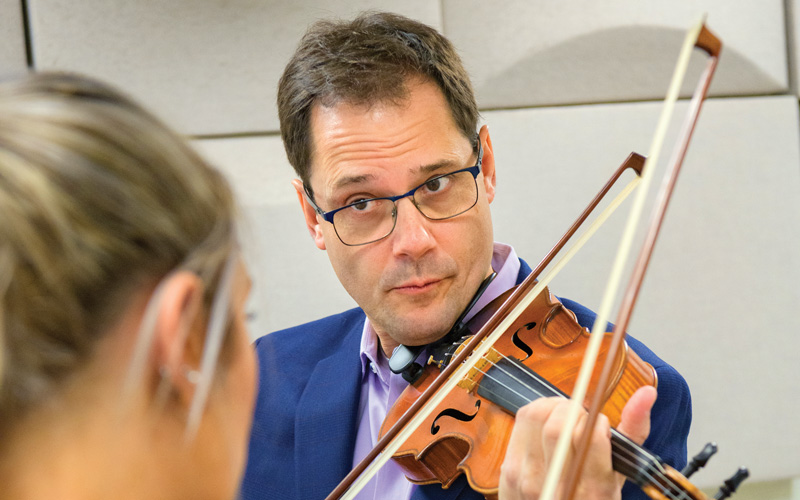 SCHOOL OF MUSIC
Music infuses a cultural richness in a community, brings worlds together, inspires new ideas and connects people across backgrounds. At UD, music does just that and more, thanks in part to transformational gifts from Don Puglisi, 12H, and Marichu Valencia, 23H, supporting the Donald J. Puglisi and Marichu C. Valencia Music Enrichment Fund.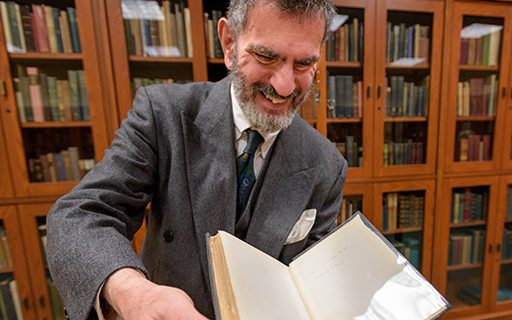 SPECIAL COLLECTIONS
Mark Samuels Lasner has been called many things. A Victorian caricature. A man who's stepped out of a time machine. The foremost blind book collector in the world.
Certainly, for a senior research fellow at Morris Library who regularly dons a three-piece suit, cane, fedora and polished monocle, all three characterizations are fitting. During Delaware First, he added UD supporter to the list of descriptors.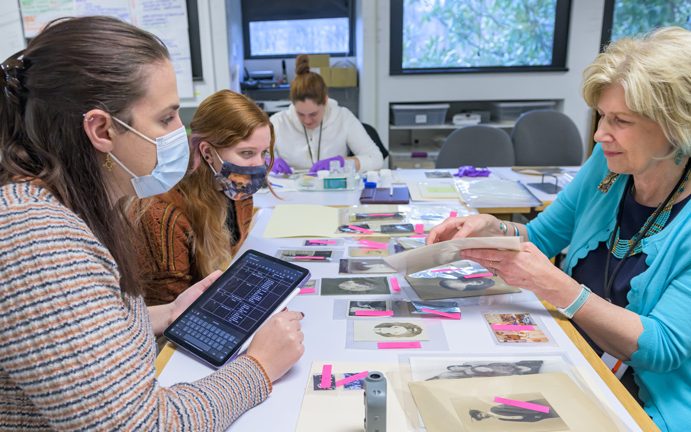 ART CONSERVATION
During her time at the University of Delaware—both as a graduate student and as the director of undergraduate studies in Art Conservation—Vicki Cassman, AS86M, touched the lives of many, leaving a lasting impression that they all continue to carry with them. So, when Cassman passed away after a courageous battle with breast cancer, it was no surprise those who loved her and respected her work found a way to honor her memory with the creation of a fund in her name.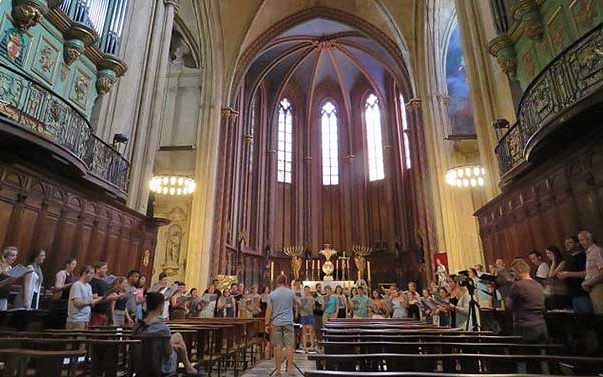 UD CHORALE AROUND THE WORLD
Claudia and Richard Fischer made an incredible gift to establish the Paul D. Head Endowment for Choral Artistry, in honor of Dr. Paul Head, Unidel professor of music, director of choral studies and music director of chorale and Schola Cantorum. They leveraged their gift to create a matching challenge to inspire other donors to contribute and endow support for the UD choral studies program. The new fund will enable dozens of students each year to travel internationally to participate in major choral festivals and competitions. It will enhance their student experiences, cultivate global musicians and elevate the program even more.
Part of the human experience is to seek acceptance, belonging and meaningful connections. At the University of Delaware, we want to ensure everyone feels like they belong and are a valued part of the Blue Hen family. Throughout Delaware First, generous donors have helped bolster the University's efforts, creating new experiences, resources and opportunities that foster a welcoming and inclusive environment for all.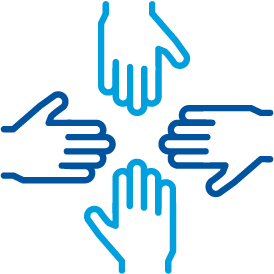 $21 million

for diversity, equity and inclusion was raised by 6,900 donors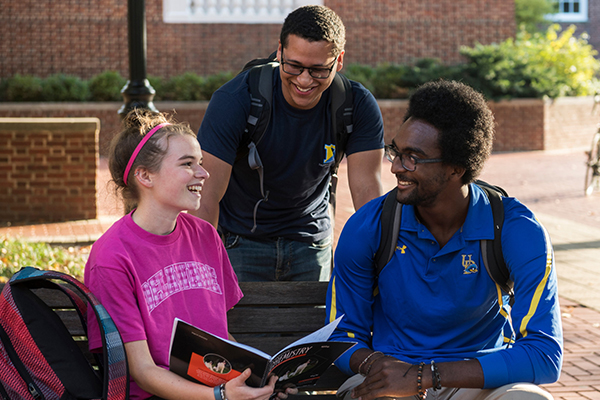 JUSTICE, EQUITY, DIVERSITY AND INCLUSION (JEDI) FUND

In 2021, the JEDI Fund was created to help empower UD students, faculty and staff to become leaders of positive change. Support through the fund helps provide programs, resources and opportunities to cultivate educated and empowered individuals who not only understand the origins of societal challenges related to equity and social justice but also have the tools to create solutions to address them.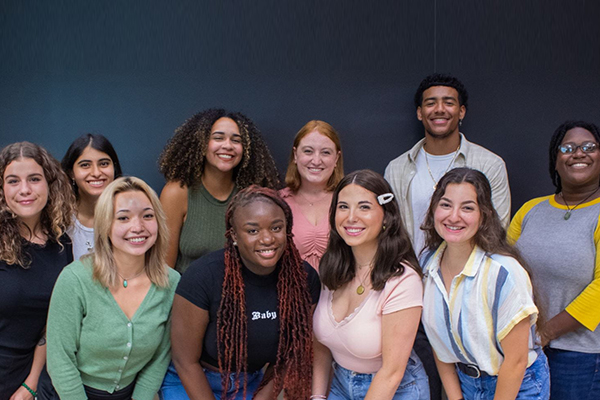 SOCIAL JUSTICE PEER EDUCATORS
Funds raised through the JEDI Fund established the Social Justice Peer Educators program, which trains students as peer educators, sparking peer-to-peer conversations and educating the campus community about diversity and inclusion.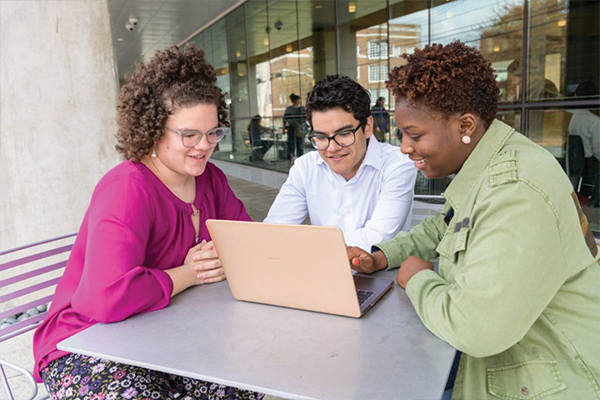 RESOURCES TO INSPIRE SUCCESSFUL ENGINEERS (RISE)
RISE offers UD engineering students a multi-faceted, personalized support system from their first day on campus until they cross the graduation stage. While open to all engineering students, the resources are meant to help undergraduate students from historically underrepresented backgrounds succeed at the highest levels within the University and beyond in their careers as engineers and computer scientists.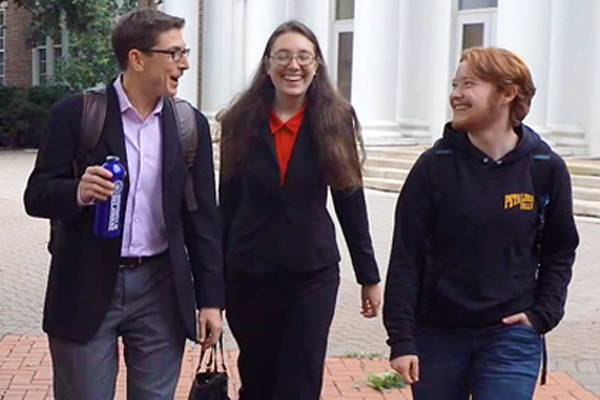 SPECTRUM SCHOLARS

In 2018, in collaboration with JPMorgan Chase & Co., the University developed the Spectrum Scholars program as a system of support and career development opportunities for select UD undergraduate students with autism.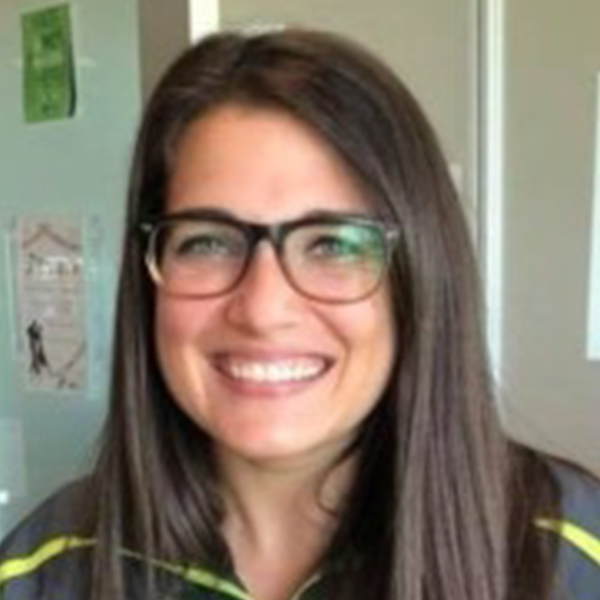 "There's something powerful about engaging with your own peers and hearing from someone who is at a similar place in life as you are, students that you can envision being and connecting with."
–Rachel Garcia, program architect and associate director for student diversity and inclusion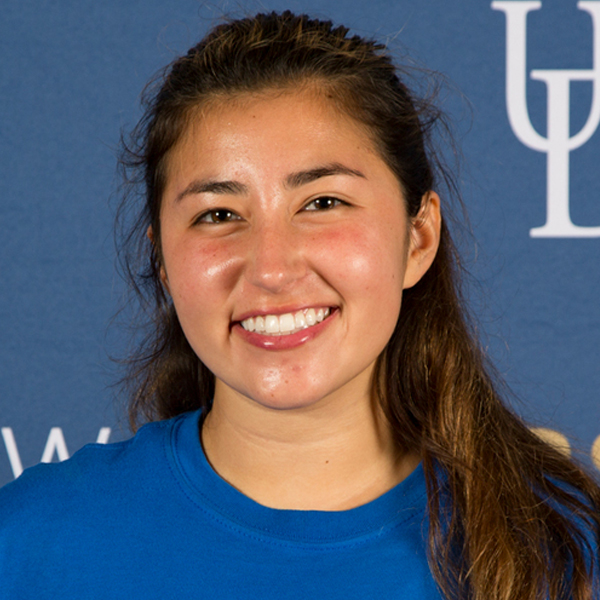 "In RISE, I have learned so much about what comes after college, but also have been exposed to so many different opportunities and different people. I learned so much during events and always came out refreshed and with a new open mind on what it truly means to be inclusive."
– Deanna Salinas, EG22, 23M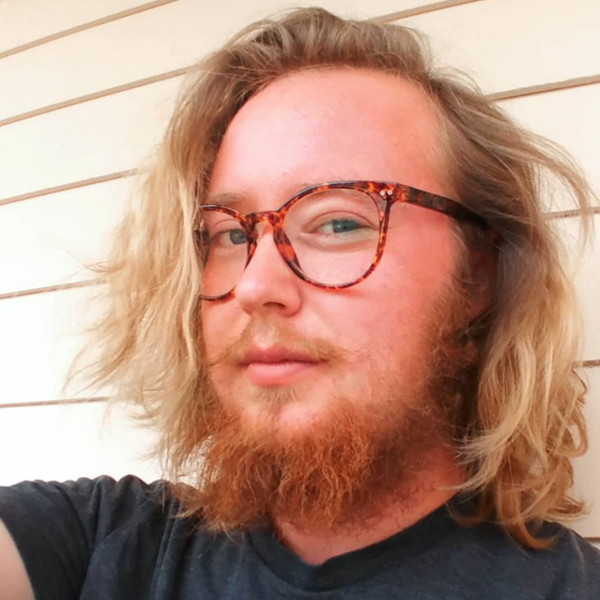 "Being in college poses a lot of challenges and being autistic similarly poses a lot of challenges. And when you are experiencing both at the same time, some of those challenges amplify each other. Knowing that there is a program that is going to address both in a way that synthesizes those challenges and works with me on both at once, I think that's really going to be helpful."

–Finnegan Madison, AS19
The University of Delaware Athletics invigorates the enthusiastic and loyal Blue Hen community—creating well-rounded student-athletes, increasing community connections and deepening Blue Hen pride with students and alumni.
Throughout Delaware First, supporters rallied to provide funding for new facilities, team excellence funds, student-athlete scholarships and so much more.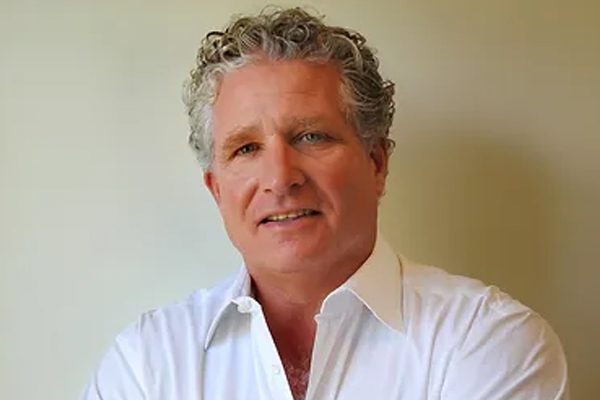 MEN'S LACROSSE EXCELLENCE FUND
"Some 30 years after graduating from the University of Delaware it is not the individual achievements nor the experiences on the field that I vividly remember. It is the team achievements, the moments with my coaches, teammates and friends that even 30 years later make me bend over with laughter. The memories of the individuals who went out of their way to help me be a better player on the field and more importantly a better person off the field. The culture of the University promotes devoted life-long friendships and that is what I am so thankful for today."
-- Steve Shaw, BE86, donor to Men's Lacrosse Excellence Fund, former UD lacrosse player and father of Blue Hen lacrosse player, Ryan Shaw, BE20, 21M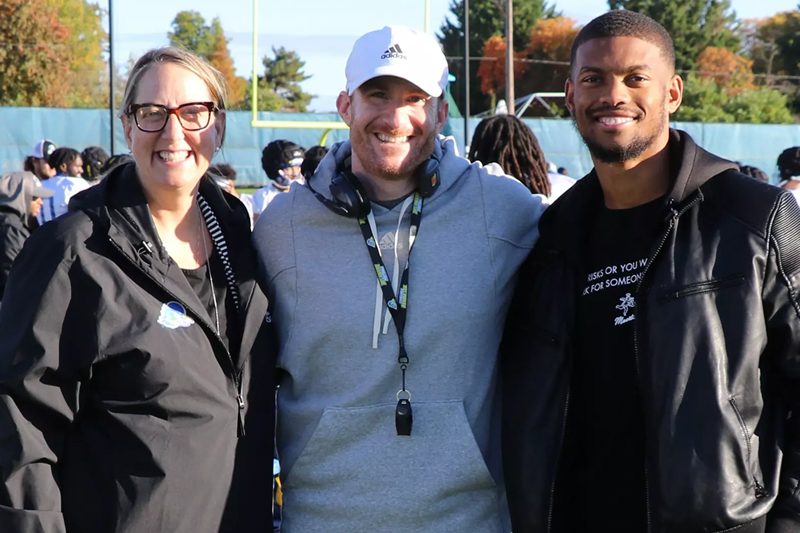 A GIFT FOR THE FUTURE OF ATHLETICS
Nasir Adderley, HS19, known for his incredible accomplishments on the field at Delaware Stadium, can now add generous philanthropist to his legacy. His gift will help current and future student-athletes succeed in and out of competition.
With more than 113,000 donors uniting to lift up the UD community by contributing to Delaware First, the impact of collective giving is powerful and felt throughout every aspect of the Blue Hen family and way beyond campus.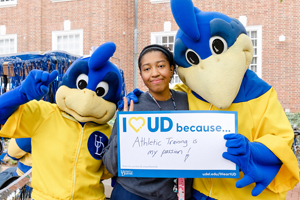 I HEART UD GIVING DAY
The University's first giving day was launched in 2018 as part of Delaware First. Each year, it's a day for alumni, friends, parents, students, faculty and staff at UD and around the world to come together and celebrate their love for the blue and gold by supporting the areas that mean the most to them.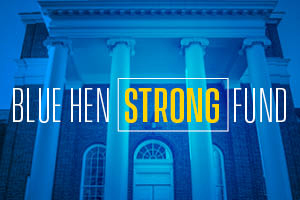 BLUE HEN STRONG FUND
When Blue Hens faced unforeseen financial challenges and burdens due to the global coronavirus pandemic, the University launched the Blue Hen Strong Fund in May 2020 to help those in the most urgent need. Within just a month of launching, UD supporters answered the call and contributed more than $250,000 for Blue Hens who needed support the most, including emergency housing and tuition funding as well as providing technology for online learning.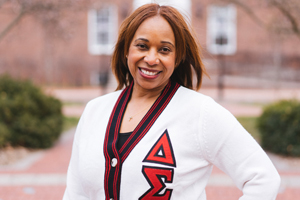 AFRICAN VIOLET SCHOLARSHIP FUND
Tia Bolden, AS93, and her Mu Pi Chapter of Delta Sigma Theta Sorority, Inc. sisters—a sisterhood that began on campus and continues for life—made history in May 2018.
"We were the first Black sorority on campus and the first Black sorority to create an endowed scholarship," said Bolden.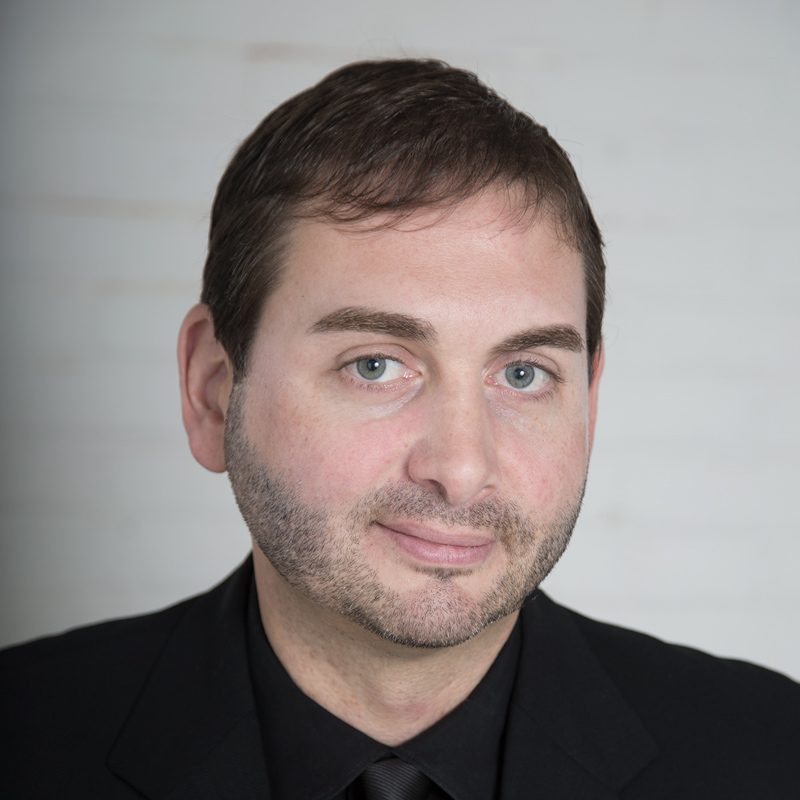 "I have participated in three crowdfunding campaigns and raised more than $10,000 to support my research. These funds allow me to purchase the materials needed to create wearable assistive devices and provide them to individuals with mobility issues for free, and to travel to conferences to present this work and outreach to a larger population of people than I would be able to otherwise."

– Ashley Pigford, associate professor of graphic and interaction design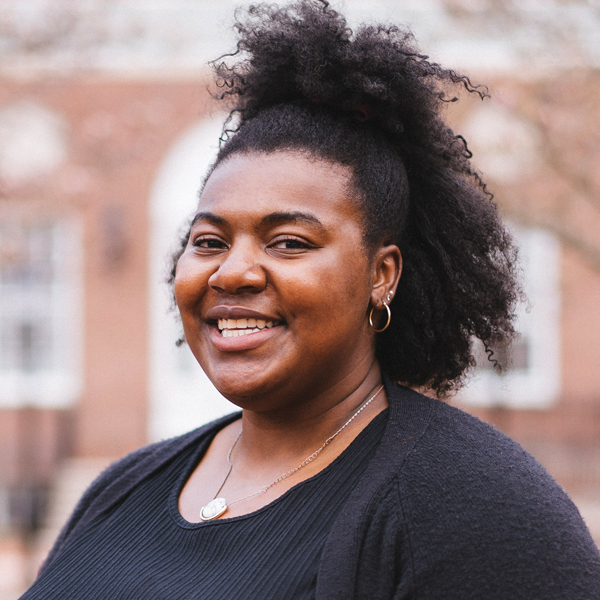 "I was a first-generation student putting myself through college. The support I received from the African Violet Scholarship donors meant that I didn't have to decide between groceries and books or rent and program fees. Now, I'm preparing to start law school."
 –Keri Edwards, AS21
Experiential opportunities beyond the classroom open new possibilities and empower students to develop skills that on-campus classroom settings cannot provide, preparing them to succeed in our interconnected world.
Internships, study abroad programs and hands-on research allow students to develop professionalism, habits of reflection, critical analysis, decision-making skills and accountability. Access to such impactful experiences should not be limited to only those who can afford it and Delaware First donors made sure funding was available for more students to take advantage of transformational opportunities.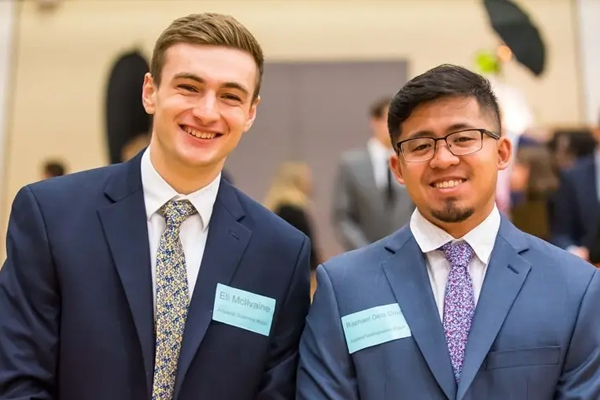 INTERNSHIP GRANT PROGRAM

Internships offer Blue Hens critical hands-on, real-world experience that has become more of a necessity for securing employment than a "nice-to-have" on resumé.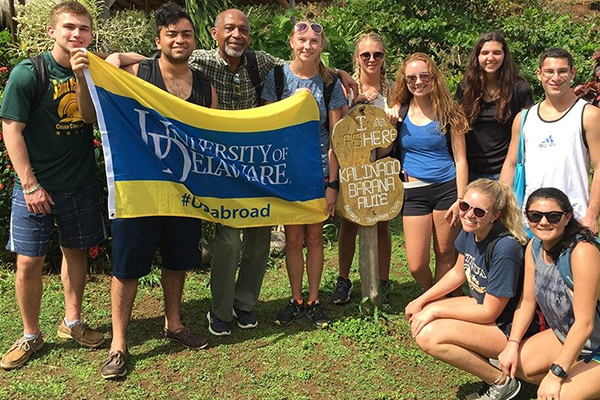 STUDY ABROAD
The University is celebrating 100 years of our study abroad program, commemorating the first cohort of students to travel to France with UD's Professor Raymond Kirkbride in 1923. Throughout the Campaign, many donors have chosen to support the programs to cultivate global citizens while giving Blue Hens life-changing experiences that help them excel academically, personally and professionally.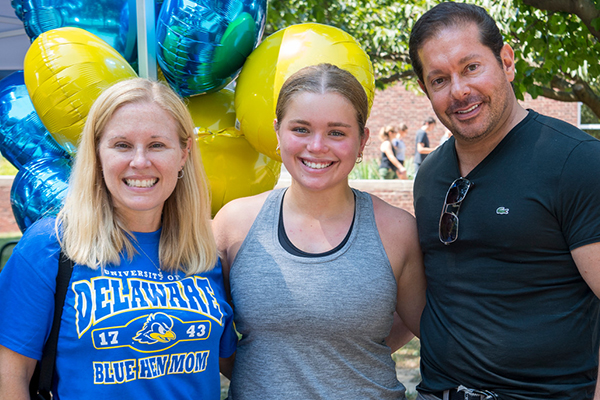 PARENTS FUND
Many resources and programs championed by the UD parents and families are made possible by giving to the Parents Fund, which provides the Division of Student Life with valuable resources to support its mission to create a place where all Blue Hens feel like they belong and are celebrated, deepen student learning and advance a holistic approach to the UD experience through education, opportunities and communities.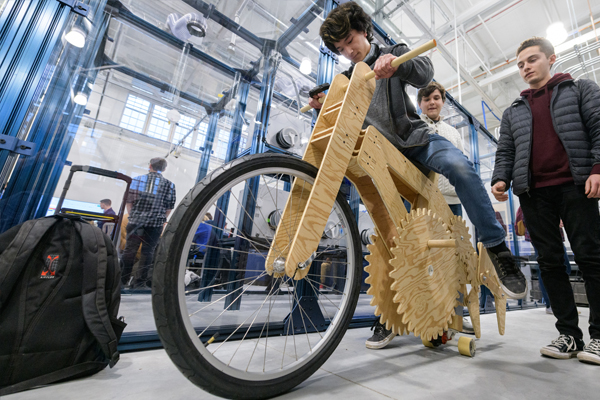 MAKERSPACES

UD's makerspaces empower students, faculty and staff to turn ideas into reality by providing the space and tools to create anything from 3D prototypes and animated robotics to advanced electronics and wearable technology. Delaware First donors have increased these critical spaces across campus as well as equipped them with state-of-the-art equipment, tools, training and other necessary resources.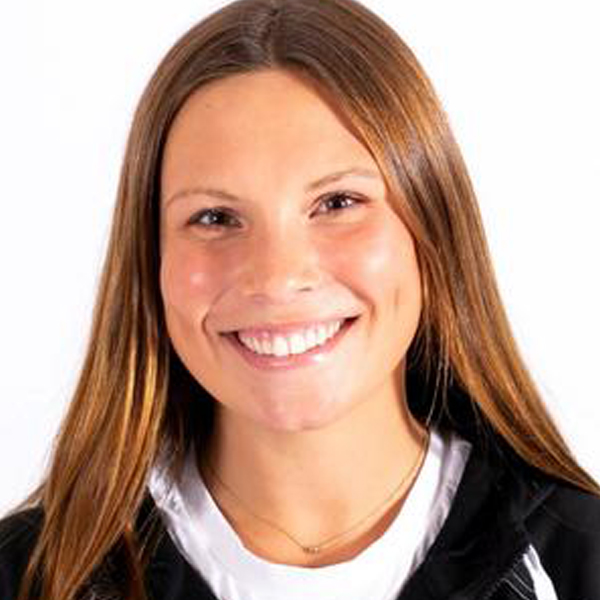 "Funding allowed me to gain meaningful experience volunteering on the nursing floor at Nemours Children's Hospital. Working at this hospital helped me further my aspirations of attending nursing school post-graduation and eventually becoming a pediatric nurse."
– Erin Lillis, HS23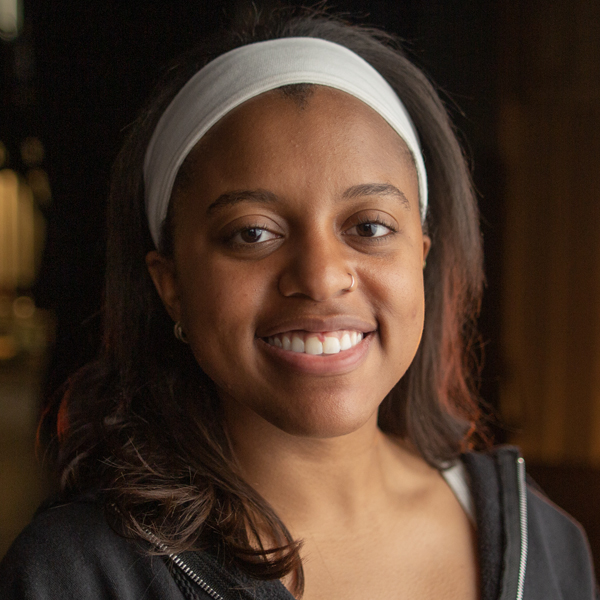 "My time studying abroad really taught me to live more in the moment of life and to not take anything for granted. We saw how different the culture is when it comes to taking care of the environment and saw the large homeless population—little kids eating out of trash cans. It made me realize how very fortunate I was to be on this trip, taking classes and applying what I learned in the outside world while experiencing new food, cultures and traditions."
–Devon Enoch, EG24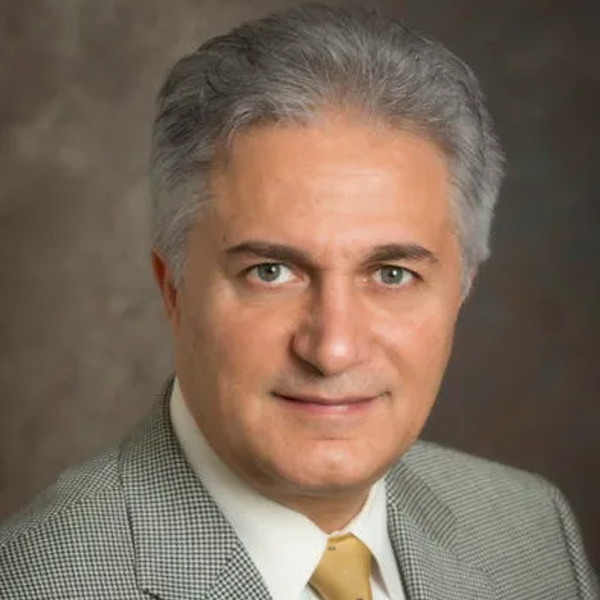 "Education is at a crossroads, with classrooms changing with digital integration. We want students to have experiences here that not just prepare them for future jobs but inspire them to create the jobs of the future."
– Mohsen Badiey, professor of electrical and computer engineering and faculty director of the University's Maker Initiative.