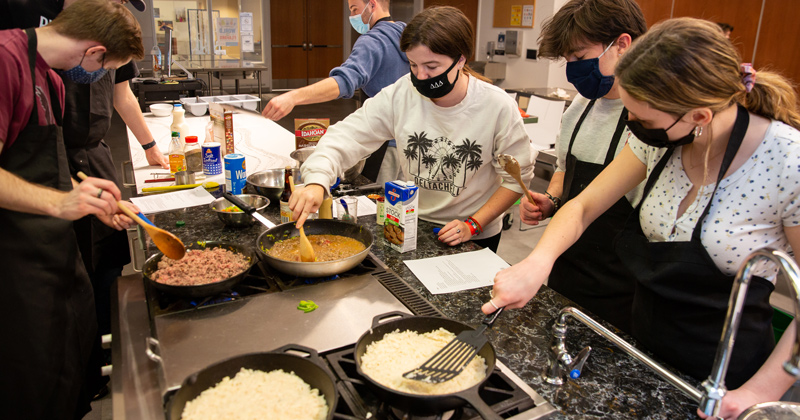 CHS Class of 2022 Spotlight: BHAN
May 27, 2022 Written by Amy Cherry | Photos by Ashley Barnas and submitted by graduates
We're honoring the Class of 2022 by shining the spotlight on some of the best and brightest graduates from the Behavioral Health and Nutrition Department in the College of Health Sciences:
Jonathan Martin | Nutrition and Medical Sciences Major
Three words to describe UD CHS experience:
Memorable. Life-changing. Fun.
You'll most likely find Jonathan Martin driving the University of Delaware EMT ambulance. Martin became an EMT at 18 years old after graduating from high school.
"I never looked back. I got my EMT certification because one of my friends did and he said it was fun. It was the best decision I've ever made."
He's worked several EMS jobs, including at four different stations—three in Delaware and one closer to home in Lancaster, Pennsylvania.
"It's been the best part of my college career. I love the people I get to work with, especially here at the University of Delaware Emergency Care Unit. We're a close-knit group of collegiate EMTs; we love what we do, and we love giving back to the University. We're volunteer, so none of us get paid, and we work 24/7."
The unit responds to emergencies in Newark frequently because of a high volume of 911 calls. 
"We'll do everything from CPR to auto versus pedestrians, and we'll be the primary unit there. We often respond to fire calls and treat fire patients and firefighters. We do everything that a paid ambulance service does," said Martin.
During his senior year, Martin took home the Alexander J. Taylor Sr. Award for demonstrating leadership, academic success, and community service.
He's also graduating from UD with an Honors Degree with Distinction and is heading to Thomas Jefferson University's Sidney Kimmel Medical College in the fall.
As a nutrition and medical sciences major, Martin credits his education at the College of Health Sciences, influential mentors like assistant professor Alisha Rovner, and impactful participation in research opportunities, including a peanut study on STAR Campus, with building a solid foundation for his future. 
"I have a very strong interest in nutrition and that background in patients' health. It's important, as a doctor, to understand the social determinants and the social impact of food—that's something that I hope to take into my practice to benefit my patients in the future," he said. "I think through the mentors, the research experience and the opportunities at CHS, I don't think I would have the foundation and the path that I'm on otherwise." 
Martin isn't certain what type of doctor he wants to be yet but has a keen interest in becoming a specialist surgeon or a doctor of internal medicine.
"I was able to firmly say I wanted to be a doctor after my time as an EMT," he said. "I was always interested in the healthcare field, always giving back to the community, service-oriented and being able to interact with people."
Cindy Iheanacho | Health Behavior Science Major
Three words to describe the UD CHS experience:
Exciting. Adventurous. Fulfilling
As a senior at Newark High School, Cindy Iheanacho met the University of Delaware's College of Health Sciences' dean Kathy Matt through the CHS Pipeline Program. In that moment, she didn't know Matt would play such an influential role in her career development. 
"Dean Matt has been truly inspirational. She talked about how she went to Newark High School, and we were like, 'We didn't know a celebrity came to our school.' She truly has been fundamental in my college career from the dual enrollment program to offering me opportunities as a student."
Iheanacho knew she wanted to work in healthcare, but all she really knew about healthcare centered on nursing. The CHS Pipeline Program aims to expose middle and high school students to the breadth and depth of health sciences careers to not only prepare them for a rigorous education, but also to break down barriers and diversify the healthcare workforce. Her experience in the pipeline program was eye-opening.
"They had a course that had multiple different professions come in and talk about what they did, and it just broadened all of our horizons, and I realized there's more to healthcare than just nursing."
She entered CHS undecided, but ultimately chose health behavior science as her major. 
"I just loved the curriculum. It was very broad, but it hit every aspect of the health field, so I was exposed to many different areas while still having it concentrated on the promotion of health, independence, and wellness, and I realized that's something I value a lot, and it helped steer me into rehabilitation, which is what I want to go into post-grad."
After graduating from UD, Iheanacho plans to take a year off to prepare materials for graduate school. She ultimately wants to get her doctorate in occupational therapy. 
"The pipeline program is really close to my heart. Everything I've achieved at UD and in the College of Health Sciences, I can tie it back to that class." 
She'll always remember her professors and the opportunities she had at CHS. 
"They want you to succeed. They provide you with everything to make you succeed. They want you to leave with the best experience possible and with everything that you've ever hoped for," she said. "I'm extremely proud of myself and all that I've done.
She described her overall experience at UD as transformative.
"It definitely was so much fun, and I was able to meet incredible people and do incredible things that I never thought I would," she said. "I'm just really happy that I found UD—and that UD helped me find myself—because without it, I would not be the person I am today."
Olivia Jordan | Nutrition and Medical Science Major with Pre-Med Pathway
Three words to describe the UD CHS experience:
Transformative. Challenging. Fulfilling
In her first year of college elsewhere, Olivia Jordan was torn between pursuing a career in performance arts or the sciences. At that time, she was diagnosed with irritable bowel syndrome. She had no idea that feeling sick and far from home would define her pathway and inspire her next moves.
"I had to become my own doctor and figure out how to heal myself through movement and food and stress-free habits and hobbies," she said.
That combined with her passion for helping people fueled her desires to become physician.
"I am 100% about going to the root cause instead of the traditional pharmaceutical path. I believe in holistic health, and I think that starts with teaching people how to be healthy instead of just giving them medications," she said. "I want to teach people how to meditate, how to cook for themselves, and care for themselves and be intuitive eaters."
"What we put into our body is an act of love, and if we can teach people that the first and foremost offense of our health is how we treat ourselves, then I think that will go a long way for sustainable healthcare." 
But as she was trying to figure out her path, Jordan's mother, who was a single parent, was diagnosed with breast cancer.
"It's always been my mom and I against the world," she said.
Jordan's own illness and her mother's cancer diagnosis converged to bring her home. She transferred to the University of Delaware's College of Health Sciences to study nutrition and medical sciences.
Working with autistic children in the Physical Therapy Department's Move 2 Learn Innovation Lab also influenced her future career.
"Seeing atypical kids, neurologically, in such a real visceral setting of doing movements and yoga and music, it kind of made me realize that I want to see kids from that starting point. But I want to work with all different populations—not just pediatrics."
Jordan attributes one class in particular, Research Methods with assistant professor Alisha Rovner, which charted her on her current course.
"Something about becoming a translator for my patients through research just really appealed to me."
When her mom got diagnosed with a second form of cancer, Professor Rovner was there for her.
"She took me under her wing and basically became a second mother to me, and it's been so amazing," she said. "She has guided me to apply to all of these different post-bach research programs which has completely changed the trajectory of where I'm going to end up."
For the next year-and-a-half, Jordan will be working at the National Institute of Diabetes and Digestive and Kidney Diseases  with Dr. Kong Chen, co-director of the Metabolic Clinical Research Unit. Then, she plans to apply for medical school.
"UD means everything to me. The professors that I've met here have taken such a personal interest in me, my growth, my development, and I think probably every single professor, advisor and mentor that I've met—especially in the dietetics and Behavioral Health and Nutrition Department, they all care about me and they all want to see me succeed, and that's not something you usually get at other schools," she said.
"Without this place, I don't know where I'd be, and I'm very excited to see where I'll end up after graduating from UD."   
Lauren Butscher | Health Behavior Science Major
Three words to describe the UD CHS experience:
Exciting. Valuable. Memorable.
For Lauren Butscher, health behavior science means adopting a big-picture view that includes planning and creating healthcare programs that better people's lives and educating the community on how to access available services.   
"It's important to talk with the community and figure out what they think is wrong, what they want to see in their community—the change that they want to see—and then figure out where they are with their understanding of, for example, obesity, if that's the issue," she said.
Butscher's minor in medical social services and data analytics has helped her learn how to communicate with the community and connect them to the services and programs she hopes to one day to create. Her minor in data analytics was strategically chosen so she'd learn how to evaluate the success of those programs. 
During her senior year at the University of Delaware's College of Health Sciences, Butscher interned at Delaware 4-H Youth Development, where she focused on youth vaping, a steppingstone that can lead to cigarette smoking.
"Only about a quarter of Delaware youth believe that vaping is unsafe, and they think it's just water and flavoring when in reality it has most—if not all—of the same chemicals that cigarettes do." 
Her internship propelled her into her first job post-undergraduate at the American Lung Association (ALA), where she'll be a health promotions specialist, managing grants.
"I'll be working with community organizations in Delaware that work with tobacco cessation and tobacco use prevention education," she said. "The ALA gives out grant funding to these organizations, so I'll manage that money and work with the organizations to plan their programs and implement them in the community."
She said her internship and experiential learning at the College of Health Sciences prepared her to take on this role.
"I just tried to say, 'yes' to everything, and it really helped me gain so much experience," she said.
She urged current students: "Take every opportunity that comes to you."
"I've had so much experience in classes, creating programs and working with my classmates to research a problem and figure out a solution," she said. "My professors have helped me so much. They really just want you to succeed, and I've built such genuine relationships with them over my time here, and I'm just going to miss them a lot."  
CHS Class of 2022 Convocation Video
Some of the top graduates from the Class of 2022 talk about why they chose the University of Delaware's College of Health Sciences, what they loved most about their majors and their UD experience, and what lies ahead for their bright futures.
CHS 2022 Graduates: youtube.com/watch?v=ixhGdDebNls