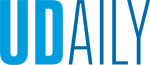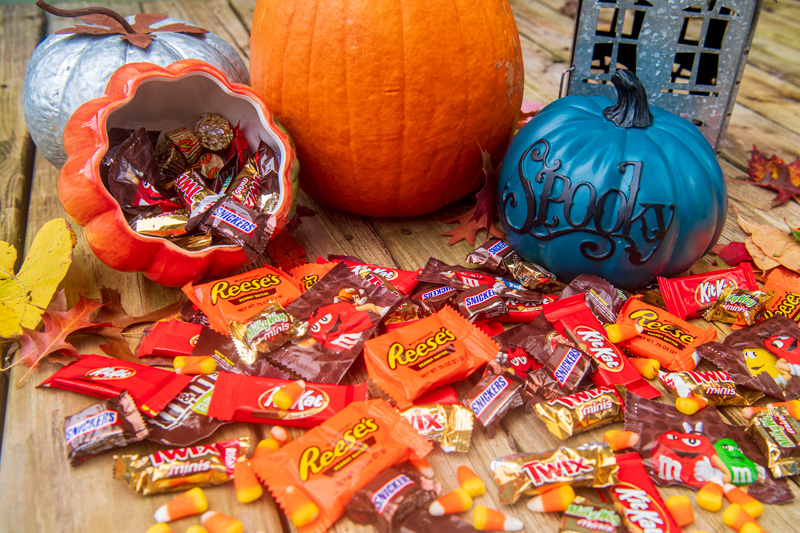 Spooky effects of COVID-19 on Halloween
Article by Andrea Boyle Tippett Photo by Kathy F. Atkinson | Graphics courtesy of the Agricultural and Applied Economics Association October 26, 2020
UD study quantifies likely impact on candy buying and trick-or-treating
Let's not sugarcoat it: the coronavirus (COVID-19) is hurting our holidays, even if it is, possibly, helping our teeth. A new University of Delaware study shows 42% of American households plan to consume less candy this year, and trick-or-treating could be down 41%.
Researchers collected data from 2,034 respondents in the United States ranging in age from 18 to 85 through an online survey administered by the software company Qualtrics at the end of September. The findings were recently published online by Choices, a publication of the Agricultural and Applied Economics Association.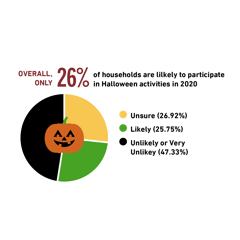 The Halloween spirit is draining from Americans ­— just 26% of survey respondents reported they were likely to participate in any Halloween activities in 2020. Last year, nearly half of households (49%) handed out candy; the study found only half of those households plan to do so again in 2020.
And, according to the researchers, would-be vampires, witches, superheroes and zombies aren't even planning to eat Halloween candy in celebration or as solace. Survey responses suggest candymakers can expect to be in a sticky spot.
"COVID has had detrimental effects on our economy and this is another wrinkle in this slowed economy," said study co-author Brandon McFadden, an assistant professor in the Department of Applied Economics and Statistics, which is part of the College of Agriculture and Natural Resources. "It's going to continue to be seen in food-related industries."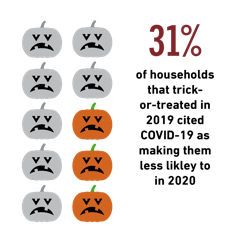 Each month since May, McFadden has run a poll called the Pandemic Food Consumer and Stigma Survey to measure the impact of the pandemic on the food world. The most recent month's Halloween-related questions came from a partner who packed away her trick or treating bucket not so long ago. Study co-author Nora Messer is a high school student from Wilmington, Delaware. When she wondered aloud about how much candy would be given out on Halloween, her father, Kent Messer, an economist and colleague of McFadden's in the College of Agriculture and Natural Resources, suggested it become a question on the survey. With the help of another high schooler, Kabir Advani from Palo Alto, California, and Trey Malone, an assistant professor at Michigan State University, they investigated.