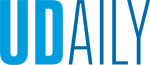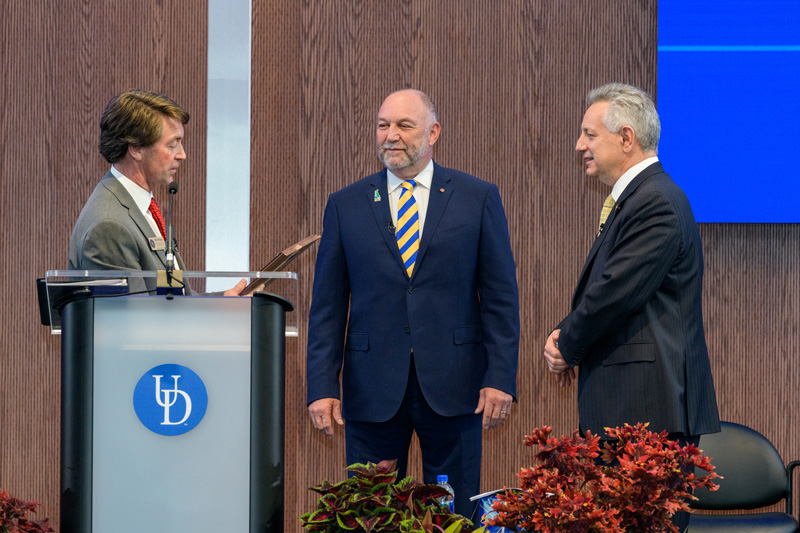 Auburn president honored
Article by Dante LaPenta Photo by Evan Krape April 23, 2019
Auburn University president Steven Leath headlines George M. Worrilow and Distinguished Alumni Awards
University of Delaware alumnus and Auburn University president Steven Leath was awarded the College of Agriculture and Natural Resources' (CANR) most prestigious award at the George M. Worrilow and Distinguished Alumni Awards. Alumni and their families joined CANR faculty, staff and students in the new Audion at the Tower at STAR for the 50th edition of the ceremony.
Leath (Class of 1981), who earned his master of science in plant pathology, was given the George M. Worrilow Award by President Dennis Assanis and CANR Dean Mark Rieger. The honor is bestowed annually by the Ag Alumni Association to a CANR graduate who has exhibited outstanding service to agriculture.
"The Worrilow Award is the highest honor we bestow on our alumni, and is the Heisman trophy of CANR awards since the former awardees vote on the next recipient," said Rieger, who also bestowed Distinguished Alumni Awards upon seven other CANR graduates. (College football's Heisman Trophy is awarded with former winners among the voters.)
The award is named after George Worrilow, who served as dean from 1954 to 1965.
Both Assanis and Leath stressed the importance of land-grant universities in their comments.
"Land-grant universities have played a pivotal role throughout Steven's career. Penn State, UD, Illinois, both North Carolina universities, Iowa State and now Auburn — all land-grant institutions," Assanis said. "Steven is a passionate advocate for the land-grant mission. He set forth a bold vision for Auburn that's firmly rooted in its land-grant heritage."
Leath agreed on the importance of land-grant universities to higher education in the United States.
"Since Dean Worrilow's time, the core focus of a land-grant hasn't really changed, nor should it: Give the children of common folks access to an affordable, high-quality education," Leath said. "The land-grant university is the epitome of American idealism — the manifestation of American opportunity. Everyone has an opportunity. And that's what has made it so special."
While at UD, Leath studied under now-retired CANR professors Bob Carroll and Jim Hawk; both attended Leath's presidential inaugurations at Iowa State and Auburn. As UD celebrates its 150th anniversary as a land-grant college, Hawk noted how that vital university designation has impacted the Auburn University president.
"At UD, we always tried to bring in people who would continue the land-grant tradition that we all believe in. Steve was the exact kind of graduate student that you wanted to see at UD," said Hawk, who taught Leath in his plant breeding course. "All of Steve's schools — undergraduate, master's and Ph.D. — have been land-grant universities. I think that's helped him tremendously throughout his career."
Besides absorbing the scientific information, Leath developed what are now called soft skills.
"Steve had great interpersonal skills," Carroll said. "We had a large cohort of graduate students while he was at UD. Even then, you could tell that he was a leader among them. He was able to make personal connections with his fellow students and faculty."
While studying plant pathology and working as a research associate, Leath's UD professors keenly remember his drive. Always pushing far beyond what was expected, he took advantage of everything UD had to offer, including accompanying Hawk to scientific conferences, conducting international research with plant pathologists in Panama, and taking extra classes in statistics and Spanish to further his research.
Taking advantage of all that the plant pathology graduate program had to offer, Leath was determined to gain both field and laboratory research experiences. While studying soybean pathology, he spent a good deal of time at UD's Carvel Research and Education Center in Georgetown.
Carroll proudly recalls Leath earning the top graduate student paper presentation award at the American Phytopathological Society regional conference. His master's research spawned not one, but three publications. At the time, soybean production in Delaware faced a major problem; a disease called Fusarium blight was wreaking havoc.
"We were trying to determine what the pathogen was. Steve was trying to find varieties of soybean that were resistant for growers," said Carroll, who was Leath's adviser. "He developed a technique in the laboratory for rapid screenings, which led to successful field tests. With the statistics knowledge that Steve gained in those additional courses, he incorporated ridge regression analyses as a tool to speed up the screening process."
In yet another example of Leath's scientific curiosity, he observed powdery mildew on soybeans in UD research plots in Georgetown.
"He followed up with laboratory analyses to determine the pathogen causing the disease. He made evaluations on varietal resistance, which resulted in a publication not directly related to his graduate research," Carroll said.
It was the first official publication of this disease on soybeans in the mid-Atlantic and northeastern U.S.
With a bachelor's of science in plant science and summa cum laude honors, Leath's wife Janet (Trot) is also a UD graduate (Class of 1982). She came to the University later than the typical student after working at a Maryland horse farm near Chesapeake City
"Janet was an outstanding student — mature and highly motivated," Hawk said. "She worked as an undergraduate research assistant, which was then and remains a valuable experience for UD students. Steve and Janet have made such a strong team throughout their careers."
About the George M. Worrilow Award
Now in its 50th year, the Worrilow Award is annually presented by the Ag Alumni Association to a CANR graduate who has exhibited outstanding service to agriculture. From 1954 to 1965, Dean Worrilow led the then-College of Agriculture with vision, compassion and a determination to make it the best agricultural school in the nation.
The Ag Alumni Association writes, "When he saw something that needed done or a teacher he thought would make a great addition to the faculty, Worrilow was a bulldog; he vigorously pursued his goal until he achieved it. As busy as his administrative schedule was, Worrilow still visited farmers throughout the state to check on how things were going in the field and learn what UD could do for them — a habit begun years before when he was a Delaware Cooperative Extension agricultural agent. Dean Worrilow's entire career was dedicated to better agriculture and better agricultural education. The award is named for a man whose belief in the art and business of agriculture and whose respect for the Delaware farmer were steadfast."
CANR award winners
Distinguished Young Alumni
Shawn T. Dash, Ph.D., Class of '02, Entomology and Wildlife Conservation (B.S.)

Grace Chapman Elton, Class of '08, Public Horticulture (M.S.)

Michele Maughan, Ph.D., Class of '03 (H.B.S.), '07 (M.S.), '12 (Ph.D.) Animal Science
Distinguished Alumni
Mark Collins, Class of '80, Agricultural Engineering (B.S.)

Michael J. Graham, Ph.D., Class of '90, Plant Breeding (M.S.)

Wayne D. Lord, Ph.D., Class of '78, Entomology and Applied Ecology (M.S.)

Robert M. Thompson, Jr. VMD, Class of '81, Agriculture (B.S.)
For profiles on this year's class of CANR distinguished alumni, visit the CANR website.