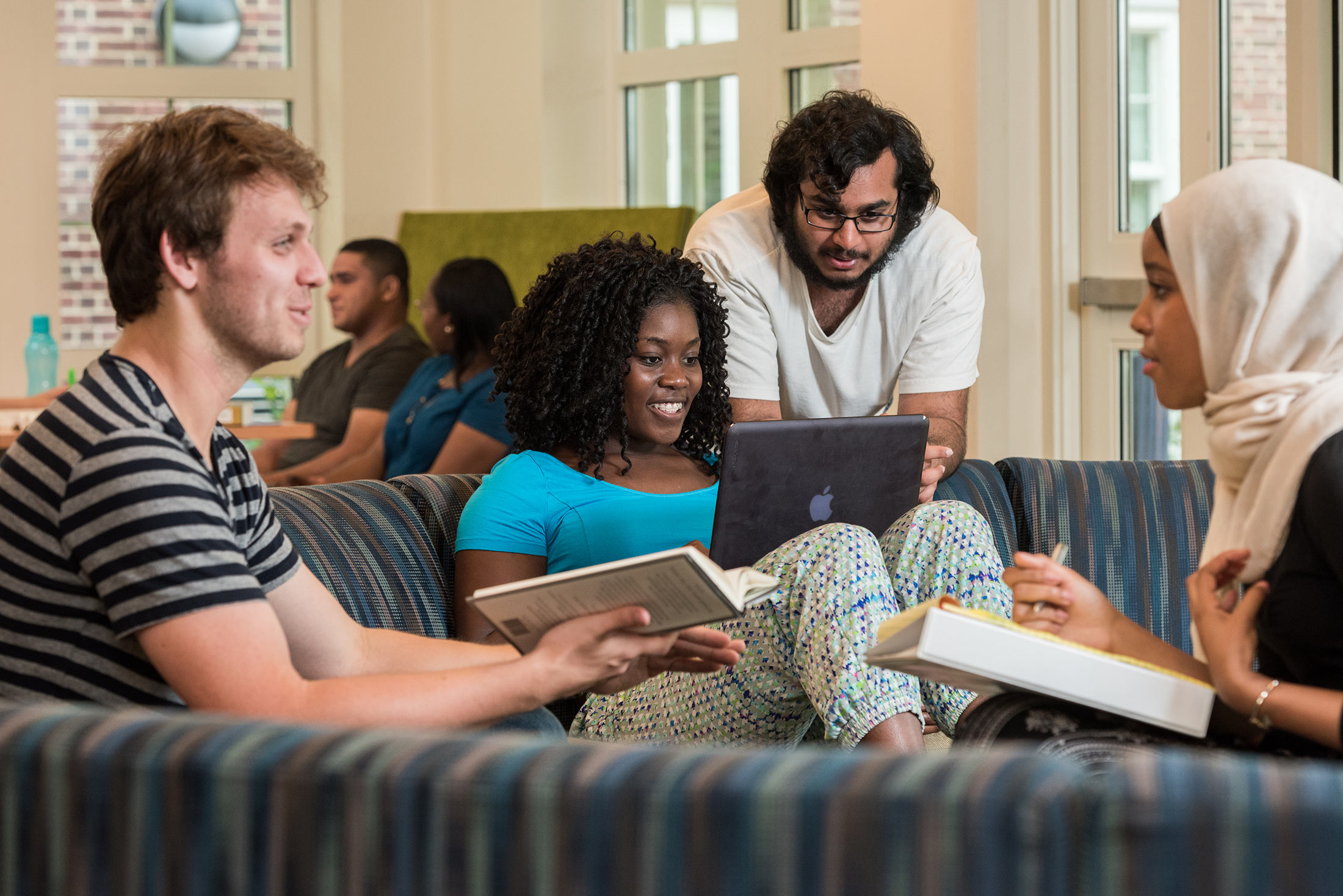 Honors Program
Expand Your Intellectual Horizons
The University of Delaware Honors Program is an opportunity for academically talented and motivated students to take advantage of the resources of a research institution while maintaining the feel and attention of a much smaller college.
As a UD Honors student, you will be leading class discussions, conducting innovative research, writing papers worthy of publication and tackling some of the most challenging topics in your major and beyond.
Honors Offers the Best of all Worlds
✓
University-wide, open to all majors
✓
Small Honors courses
✓
Freshman living learning/community
✓
Close connections with Faculty
✓
Opportunity for enrichment funding
✓
Priority registration
✓
Residential peer mentors
✓
Honors advisement for complex combinations of majors and degrees
✓
Engaged UD Honors alumni network
Small rigorous Honors classes with active learning and engagement with the Faculty
Challenging curricula
Preparation for competitive graduate programs and supporting students in their pursuit of Rhodes, Truman, Marshall, Fulbright and Goldwater Scholarships
Recognition of Honors coursework through the general Honors award, the Honors Degree and the Honors Degree with Distinction
Outside the classroom excursions to local labs and businesses or attending theater and music performances
Study abroad opportunities specifically for Honors students
Service learning and volunteer work
Funded research opportunities for all majors
Honors Enrichment Awards for internships, projects or unique student experiences
Alumni connections for discussions, panels, networking and mentorship
First-year Honors housing where students live together in one of the newest residence hall on campus
Upper-class residential peer mentors plan events for the community and act as an academic resource
Honors community programming: ice cream on the porch, study breaks, day of service, pizza with the prof
Collaboration between Honors Program students, Faculty and staff
Opportunities for Honors housing as upper-classmen
2. Indicate your interest in the Honors Program and respond to one of the required essay prompts.
3. Complete the required Common Application essays. You may also choose to answer the optional UD supplemental questions.
4. Pay the $75 application fee and submit the Common Application.
5. Send official high school transcripts to the Office of Undergraduate Admissions.
6. Request official standardized test scores from SAT and/or ACT.* SAT code 5811, ACT code 0634.
*Delaware residents attending a Delaware high school may choose whether or not to submit their SAT or ACT test scores for first-year admission.
7. Provide two letters of recommendation (at least one recommendation should come from your school counselor).
Prepare Your Honors Essay
On the Common Application, you will be asked to write a 250 to 500 word essay answering one of these three questions. We've provided the questions here in the event you would like to prepare your answer before creating your application.
Question 1: The University of Delaware Strategic Plan emphasizes the role of the University in addressing the grand challenges of our time. Identify one or two grand challenges that you believe are most significant for your generation. What recommendations do you have for addressing these challenges and what outcomes do you hope to see? In what ways will your college experience be relevant?
Question 2: Wallace Bacon, an eminent literary scholar, wrote that the liberal arts and humanities "are concerned with the question of what makes life worth living." Tell us what you think makes life worth living. Include a brief discussion of any particularly meaningful experiences, works of literature, art, music, etc. that have influenced your perspective and tell us how you intend to explore this question as a UD Honors student.
Question 3: What are you optimistic about. Why?
Learn More
Honors admission decisions are made by the Office of Undergraduate Admissions. If you have any questions email admissions@udel.edu.
____________________________________________________________________________________________________________________________________________________________