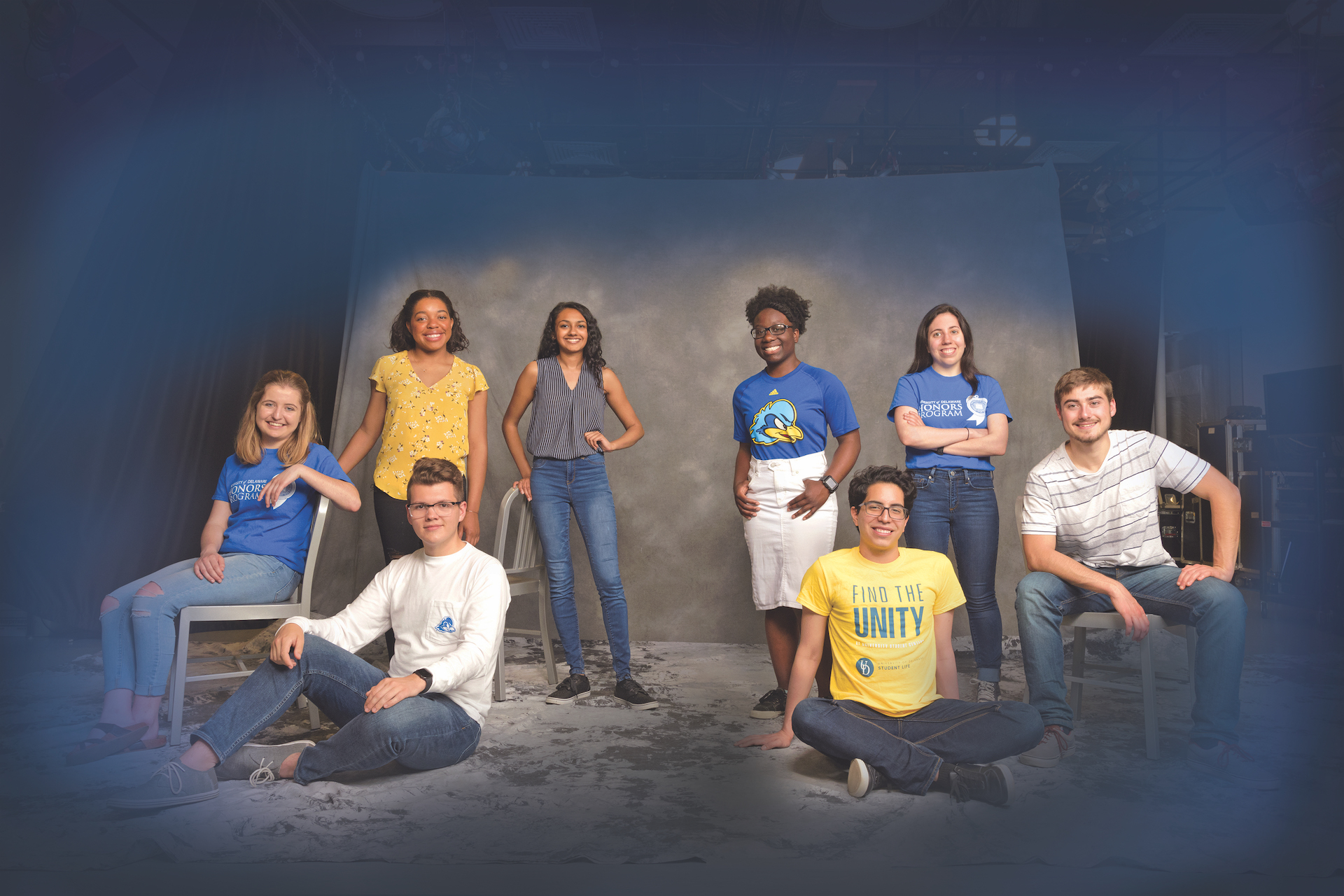 Honors Program
Expand Your Intellectual Horizons
The University of Delaware Honors Program is an opportunity for academically talented and motivated students to take advantage of the resources of a major research institution while maintaining the feel and attention of a much smaller university.
As a UD Honors Program student, you will be leading class discussions, conducting innovative research, writing papers worthy of publication and tackling some of the most challenging topics in your major and beyond.
The Many Benefits of the UD Honors Program
✓
University-wide, open to all majors
✓
Small honors courses
✓
Freshman living-learning community
✓
Close connections with faculty
✓
Opportunity for research funding
✓
Register first for classes
✓
Residential peer mentors
✓
Honors advisement for complex combinations of majors and degrees
✓
Engaged honors alumni network
Make it Official
Once you're admitted to the UD Honors Program, share your accomplishment by tagging us on social media. Use the hashtag #UDHonorsBound and tag us @UDAdmissions @UDHonorsProgram on Twitter or @udelaware on Instagram.
Next Steps
In order to join the UD Honors Program, complete the following:
Step 1: Accept your spot in the Class of 2024 at the University of Delaware by submitting your deposit on your My Blue Hen Home student portal.
Step 2: Also on your student portal, accept your offer to the UD Honors Program.
Opportunities to Connect with the Honors Program
Take the opportunity to learn more about the University of Delaware Honors Program. Learn firsthand from current honors students about their research, their travel experiences and their enriching experiences within the honors community during your on-campus visit or virtual session.
Register for an Honors Session >
Apply to the University of Delaware Honors Program
The Honors Program application has closed for fall 2020. You may apply to the Honors Program once you have completed your freshman year. For more information on gaining admission after enrolling in UD, please refer to the honors web page at www.udel.edu/honors.
PREPARE YOUR HONORS ESSAY
To apply to the UD Honors Program, you will be asked to write an essay answering each of the following prompts.
Question 1: Creating a community is a hallmark of the Honors Program. Outside of academic pursuits, please tell us a few ways you intend to contribute to the Honors community (300 words or less).
Question 2: The Honors Program values a talented and diverse student body. Please tell us five interesting facts about you (50 words or less).
Challenge
Small, rigorous honors classes with active learning and engagement with the faculty.
Challenging curricula.
Preparation for competitive graduate programs and supporting students in their pursuit of Rhodes, Truman, Marshall, Fulbright and Goldwater scholarships.
Recognition of honors coursework through the general honors award, the honors degree and the honors degree with distinction.
Enrichment
Excursions to local labs, businesses and theater and music performances.
Study abroad opportunities specifically for honors students.
Service learning and volunteer work.
Funded research opportunities for all majors.
Honors Enrichment Awards to fund internships, research projects and unique student experiences.
Alumni connections for discussions, panels, networking and mentorship.
Community
First-year honors housing in Redding Hall.
Residential peer mentors plan events for the honors community and act as an academic resource.
Honors community programming: ice cream on the porch, study breaks, day of service, pizza with the prof, and more.
Collaboration between UD Honors Program students, faculty and staff.
Opportunities for honors housing as upperclassmen.
Katie Johnson
Graduating after only four years with both a bachelor's degree in public policy and a master's in public administration (4+1 program), Katie will travel to Iceland and Brussels to complete a doctorate in disability law and policy.
Olivia Powell
A mechanical engineering major, Class of 2019, Olivia traveled to the Philippines to restore wells and to Morocco to examine architecture. She's now off to a Ph.D. program at Columbia University.
Victor Ramirez Delgado
A physics major, Class of 2021, Victor moved from Venezuela passionate about unlocking the secrets of the universe; at UD he's worked in a faculty lab analyzing data from a radio antenna pointed at Jupiter.
Ryan Doyle
As a music major, Class of 2021, and a World Scholar, Ryan spent much of his first two years traveling Europe, inspiring him to compare the linguistic differences of choral conductors from around the world.
Jaina Patel
Graduating this year with a double degree in economics and political science, Jaina believes her excellent writing skills will serve her well when she starts law school at George Washington University.
Ariel Hannum
A biomedical engineering major, Class of 2020, Ariel traveled to the Netherlands to explore how the same devices used for medical diagnostics can be used to examine priceless paintings.
LEARN MORE
Honors admission decisions are made by the Office of Undergraduate Admissions. If you have any questions email admissions@udel.edu.