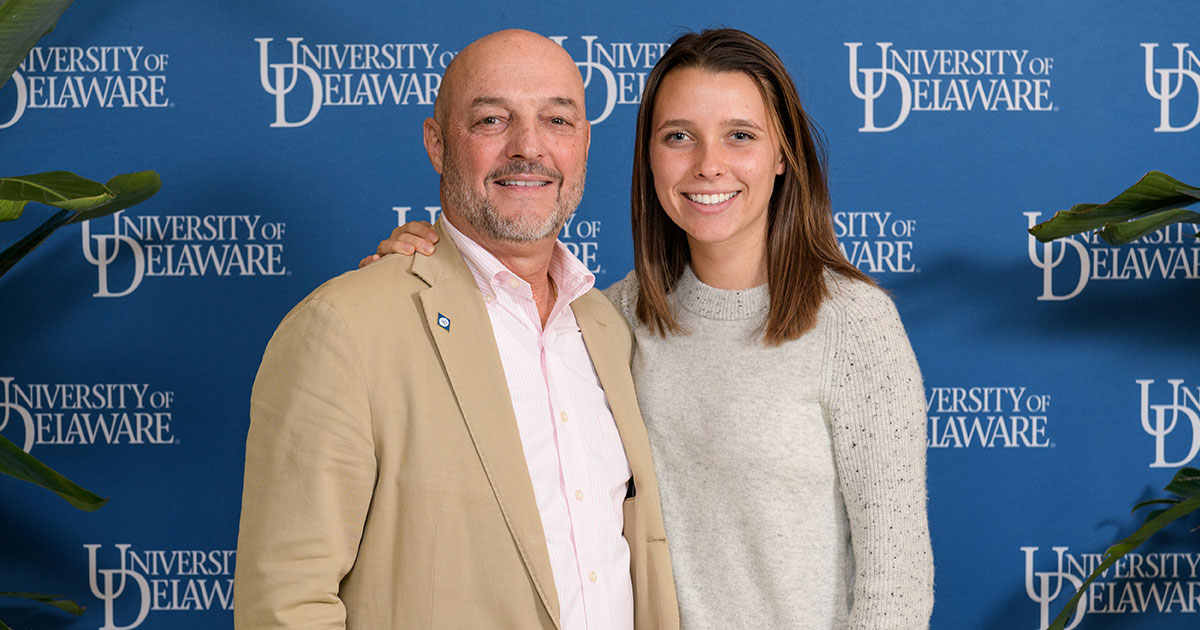 Meet Eugene Petracca, P22, Senior National Chair of the Parent & Family Leadership Council
When Eugene Petracca's daughter, Alicia, received her University of Delaware acceptance letter, Petracca knew he wanted to be part of the Blue Hen family, too.
Having long been part of his children's education and academic journey, it was important to find a way to connect to UD. He was able to do that by joining the Parent & Family Leadership Council (PFLC), a community of parents and families dedicated to enhancing the Blue Hen student experience.
Now, acting as the Senior National Chair of the PFLC, Eugene Petracca, P22, has special insight into what it means to be a proud parent.
Thank you for serving as a senior national chair for the Parent and Family Leadership Council. How would you describe the council to other parents and families?
This is a council of parents and families who want to be involved with their student at the University of Delaware and support all Blue Hens through philanthropy and service. There are many ways to get involved, but I enjoy my role as an ambassador. I'm available to other parents – whether they are parents of Blue Hens or their students go somewhere else – and can speak about my authentic experience as a Blue Hen parent from an informed position.
Your daughter Alicia is now a rising senior studying Nutrition & Dietetics at the College of Health Sciences. Do you remember the moment when she realized UD was the right fit for her?
My daughter is passionate about her field of study and, when doing her college research, she was very impressed with the College of Health Sciences. Visiting UD, she loved the personality of the campus. I remember going to her freshman orientation and the atmosphere on the campus was electric, welcoming and warm. I loved it. As an upperclassman, she blends academics with student leadership opportunities. She's very active and serves on different advisory boards, is involved in UDance and belongs to a sorority.
The University experience is a wonderful time of growth and transition for students and their families. How would you suggest parents and families stay involved with UD?
To me, the most important role I have in life is being a parent, but I know it can be challenging to nurture your children once they reach a certain age. I stay involved with UD through the Council, but for another parent it could be reading the Blue Hen Family Hub or making a gift to the Parents Fund. Other families I know also play an active role as mentors or by connecting UD with their employer to offer internships or job shadow opportunities.
In your opinion, what part of the college experience hasn't changed since you were an undergraduate student?
Things have changed so much, yet nothing has changed. When I started college, we didn't have calculators and used computers with card readers that were the size of a small room. By the time I graduated, we had intelligent calculators – and now we have smartphones that are more sophisticated than the computers of my college days.
What role does philanthropy and volunteering play in your family? How do you hope to inspire your children to be part of their communities?
I believe that my interaction with my children is an ongoing experience, not a one-time exchange of advice. As a parent, whatever we do, our children learn from those experiences and carry them forward. While my kids were in high school, I served on the Manhasset Coalition Against Substance Abuse (CASA). It's an organization that educates students and families about the harms of underage drinking and drug abuse.
By participating in the PFLC, I'm similarly getting insight and timely feedback on what's going on with students. I'm learning about all Blue Hens, and the challenges and successes different students are encountering.
After getting to know today's Blue Hens, what inspires you about this generation of students?
The students I have met do well in school and take their courses seriously but are also warm and welcoming to all. Everybody tries to get a balance between academics and their personal interests. The students socialize and they also love the subjects that they study. Life really is about that balance.
To learn more about the Parent & Family Leadership Council and the work of the Office of Parent & Family Giving and Student Life, visit www.udel.edu/alumni-friends/give/parent-and-family-giving or contact Tracy E. Smith at smitht@udel.edu.
Help a Hen
UD's crowdfunding platform provides an easy way to directly support campus projects, scholarships, programs and more.