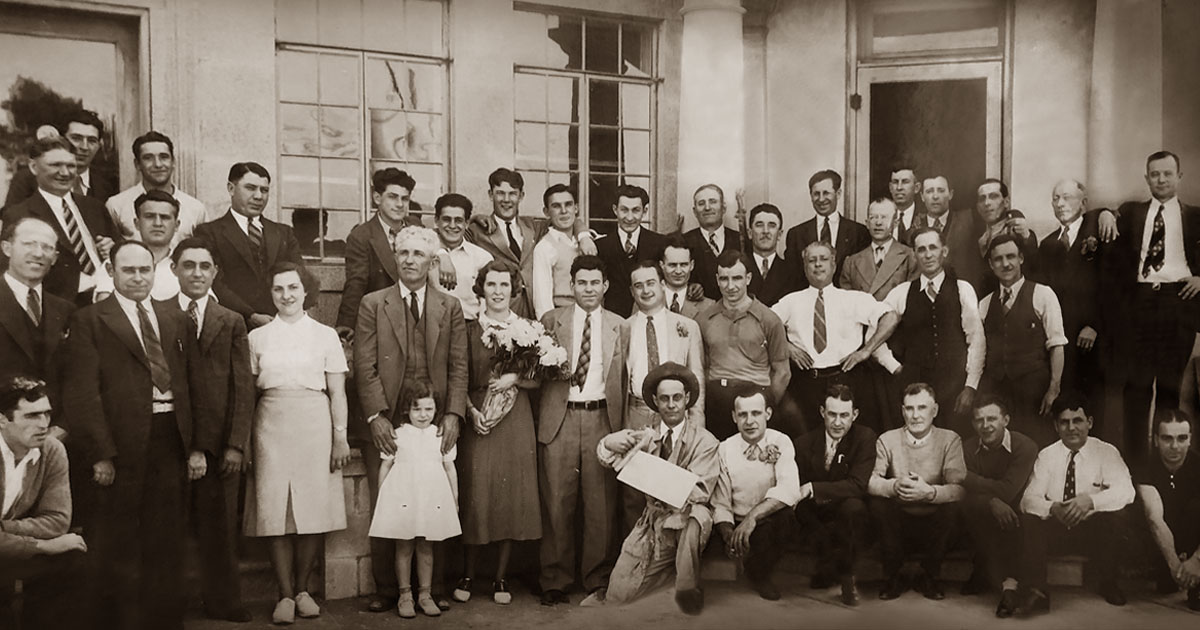 Building on a Legacy
"Honesty, dedication and hard work will get you where you want to go."
That's what Eleanor Pavoni Wilderman's dad taught her starting at the young age of five when he brought her on his tile and marble job sites. Wilderman, HS55, carried those words of wisdom through her academic, personal and professional life to achieve success that allows her to share with others.
"I was five years old and learning to calculate square footages for estimates and watching my father work hard to give customers the results they wanted," Wilderman reflected. "He was from Italy, learned the language and came to the United States as a stone mason. He worked hard to build his own tile and marble business, which he eventually grew into one of the largest in Delaware. My father really inspired me to learn, look and listen, and I used that as a guide throughout my life.""
While her father's business thrived, Wilderman continued to learn the operations, but didn't want to take on a secretarial job in the office like her sisters. Instead, her high academic achievements in high school earned her a scholarship to the University of Delaware. With the $275 scholarship a year, Wilderman packed up and moved on to campus as the only one of four children in her family to attend college.
At first, moving away from her family in Wilmington, Delaware's Little Italy to stay on campus felt like living in a "foreign world." But her roommate showed her around Newark, and Wilderman ultimately enjoyed her time at the University, loving being a part of the "educated community" while working toward her career as a medical technologist.
Once she married and had her second child, Wilderman decided to stay home with her children. But the lessons she learned from her father about the family business continued to pull her toward the industry.
"I started collecting tile samples in a little room in my home basement and taking on small contracts here and there," Wilderman recalled. "I knew how to do estimates, who the best general contractors were and how to source materials. The business just started to grow and grow by word of mouth and by our good reputation."
Wilderman's company, Marble Craft Co., Inc., eventually grew to rival the success of her father's company as she completed tile and marble work in just about every bank in the state, ChristianaCare Hospital, retail stores, the Chrysler plant and even a number of locations on UD's campus including the skating rink Perkins Student Center, Rodney, Sharp and Brown Halls.
"I had started dabbling in bigger jobs and we continued to grow. It all started in a rinky dink office with just a phone, typewriter and adding machine," Wilderman laughed. "Bottom line is, I had no inheritance, and I earned every dollar. That's something I'm most proud of. My father gave me something worth much more than money. He taught me the tile and marble business from the ground up starting when I was only five. And I'm grateful."
It was her work that helped her reconnect with her alma mater in a different way. She was working on a job at the now Arsht Hall and learned about Osher Lifelong Learning Institute (OLLI) at UD, an academic cooperative for adults 50 and over to enjoy classes, teach, exchange ideas and socialize together. Wilderman decided to take a six-week computer class and was hooked. From there, she went on to teach for 10 years and then, after she retired and closed her company, take a full schedule of classes each day.
The new connection and the warm memories Wilderman has from her time as a student at UD made it easy for her decide where to make charitable contributions throughout the years. She has generously supported various areas at the University for decades as a Delaware Diamonds Society donor, giving at a leadership level annually. Her most recent gift was to support the Blue Hen Strong Fund, which helps UD students with tuition, food and housing assistance, technology needs, mentoring opportunities, internship grants and other critical needs.
"Both of my children are college graduates and professionals. I have no debt and have what I need to live, so I'm willing to share what I have," Wilderman said. "I learned about how the Blue Hen Strong Fund helps students who may not have the money they need to graduate or succeed at UD, and I wanted to help with the very serious need. I remember how happy my $275 scholarship made me—what an honor it was to receive it—so I wanted students to have the same feeling and opportunities I had at UD."
Wilderman's professional and personal successes are amplified by her ability to in help the next generation of Blue Hens, bringing her joy in giving.
Support the Blue Hen Strong Fund
---
Help a Hen
UD's crowdfunding platform provides an easy way to directly support campus projects, scholarships, programs and more.