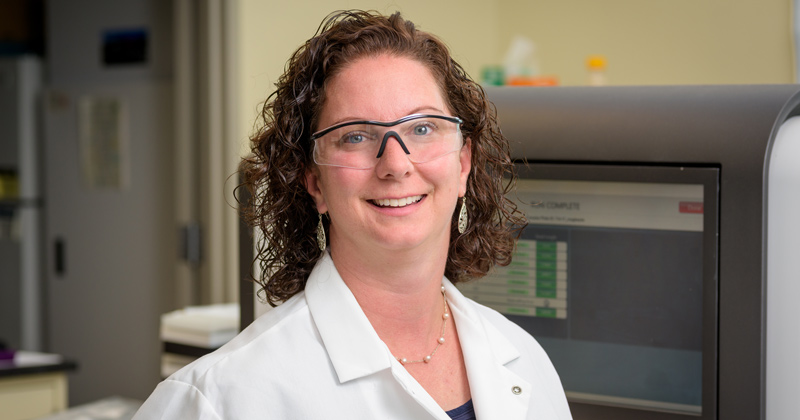 Scientific Medalist
October 06, 2021 Written by Adam Thomas | Photo by Evan Krape
To help advance science and scientific discoveries, it is important for current scientists to not only be adept at their own research, but also for those researchers to help train the next generation of scientists.
It was with this in mind that University of Delaware professor Jennifer Biddle was selected as a recipient of the American Geophysical Union's (AGU) 2021 Joanne Simpson Medal. The medal is given annually to two to three mid-career honorees in recognition of their significant contributions to Earth and space science.
The medal is named in honor of Joanne Simpson, who was the first woman to earn a Ph.D. in meteorology and during her career made fundamental contributions to modern research on tropical clouds and hurricanes. By being named a medal recipient, Biddle is also now an AGU conferred Fellow.
Biddle, a professor in the School of Marine Science and Policy in UD's College of Earth, Ocean and Environment (CEOE), researches the microbial ecology of marine systems, life in the deep biosphere, benthic archaea and bacteria, as well as geobiology. She was also involved with helping to organize the annual AGU Fall Meeting early in her career.
"I am humbled and grateful to be recognized," said Biddle who added that she was encouraged by her colleagues Estella Atekwana, former dean of CEOE, and Wei-Jun Cai, the Mary A.S. Lighthipe Professor in CEOE, to apply for the award.
Her research focuses on life in the planet at the bottom of the ocean, inside the deep earth, where life is still growing. She collaborates on scientific deep-sea drilling through the International Ocean Discovery Program, an international marine research collaboration that explores Earth's history and dynamics.
During her PhD in biochemistry and molecular biology from Pennsylvania State University, Biddle said that she grew interested in the topic after having the opportunity to work in an interdisciplinary graduate program in the Department of Geosciences at Penn State.
"At Penn State, I worked on life in the cold, and my coadviser Chris House worked on life in hot environments," said Biddle. "We talked about extremophilic microbes, and he was on the first all microbiology-focused drilling expedition. When he came back from it, he said 'As it turns out, a majority of this stuff was cold' and so I picked it up and started working on it."
Biddle says that geobiology, where people work between geosciences and biology, has always appealed to her.
"I came to geobiology as a biologist, but that also meant that I came to it with a bit of a different approach," said Biddle. "In biology, you can run control experiments but you can't always do that in geology and so, I was able to make some breakthroughs partly because I was working in this new space but with the background knowledge of solid biology."
Beth Orcutt, a Senior Research Scientist and the Diversity, Equity, and Inclusivity Liaison for the Bigelow Laboratory for Ocean Sciences, nominated Biddle for the award. Orcutt said that she was a PhD student when she first became aware of Biddle's work through papers Biddle published that reshaped the narrative of the geobiology field.
"She pioneered the application of these standard molecular biology approaches to environmental samples from the deep sea that are really challenging to work with," said Orcutt. "Whereas today, these methods are pretty commonplace, she was on the forefront of figuring out how to extract DNA molecules out of these environmental samples so we can figure out the organisms that live in these environments."
Extracting the total DNA from environmental samples gave researchers the blueprint of what those organisms could do, but it didn't necessarily answer the question of what they are currently doing.
To help answer that question, Biddle adopted a technique to extract a molecule called RNA, which is found in all cells and acts as a decoder, reading the blueprint in the genome and then turning that into enzymes and proteins. Researchers can see what the cell is currently doing by observing those enzymes and proteins.
"She figured out how to make that work so not only could we figure out how cells survive in those environments and what they can do, but then we could figure out what they are actually doing," said Orcutt. "This was revolutionary, and her team was the first to be able to do this. Our understanding of these environments really derives from the methodological breakthroughs that Jen and her group developed."
In addition to her own scientific research, Biddle is also a valuable mentor for students. In 2014, she started the MicroSeminar series, a web-based microbiology seminar series that brings together microbiologists from all over the world in a virtual space to share their research and ideas.
Long before virtual learning became the new normal in a COVID-19 world, Biddle came up with a platform that allowed the microbiology community to stay connected and up to date on the latest scientific discoveries in microbiology and other related disciplines.
The MicroSeminar series was so successful that during the pandemic, when all the in-person meetings of the International Society of Microbial Ecology were cancelled, they looked to the MicroSeminar series to conduct official talks on the platform.
"The society realized that, 'there is this huge, coordinated microbiology community online already,' and so they started doing more supported and official talks using the platform," said Biddle. "That was really exciting."
Biddle also serves as a valuable mentor, making herself available for her own students as well as any other students that need help or guidance.
Orcutt said that it is this mentorship role and her role as a good scientific citizen that truly sets Biddle apart.
"Science isn't just the discoveries, it's also the people that are doing science, and Jen takes that ethos seriously," said Orcutt. "She thinks about who is invited to be a part of science, who gets the privilege to do science, and how do you get people skilled to be scientists. There are not enough people in science that do that and it is often not rewarded. It is a thankless thing, and so that, for me, why Jen is a really great candidate for this award."